This year's edition of the Bournemouth Research Chronicle (BRC) focuses on the research being undertaken by the next generation of researchers: our Early Career Researchers (ECRs). Our ECRs are a very important part of life at Bournemouth University (BU) as it is their ideas, their innovation and their collaborations that will go on to address some of the biggest challenges facing our society.
Our vision for Bournemouth University is that we are an institution that inspires learning, advances knowledge and enriches society through the fusion of education, research and professional practice. We are equipping our ECRs with the skills and experience they need to help us achieve this vision through providing them with tailored training and support, a dedicated ECR network and internal funding opportunities to allow them to manage and lead their first research projects.
By supporting them to develop the skills, knowledge and experience they need we hope that they will become our future research leaders. Our new strategy – BU2025 – sets out an ambitious agenda for us to be a catalyst for change and our researchers and their research will play a key part in realising this.
In this edition of the BRC, you will be able to read about the research projects being carried out by our ECRs, as well as learning about the careers of those who started as ECRs at BU and who have progressed to senior roles. Professor Raian Ali and Dr Melanie Klinkner are two such examples. They have benefitted from the training and support available at BU and are now working collaboratively with external organisations as part of their research, creating change externally and also using their research to inform teaching within the university.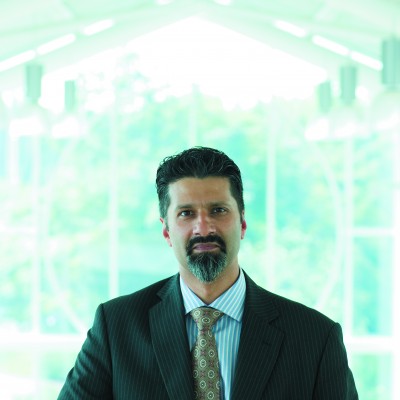 Professor Tim McIntyre-Bhatty
Deputy Vice-Chancellor
Our new strategy – BU2025 – sets out an ambitious agenda for us to be a catalyst for change and our researchers and their research will play a key part in realising this.
As part of BU2025, we will be investing in a number of areas of strategic growth, including medical sciences. We intend to support the personalisation of health and care which we can only achieve through understanding individual need. As an example of this, in the Faculty of Health & Social Sciences, Dr Kathryn Collins has been working with the Stroke Association to better understand the facilitators and barriers to younger people returning to work after a stroke.
Meanwhile, in the Business School and the Faculty of Media & Communication, Dr Nicola De Martini Ugolotti and Dr Annamaria Neag are leading research projects that are addressing some of the challenges presented by refugees and forced migrants. With over 25 million refugees and 3.5 million asylum seekers across the world, the challenge of how to support people who have been forced to leave their homes is not one we can ignore.
In the Faculty of Science & Technology, Dr Christina Stantis is working as part of an interdisciplinary team who are re-writing our understanding of Egyptian history through their use of bioarchaeology techniques. Through analysing human remains, the European Research Council funded team are beginning to change what we know about the past.
This approach of using modern techniques to interpret the past and change our understanding in the present is one we intend to continue in our newly launched Institute for the Modelling of Socio-Environmental Transitions (IMSET); another area of strategic growth for BU. IMSET will be led by Dr Emma Jenkins, Dr Fiona Coward and Professor Adrian Newton. By deepening our knowledge of how past societies coped with environmental changes, we hope to be able to alter our actions in the present.
I hope that you enjoy reading about some of the exciting and innovative projects being led by the next generation of researchers. 
Deputy Vice-Chancellor, Professor Tim McIntyre-Bhatty