Digital transformation is supporting the national healthcare system to work smarter and provide better care more efficiently with less staff and lower financial costs than ever before.
APPLY NOW FOR THE POST-DOCTORAL RESEARCH FELLOW POSITION
Closing Date Wednesday 19th April 2023
The CfACTs+ research cluster is designed to tackle research challenges in applying such transformatory technologies within the healthcare sector, and delivering solutions to improve operational efficiency, enhanced training processes for workforces and patient-centred approaches.
CfACTs+ will conduct multi-disciplinary research to transform the healthcare sector and allied training, both in the UK and globally, using digital technologies derived from the creative industries sector.
The cluster will advance research themes related to: computer animation, virtual reality (VR), augmented reality (AR) including holographic displays, artificial intelligence (AI), medical visualisation and healthcare training - using emerging digital technologies to tackle existing acute challenges in healthcare training.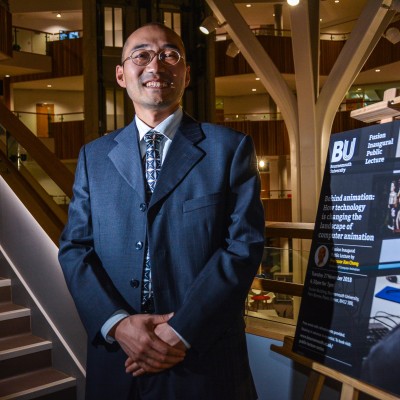 Prof Jian Chang
Lead Academic
Centre for Applied Creative Technologies
We are using cutting-edge technologies like VR, AR, AI and medical visualization to drive transformative change in healthcare through improved efficiency, enhanced training, and patient-centered solutions
Finding new solutions for critical issues 
Our work will offer new solutions for healthcare training by addressing critical issues, such as the shortage of clinical placement opportunities for nurse training. The cluster will investigate and develop novel computer graphical algorithms, customised VR/AR interfaces and hardware for medical-related applications, and provide AI-driven computer visual and computer graphical solutions
We'll also improve the learning experience of students with cutting-edge digital technologies and generate multidisciplinary and cross-sector impact through collaboration and application with our industry partners and NHS Hospitals, including University Hospitals Dorset. 
Core research teams will support the research development in four interwoven projects:
DTNT: Integrating Natural Interaction and Digital Twins into XR Clinic Environment to Enhance Nurse Training (Professor Jian Chang, Professor Jian Jun Zhang, Professor Tom Wainwright, Professor Jane Murphy, Dr Michele Board, Dr Ehtzaz Chaudhry, Heidi Singleton)
VSXR: Research on the Development of Collaborative Virtual Spaces for XR Nursing Training (Professor Wen Tang, Dr Michele Board, Dr Ursula Rolfe)
AIANT: AI Augmented Nurse Training with Natural Language Processing - Automated Assessment of Non-procedural Nursing Skills (Professor Xiaosong Yang, Professor Sue Green, Dr Chantel Cox)
NLP-MMI: Marking Medical Image Report Automatically with Natural Language Processing (Professor Jian Chang, Professor Jian Jun Zhang, Professor Xiaosong Yang, Dr Jamie Franklin, Dr Theophilus Akudjedu)