The problem the project aims to tackle is that current marine infrastructure, including breakwaters, quays, piers, groynes and moorings, are largely developed to simply meet technical specifications while negating to incorporate the enhancement of maritime ecosystems.
Presently, the impact of infrastructure on the environment is only taken into account at the end of the design process, when the designer seeks to reduce it. However, reduction measures are often not sufficient and lead to the implementation of compensatory measures, such as artificial reef deployment for example.
MARINEFF aims to engage professionals and stakeholders to realise new biomimetic marine infrastructure. These are defined as constructions which imitate models, systems, and elements of nature which can benefit marine ecosystems.
The project is led by The Caen Institute of Civil Engineering and Construction (ESITC Caen), France. The funding under the European cross-border cooperation Programme INTERREG VA France (Channel) is complemented by the ERDF contribution, involving nine French and British partners. From Bournemouth University, Dr Roger Herbert and Professor Rick Stafford, from the Faculty of Science and Technology, co-lead one MARINEFF action plan, 'Biomimetic marine infrastructure for the improvement of the ecological status of the marine environment'.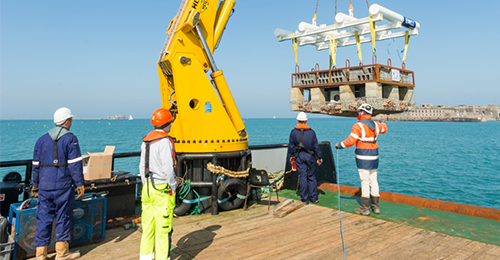 To avoid negative effects and create marine infrastructure which enhances the ecological status of coasts, the BU led element of the project will help developers, managers and engineers to use new design methods. The sub-project team proposes that design teams must start with an environmental analysis, then tailor strategy according to the environmental needs of the site.
The integration of habitats for marine organisms directly within infrastructure, which is the main innovation of the project, will be made possible by adapting commonly used materials (concrete) to precise ecological specifications.
In bringing together marine biologists, materials experts and marine infrastructure professionals, the sub-project will create and deploy three sustainable constructions: a harbour dyke, artificial rock pools and moorings for yachting.
These biomimetic constructions will be deployed in two large-scale pilot operations and six experimental sites to test various types of marine infrastructure and ensure their use across the Channel area.
The improvements made by the deployment of these installations will be measured according to measurements of biomass, biodiversity, abundance of fishery resources and eutrophication; monitoring of invasive species and analysis of trophic networks.
News from the Faculty of Science & Technology