The research is led by Professor Raian Ali and is a joint effort between the Department of Computing and Informatics and the Department of Psychology in the Faculty of Science and Technology at Bournemouth University. The team has a rich knowledge exchange programme with academic and industry colleagues across from across the world collaborating to make it a success.
This work has been featured in reports in the Telegraph, Huffington Post, La Stampa, The Naked Scientists, Digital Mindfulness, iGaming Times, Bloomberg Opinion, The Conversation and Tech World. The team has been interviewed frequently on media including BBC Cambs, ABC Australia and talkRADIO, BBC Solent, Wave 105 and Heart, BBC Two Victoria Derbyshire programme.
Follow our news on Twitter @bu_esotics
Why do we study DA?
Recent studies demonstrated an association between the use of technology and certain addiction symptoms such as withdrawal symptoms, tolerance to the continuous increase of usage, relapse when trying to reduce or adjust the usage style and mood modification when one is online. Research has also shown that such excessive and obsessive usage and preoccupation about technology are associated with undesirable behaviours such as reduced creativity, anxiety and occasional disconnection from reality.
While the wealth of information technology and online connectivity are prominent characteristics of the quality of life, their addictive use may result in a less sustainable and connected society. Governments and societies have started to introduce precautionary procedures to stop Digital Addiction.
For example, from 2007 China introduced an anti-online gaming addiction system to restrict players under 18 to spending less than 3 hours a day playing digital games. In the USA, Digital Detox programs are available
What is our approach?
The immersive use of technology and presence in the cyberspace can easily lead a person to become unconscious of the time spent, the side-effects of being overly online and the potential risks of taking actions in a hasty style due to a sort of irresistible impulse. Thus, we believe that providing aiding measures such as interactive, real-time and intelligent warning messages and labels are a social responsibility, ethical and professional practice for technology developers at least to raise awareness so that people take an informed decision whether and how to use technology.
Our group believe in the power of intelligent and interactive persuasive technology approaches to enable people to take an informed decision about their usage and regulate it in a way that minimizes their concerns, conflicts, relapse, salience and withdrawal symptoms in relation to technology usage. Examples include enabling users modelling  their ideal usage and tracking it and the deviation which may eventually happen, enabling people to set up a time limit and a reduction plan which can be then tracked and visualized, offering them designated online platforms for agreeing and enacting their cyber social interactions protocols and habits collectively and other range of persuasive and software-based behaviour change technologies.
This requires novel design processes as such technology is not simply a utility software where users know what they want in a certain business but rather an affective computing where the potential side effects, risks, effectiveness and sustainability of the achieved behaviour change are main concerns.
Such a software-based intelligent and interactive persuasive intervention is not only about informing the user of the amount of time spent on a digital device. It could be powerful precautionary mechanisms to avoid entering a highly-addictive usage stage. This is most common in the case of games and social networks.
For example, the labels can raise self-awareness and also enlighten the user about other activities they can do as an alternative to being online based on their profile and interests. It could be also a mechanism to recover from digital addiction or regulate the usage style and moderate the preoccupation about it. For example, it could enable people to set up a limit, e.g. an amount of time of using a social network or friends to interact with online, and remind them whether and how they are adhering to the limit.
Another style of designing such mechanisms would be based on peer groups where peers make a sort of surveillance on each other and put a peer pressure to adhere to a certain usage style. Thus, in contrast to traditional interventions and behaviour change methods, e.g. labels found on tobacco and alcohol, digital media can be designed to include a more intelligent, real-time and interactive incarnation of such method. While tobacco and alcohol cannot tell their "users" to stop, software fortunately can
What are the challenges?
Online intelligent and interactive mechanisms to combat digital addiction are not one size fits all. People have different preferences on how these mechanisms should be presented to them. Accommodating this diversity and ensuring fitness, effectiveness and sustainability of such solutions are main challenges. For example, people could differ in their preferences in the language style and the content used in the messages and the way they are delivered, e.g. a pop-up, sound alert, change in screen colour, etc.
People are also different in how they view digital addiction and it seems there is not a unique measure for defining an addictive usage. The time spent on technology is only one indicator of digital addiction but apparently not enough. How can we measure other facets of digital addiction such as mood modification and preoccupation?
The development of intelligent software able to understand users and personalize the interactive intervention so that they fit those users' context, their perception of technology and its addictive usage and their preferences and values and ensuring the effectiveness and long-lasting effect of such labels are all challenges we still have to address. 
Publications
❖2019
➩2018
❖2016
❖2015 
  ❖2014
Videos by the Digital Addiction research team members:
Is tech Making Us Miserable?
Cambridge University Presentation
Distinguished programs and documentaries which acknowledged our research: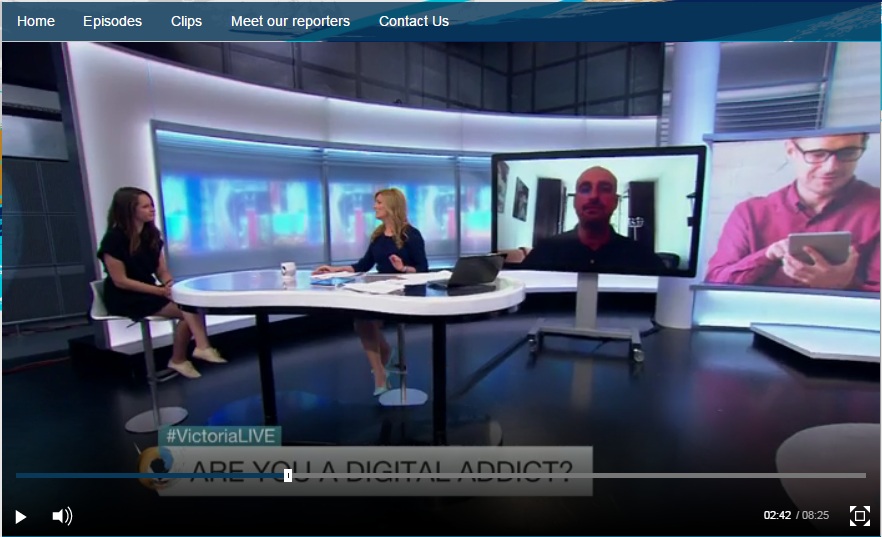 This will take you to the BBC website to watch the clip
Latest news from the Faculty of Science & Technology
Project Team
BU research team
Visiting Scholars
Alumni & current PhD students
Abdulaziz Alblwi
Manal Aldhayan
Amen Alrobai  (Alumni)
Majid Altuwairiqi  (Alumni)
Aarif Alutaybi
Sainabou Cham
Collaborators