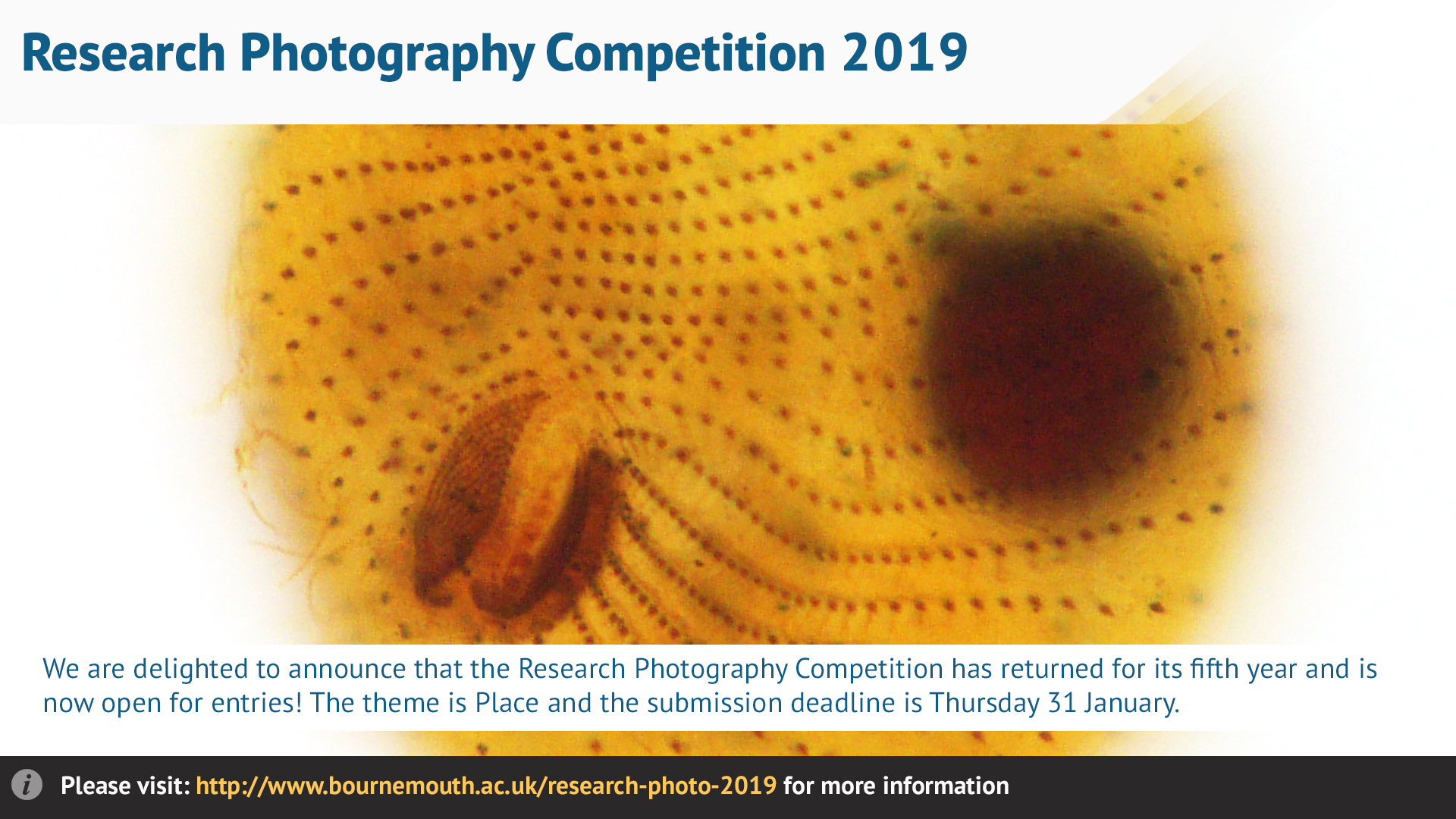 Coming soon at the Atrium Gallery, Poole House, Talbot Campus: 11 - 28 March 2019
Discover the fascinating research BU academics and students have been up to and get inspired!
​The annual Research Photography Competition is open to both academics and student researchers who take part by capturing an image relating to their research and this year's theme is 'Place'. Students, staff and the general public will be able to vote for their favorites in the lead up to the exhibition where a selection of the most popular images will go on display. The top three winners will receive a prize presented by Pro Vice Chancellor for Research and Innovation, John Fletcher, at the opening of the exhibition in March. The exhibition is free to attend and open to all.
---

The Lees Gallery, Lees Lecture Theatre Lobby, Talbot Campus: 5 December - 28 February 2019
An exhibition created within the Arts & Humanities Research Council International Network e-Voices: Redressing Marginality. A global network of academics and practitioners exploring the theme of marginalisation and how digital media can be used by marginalised groups to make their voices heard within and beyond the borders of their communities and promote social inclusion. This exhibition is about Kenyan artists reflecting on marginality, representing marginalised groups and portraying human rights and social challenges. It was first displayed in the Shift-Eye Gallery in Nairobi Kenya and we are delighted to be able to welcome pieces of the original exhibition here at BU to launch the 'UK: Creativity and Marginality Symposium' on 5 December 2018. The exhibition is free to attend and open to all.
---
Staff Centre, Poole House - open to staff only: extended until further notice
The first exhibition to be held in the new Staff Gallery is a display of images and objects shared by BU staff member Barbara Montagna, and highlights her relationship with anxiety and her journey to mindfulness whilst trying to manage its effects. 
Barbara said about the display: "At some point in our lives, most of us experience some level of anxiety caused by a situation or event. For most people once the issue is resolved, they stop feeling anxious. However for some, feelings of anxiety are more constant, do not go away and can begin to affect daily life. This is me…busy mind, on edge, troubled soul…anxious." 
"Taking photographs allows me the headspace to escape the muddle in my mind to stop and 'see' the world around me. I capture moments in time that make my soul beam. Being shown this mindful way to calm my busy mind, was a lifeline when I was in a very dark place. I invite to you take a peek inside my world, and see all that makes it beautiful."
Pop in to see the new exhibition space in the Staff Centre - all staff are welcome.
Interested in becoming an exhibitor?
The Atrium Gallery is available to exhibit your research, or work generated by your professional and personal interests. Contact the team for more information on how to book our spaces.
View our Previous art exhibitions page to see the variety of work which has been on display in the Gallery.