Our art exhibitions are currently postponed while the campus is closed. We hope to continue the planned exhibitions at a later date. Please check back for details.
Interested in becoming an exhibitor?
The Atrium Gallery is available to exhibit your research, or work generated by your professional and personal interests. Contact ssops@bournemouth.ac.uk to find out more.
View our Previous art exhibitions page to see the variety of work which has been on display in the Gallery.
Current and forthcoming exhibitions
Breastfeed - Portraits with Purpose: Postponed
Atrium Gallery, Poole House, Talbot Campus - open to all.
Breastfeed: Portraits with Purpose, is the product of a programme by Leanne Pearce Billinghurst to help celebrate and normalise breastfeeding in communities with low breastfeeding rates.
The main exhibition will be part of a wider programme of free events and talks which are open to everyone. Visit Eventbrite for the full programme of events and to book your place, including the official exhibition opening. 
This is a celebration of breastfeeding and serves to explore various aspects of breast feeding, especially in British Society. Leanne's portraits reflect the colourful character and beaming energy that emanate from each of her subjects. The work is large scale, vibrant and fresh with each and every portrait a testament to the unique passionate story of what breastfeeding means to the woman and her children.
Leanne has created this new series of portraits with purpose, alongside a booklet about breastfeeding and the journeys of a broad cross section of mothers. To find out more visit www.leannepearce.co.uk. 
This collection of artworks has been exhibited in community venues and galleries across the country to stimulate discussions about various aspects of breastfeeding explore different perspectives and inform and educate the British public about the benefits of breastfeeding. The participants involved showcase the empowerment and celebration that breastfeeding was for them.
In association with the Faculty of Health & Social Sciences at Bournemouth University:
Dr Minesh Khashu
Consultant Neonatologist/Prof. of Perinatal Health HSS
Edwin van Teijlingen
Professor Of Reproductive Health, HSS
Dr Alison Taylor
Programme Lead for Midwifery
​Senior Lecturer in Midwifery & Infant Feeding Lead, HSS
Postgraduate Research Showcase - poster exhibition: Postponed
Lees Gallery, Lobby of Lees Lecture Theatre, Talbot Campus - open to all.
A showcase of postgraduate research currently taking place at BU. An opportunity to view posters presented as part of the Doctoral College 11th Annual Postgraduate Conference - visit the Lees Gallery to view the posters exhibited on the day.
Asking For It - photography exhibition: Postponed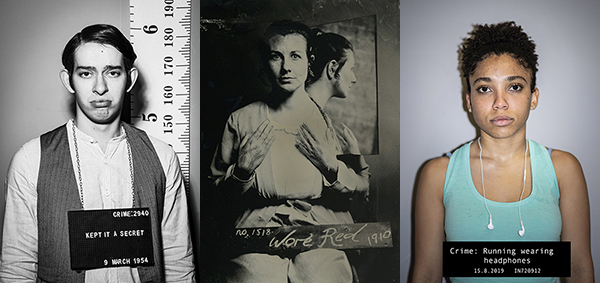 Atrium Gallery, Poole House, Talbot Campus - open to all.
An intriguing art project of 14 images to highlight and change opinions towards historical and current tendencies toward victim blaming, especially in cases of sexual and gender based violence.
The exhibition features a timeline of mug shot images from 1900 to the present day depicting a variety of portraits. Each 'mug shot' image has been carefully styled and made to represent a different decade. It uses actors, costume, make-up and heritage photographic methods, including wet plate collodian, to take the viewer on a remarkably authentic journey through history. Each image contains a 'crime' such as 'wore red' or 'swiped right', which viewers are invited to question. 
This project, by photographer Jayne Jackson, has been developed alongside and supported by the charity STARS (Sexual Trauma and Recovery Project) and Bournemouth University's Dr Peter Arabaci Hills and Jamie Fletcher. 
A preview of the project has appeared on BBC South Today and generated national media interest such as BBC Radio 5 Live and BBC Radio Solent, but this is the first time the full exhibition will be available for public viewing. 
The project can also be followed on Twitter: @consent_aware and Instagram: @jaynejacksonphotography.
You can contact Jayne via email: jaynejacksonphotography@gmail.com or visit her website: www.jaynejacksonphotography.co.uk/asking-for-it.