Our art exhibitions are now open to all in the Atrium Gallery and the Lees Gallery.
Current and forthcoming exhibitions
Homefront
Atrium Gallery, Poole House, Talbot Campus - open to all until 29 January 2021
This collaborative project, by award-winning social action photographer Jayne Jackson, explores how female lives have been changed by events in 2020, particularly in terms of work/home situations, mental health and general wellbeing.
Each person is photographed in a way that they feel represents their unique experience, from a 'homefront/post war' perspective. Each image is styled as a 1940s/50s slightly satirical, yet empowered/uplifting image, with interviews about life before, during and after lockdown.
As a body of work, it touches upon specific issues like giving birth during lockdown, home schooling, running a business, health and fitness, cooking etc, but also a variety of general feminist issues. These include the disproportionate amount of unpaid work done by women, such as childcare and caring for other relatives, as well as the 75% of part-time workforce being occupied by females, many running small businesses and often combining this with childcare. Some personal stories reflect on issues such as domestic violence and bereavement.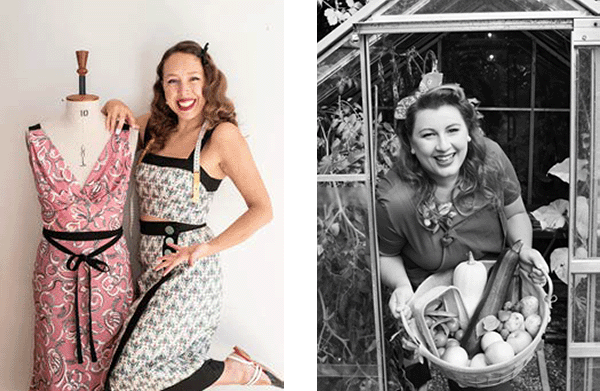 Jumping in: Transgender and non-binary swimming LGBT+ art exhibition

Lees Gallery, Lobby of Lees Lecture Theatre, Talbot Campus - open to all until 31 December 2020
Transgender people's stories are sometimes lost during LGBT History Month (February). This LGBT+ art exhibition relates how a Bournemouth-based transgender social group participated in swimming, a physical activity that can be daunting because of the display of the body. Swimming and aquatic activity have positive mental and physical health benefits (Swim England, 2017). And yet, physical activity and sport can be unwelcoming to LGBT+ participants.
A Pride Sports study in 2016 showed that homophobic and transphobic language, and the acceptance of homophobic and transphobic banter continue to pervade physical activity and sport environments. The exhibition's artwork showed Communi-T members' positive and negative experiences of swimming and aquatic activity. Curated by Jayne Caudwell. The exhibition materials and the swim sessions were funded by Leisure Studies Association.
Asking For It - photography exhibition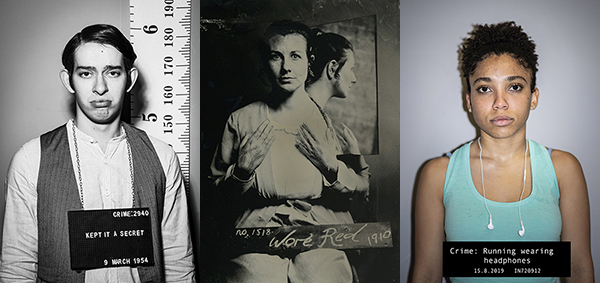 Atrium Gallery, Poole House, Talbot Campus - from February 2021.
An intriguing art project of 14 images to highlight and change opinions towards historical and current tendencies toward victim blaming, especially in cases of sexual and gender based violence.
The exhibition features a timeline of mug shot images from 1900 to the present day depicting a variety of portraits. Each 'mug shot' image has been carefully styled and made to represent a different decade. It uses actors, costume, make-up and heritage photographic methods, including wet plate collodian, to take the viewer on a remarkably authentic journey through history. Each image contains a 'crime' such as 'wore red' or 'swiped right', which viewers are invited to question. 
This project, by photographer Jayne Jackson, has been developed alongside and supported by the charity STARS (Sexual Trauma and Recovery Project) and Bournemouth University's Dr Peter Arabaci Hills and Jamie Fletcher. 
A preview of the project has appeared on BBC South Today and generated national media interest such as BBC Radio 5 Live and BBC Radio Solent, but this is the first time the full exhibition will be available for public viewing. 
The project can also be followed on Twitter: @consent_aware and Instagram: @jaynejacksonphotography.
You can contact Jayne via email: jaynejacksonphotography@gmail.com or visit her website: www.jaynejacksonphotography.co.uk/asking-for-it.
Interested in becoming an exhibitor?
The Atrium Gallery is available to exhibit your research, or work generated by your professional and personal interests. Contact ssops@bournemouth.ac.uk to find out more.
View our Previous art exhibitions page to see the variety of work which has been on display in the Gallery.