Our award-winning Global Talent Programme (GTP) extracurricular Skills Award is open to all undergraduate and postgraduate taught students throughout their time at BU. 
Being a part of the GTP community enables students to develop skill sets needed for the global marketplace and provides a key talking point at interviews and assessment centres.
Joining the programme gives our students access to an innovative online portal and GTP mobile app, making content instantly available on the go.
Within the Global Talent Framework students are encouraged to think and act locally, nationally and internationally, through a series of core workshops and a portfolio of over 100 activities.
Global Talent Framework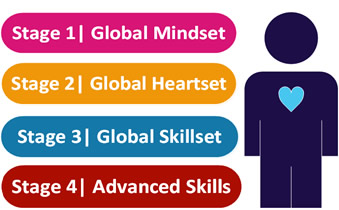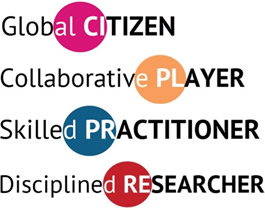 By nurturing the mindset, heartset and skillset, and by taking time for self-reflection within a structured framework, students will be exposed to a wealth of global opportunities.
What does GTP help you to achieve?
Stage 1: Gain a broader understanding of key global economic, environmental and societal themes and their potential impact.
Stage 2: Develop a set of intra- and inter-personal skills and understand how different cultures operate. 
Stage 3: Build and demonstrate key skills required for future employment or job creation. 
Stage 4: Deliver global solutions to real-life challenges.
Attend core workshops
Core workshops are co-ran and delivered by academics, key industry employers and inspiring local and national start-ups; all of which have invaluable insights into the skills employers are looking for in today's global marketplace.
Browse a portfolio of over 100+ activities
Each stage of the GTP is underpinned by a portfolio of exciting extracurricular activities including travelling, volunteering, work experience and real-life employer-led challenges and projects which help our students create professional networks and help them to succeed in their chosen career.
Here are a few examples of activities that our GTP students have been involved with:
Travelling to India, China and ASEAN with the Global Festival of Learning
Spending a week at Destination Programmes in Zaragoza, Spain and Jakarta, Indonesia
Participating in The Global Challenges Summit
Taking part in the Sports Development Adventure Expedition (SDX); a unique opportunity to get hands-on experience of coaching and developing others through sport in less fortunate, rural communities and schools in Africa.
Completion of the GTP is recognised and rewarded at our annual Global Talent Awards. Find out now how you can benefit from our Global Talent Programme and join the GTP Community #globaltalent.
"I'm glad to have been recognised as a future global talent. The past four months have reassured me that the Global Talent Programme was the perfect supplement to my degree."

Balint Brunner, BA (Hons) Public Relations
View Video
Creating Global Talent – Balint Brunner