The Business School has established strong links with professional and industrial organisations over the past 25 years. We actively engage with these organisations in curriculum development, as well as placement and graduate opportunities. The learning experience and professional development of our students is greatly enhanced through such engagement.
Our Business School Advisory Represents a merging of two well-established groups of actively engaged stakeholders, namely our Partners in Accounting & Finance, established in 2013, and our Business Studies Alumni Panel, established in 2014. 
Phil Ost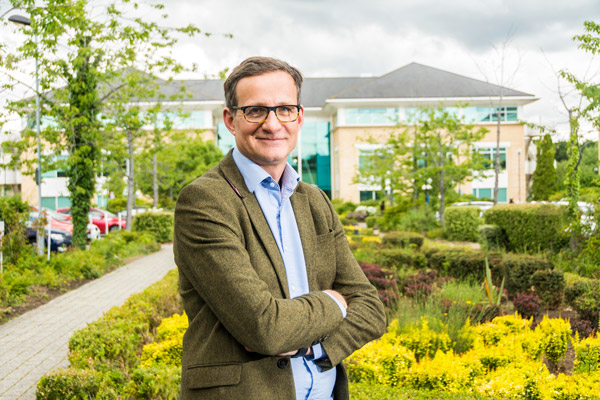 Phil Ost is a BU alumnus, having graduated from the class of 1990 (BA Business Studies).
He works for Zurich Financial Services in a General Management role on Zurich's UK Personal Lines Executive team, heading up the Direct, National Broker & Partnerships segment within the Personal Lines insurance business. 
Phil brings considerable experience as a Commercial Director to the board. He has a background in marketing, from strategy development through to direct advertising, customer management and digital. 
---
Laura Edwards
Laura Edwards is the Commercial Director of Viral Talent, an agency that works with social media influencers and brands to create PR and marketing campaigns that speak directly to their shared audiences across social media platforms.
She is also the co-founder of Social Kidz Co, a start-up creating a portfolio of 'kidfluencer' properties from Viral Talent and The Social Store.
Laura has also volunteered as a guest lecturer at BU.
---
Eileen Treacy
Eileen Treacy is the Head of Tax at EDF Trading, a firm which has developed a strong relationship with BU through the provision of placements and generally as a company with a need to recruit work-ready young tax professionals.
She brings great insights to the panel regarding the skillsets required for graduates to make the strongest possible start in the workplace. This includes the importance of non-technical skills such as communicating with different audiences.
---
Paul Mallinson
Originally a Law graduate who subsequently trained as an accountant, Paul's distinguished career includes 25 years with Hays Recruiting, during which his roles included working as the Managing Director of two businesses within the Hays portfolio.
He has also been the Managing Director of Hampshire-based Optamor in addition to other leadership roles. Paul believes that the key skill for students in learning how to manage people, and he brings considerable experience and expertise in this area to the panel.
---
Marcus Lee
Having started his career in IT, Marcus has gone on to become a highly-experienced People Director who has held HR leadership roles in the private sector for JPMorgan Chase and Santander, and in the not-for-profit sector for the Make-A-Wish Foundation as Director of People & Culture.
He is currently the Vice President of HR at Cobham Mission Systems, based in Wimborne.
---
Deborah Matthews
Deborah has worked for 26 years in the NHS, mainly in organisation and development and assisting with change programmes. She is currently Director of Improvement and OD at the Royal Bournemouth and Christchurch Hospitals NHS Foundation Trust.
Deborah is interested in executive coaching and promoting collaborative cultures, and brings valuable input to the panel in these areas.
---
Alistair Ellen
Alistair Ellen works for FP Wealth Management – a company that started a relationship with BU four years ago as it experienced challenges trying to find applicants with the correct skills during a period of expansion, with candidates tending to focus on selling rather than advising.
FP Wealth Management has since been offering placements for BU students and is very pleased with the outcome.
The company currently has two BU alumni working in the business and has found that having new people is very motivating. FP Wealth Management is keen to continue engagement with BU and considers that the BU employability scale is very effective.