Digital Media Design students who have just completed their degrees at BU have showcased their final year projects to the public and industry.
 
Everything from mobile phone applications to websites and online gaming platforms were on display during the Digital Underground show, which was organised by the students themselves and took place during BU's Festival of Learning.
 
Local digital agencies attended a VIP launch evening, while friends, family and the public could explore the projects on show across two days.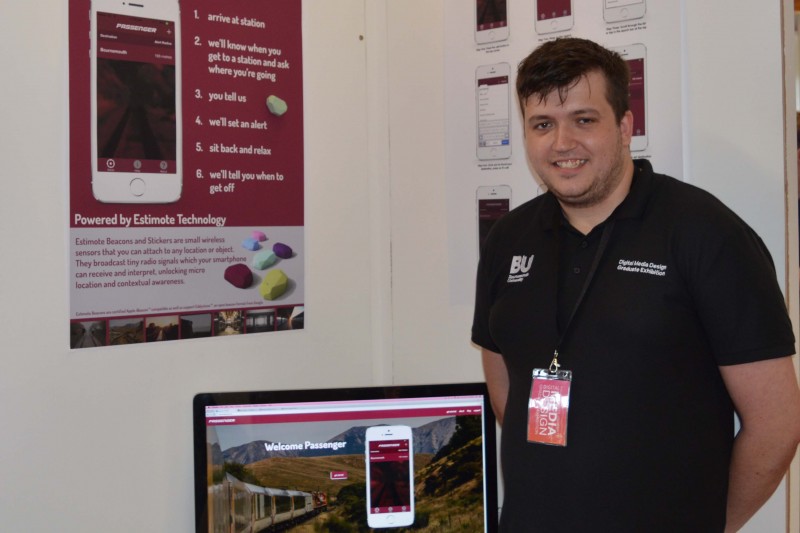 Adam Cullen was exhibiting his final year project, a mobile phone app that alerts people when they are due to reach their train station.
He said: "Essentially I want it to be a one-stop shop for train travel – so at the moment, it focuses on making you never miss your stop on a train by sending you alerts, but I want to make it so you can check train times, plan journeys, buy tickets and everything on it – so it eliminates all of the different apps that you have to have at the moment. 
"The show's been really, really good - so many local digital agencies turned up to the networking event and it was a good example of why Bournemouth is becoming the leading place for the digital industry in England – it's fantastic."
Melody Bowles was showcasing her final year project – a card game and website based on fairy tales, where players vote on the most imaginative responses to scenarios.
"My time at Bournemouth University has been pretty great – I've enjoyed every single module on my course," she said.
"A lot of people have been interested in my project, and people have amused themselves by answering the questions – and I've had some really fun responses. 
"It's been great talking to people about it and the positive responses have made me feel so much more confident about the idea myself." 
Find out more about the Digital Media Design graduate show and the projects on display on the Digital Underground website.