Bournemouth University (BU) hosted the first Prejudice Free Dorset conference to challenge prejudice and tackle barriers to reporting hate crime. 
The Prejudice Free Dorset Group is a multi-sector group including representatives from the public, private and voluntary sectors including: Dorset Police; Dorset Police and Crime Commissioner; Bournemouth Borough Council; Borough of Poole Council; Bournemouth University; Crown Prosecution Service; Victim Support; and other third sector community groups.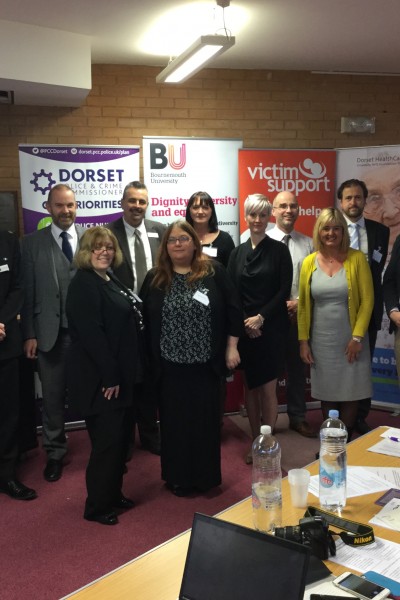 The conference, on Wednesday 13 January, provided the platform to discuss barriers to reporting hate crime and the role of the Prejudice Free Dorset group moving forward.
Dorset Police Hate Crime lead and Prejudice Free Chair, Superintendent Michael Rogers, said: "Tackling hate crime is a priority for the Force and we are working with partners as part of the Prejudice Free Dorset group to stamp it out.
"This is the first time we have had a conference where all stakeholders as well as members of the community have come together to discuss how to reduce hate crime and improve processes for victims. The working group have recorded any feedback and comments from the conference workshops, which will be used to develop ongoing plans and priorities for improvement.
"The importance of reporting these incidents cannot be underestimated. The priority for us is to ensure the victims of hate crimes are supported and we want to instil confidence in victims to come forward and report however they feel comfortable."
Various invited individuals attended the event including key members of the community who have integral or prominent roles within, or in support of, the protected characteristic groups in the community; disability, race or ethnicity, religion or belief, sexual orientation, transgender identity.
The conference held workshops to discuss how Prejudice Free Dorset moves forward to achieve its aims of tackling discrimination and encouraging the reporting of hate crime. Informative speeches were also given by key partner agencies.
Dr James Palfreman-Kay, Equality and Diversity Adviser at BU, said: "It is key for BU to host the conference and be a part of the Prejudice Free network as it helps to develop and enhance links with the community and to show that BU is an inclusive environment whether you are working, studying or visiting it."
More information about the Prejudice Free Network can be found on the group's website