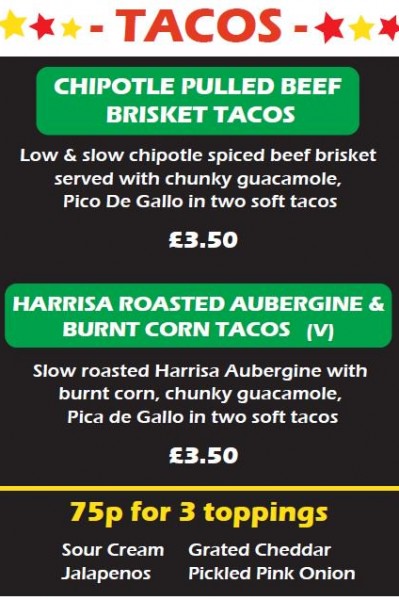 Chartwells, our catering partner, are passionate about food and love to show it by organising regular pop-up restaurants with street food from all around the world. This celebration of world food will give you the chance to a taste of something a little different from their daily menu, and best of all, their pop-up restaurants are usually presented in live kitchens with the chef so you can see your food being prepared - and follow those same steps at home if you want to make it yourself.
South American Tacos: 21-24 February (11:30am - 2:00pm) in the Poole House courtyard on Talbot campus.
This week a South American taco pop-up will be selling chipotle pulled beef brisket and harissa roasted aubergine tacos outside in the Poole House courtyard.
You can find pop up restaurants on both the Lansdowne and Talbot campuses throughout the year – check the BU events pages and Your BU Weekly email for upcoming events. If you want to see your favourite style of street food let Chartwells know at Chartwells Pop-Up Restaurants.
Follow Chartwells at BU on Twitter @BUeatanddrink or like the Facebook page Dine at BU.