The Awards ceremony, now in its second year, saw around 50 students attend to celebrate their achievements at the university, including their work supporting programmes like the Books and Stories initiative, STEM, and Service Excellence, as well as their work championing Open Days, outreach, and recruitment events.
Agata Bak was named Student Ambassador of the Year, with a joint prize for Outstanding Newcomer awarded to Ellie Millard and Gudny Hannesdottir. Jamie Gorman was nominated for his work with international events, and Jennifer Richardson-Jack was awarded for her mentoring work.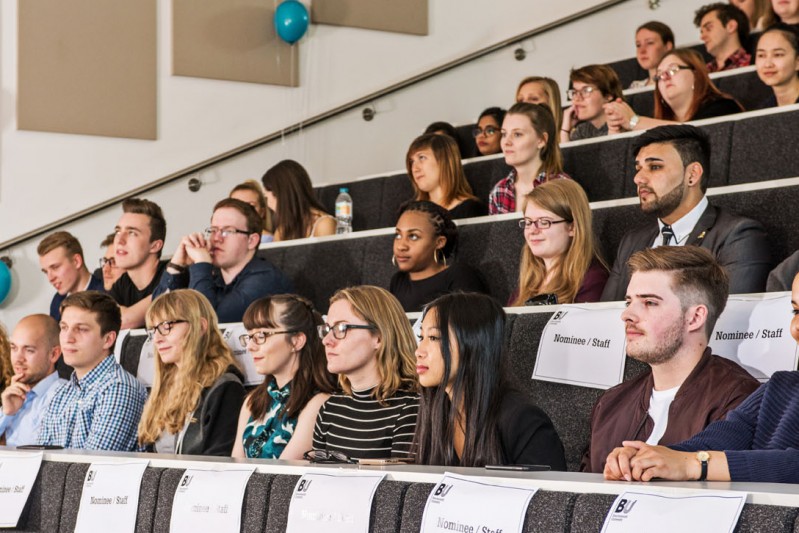 BU graduate, 2016 Student Ambassador of the Year, and IBM HR Business Operations Specialist, Steve Moss, gave a talk outlining the qualities of a successful work life, and the ways in which success can be achieved by assessment and improvement.
Steve said: "There are three principles that I have observed in those who I admire as successful individuals; traits that I personally live and work by, and I think that BU's student ambassadors can take advantage of these too.
"Knowing where to invest your time is important – when you know that you are adding real value to what you are doing, work tirelessly to make it happen. Being confident and proud of your roots is also a skill; our most unique selling point that we are given at birth is where we are born.
"The ability to critically assess your output, whether you're self-employed or part of a corporation is incredibly important too. Strive to continually improve, and own the success of your work as if your life depends on it."
Around 347 student ambassadors are employed by BU's Marketing and Communications, with approximately 850 assignments available each month.
Recruitment Events Award winner, Glebs Kiselovs, said: ""It was a great pleasure standing on the stage with the brilliant people from BU Marketing team, who, I believe, all deserve an award for their commitment as without them our achievements would not have been possible. It has been a brilliant year that allowed me building my own brand by promoting a brand of our university."
Head of UK Student Recruitment and Outreach Nicola Murray-Fagan, pictured, said: "Our student ambassadors are at the very heart of our marketing, student recruitment and outreach work, as well as contributing to various initiatives across the university. They are shining examples of what BU represents, and we couldn't do our jobs without them!
"We know they greatly benefit from the experience as well – developing, growing and enhancing important employability and personal skills. It was fantastic to all come together to recognise and celebrate their hard work and contributions. We're very proud of our students and the event was a fitting celebration of their achievements."
Full list of winners:
Student Ambassador of the Year:             Agata Bak           
Primary Programme:      Daniel De Carvalho
Books & Stories:               Alice Phillipson
Service Excellence:          Megan Brim
Blogs & Vlogs:                    Steph Bisson
Mentoring:                         Jennifer Richardson-Jack
Outstanding Newcomer: Ellie Millard & Gudny Hannesdottir
STEM:                                   Scott Butler
International:                    Jaime Gorman
Outreach Events:             Elliot Darby
Outstanding Contribution:           Dominic Keeley
Recruitment events:      Glebs Kiselovs
Open Days:                         Agata Bak
AskBU Students' Service:               Niya Gaydarova