Two Bournemouth University students, Grace Connors and Emily Rogers, have presented their undergraduate research to MPs and policy makers at the annual 'Posters in Parliament' event.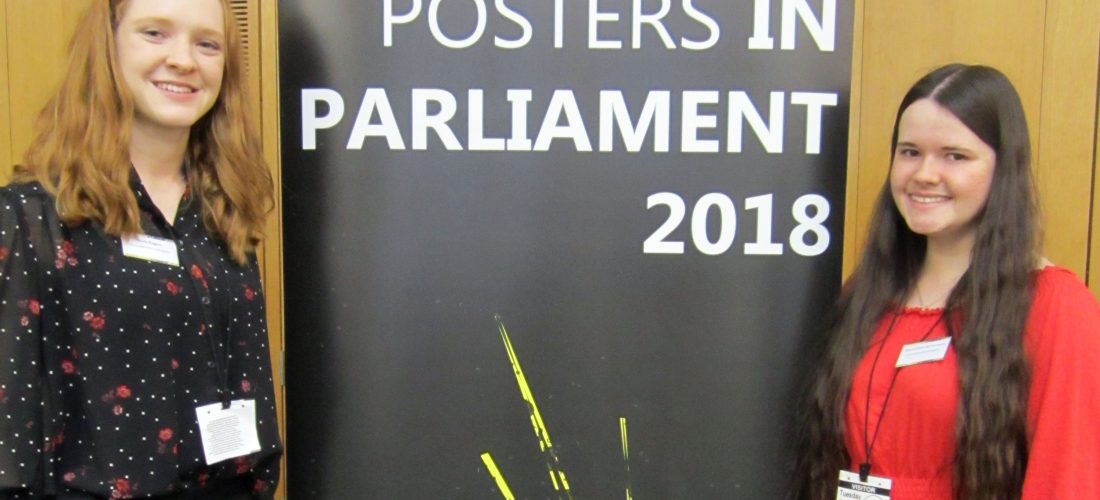 Around 40 students from across the UK are given the opportunity to share their research in Parliament each spring.  The exhibition allows MPs and policy makers to learn more about the innovative undergraduate research taking place across the country.  It's also an excellent opportunity for current undergraduates and recent graduates to hone their presentation skills as they share their work with lay audiences.
Grace Connors, a BA English student from the Faculty of Media & Communication, presented her research into BBC drama The Fall which explored the representation of women in crime dramas.
"I looked at the way female characters were treated in The Fall¸ and whether or not it impacts on the way that real women are treated," explains Grace, "I've always been interested female characters and the way they're portrayed."
"The Fall is often described as being a feminist or woman-led show, despite the fact it has numerous poorly treated female characters.  I wanted to see if there was a link between poor treatment of women in a 'feminist' programme and how women are treated in reality.  Through my research, I found that the prevalence of negative treatment towards women often leads to people no longer finding this kind of behaviour taboo."
Emily Rogers, a BSc Nutrition student from the Faculty of Health & Social Sciences, shared her research into boosting fruit and vegetable consumption of school-aged children and their parents.  Previous research has suggested that family meals can help to improve dietary intake, so Emily decided to see if meal time frequency could help to boost a family's fruit and vegetable consumption.
"I chose to work with children aged 9 – 11 years old and their parents, as statistics showed that by the time children reach 10 – 11 years old one third are overweight or obese.  63% of adults in the UK are overweight or obese too, so I wanted to see if good eating habits were being shared throughout families," says Emily.
"I sent out over 200 questionnaires to parents of year 5 and 6 children at Christchurch Junior School.  To encourage a high response rate, I gave children the opportunity to win a couple of hampers filled with prizes designed to help them get more involved in food production and preparation: gardening tools, seeds and cooking utensils, as examples."
"My research showed that there was a positive link between family meal times and an increase in fruit and vegetable consumption for both children and adults," continues Emily, "Children had more opportunities to eat healthily and adults, perhaps because they were modelling good eating practices for their children, also improved their diets."
"I was inspired to submit my research to SURE, BU's undergraduate research conference, and Posters in Parliament by my lecturer, Dr Fotini Tsofliou.  She has always been extremely supportive, and I can't wait to use both opportunities to inspire others and help to create healthier communities."
More information about BU's undergraduate research conference can be found on the SURE website.  Staff and students are welcome to attend the conference on 7 March and can book free tickets via Eventbrite.