Students from Bournemouth University have been shortlisted for a national events award after hosting a fashion show and craft competition which raised money for charity CoppaFeel.
BA (Hons) Events Management students Team ABra Cadabra organised and hosted the event as part of the annual Fusion Festival, where second-year undergraduate Events Management students put on their own live event which is assessed by the academics.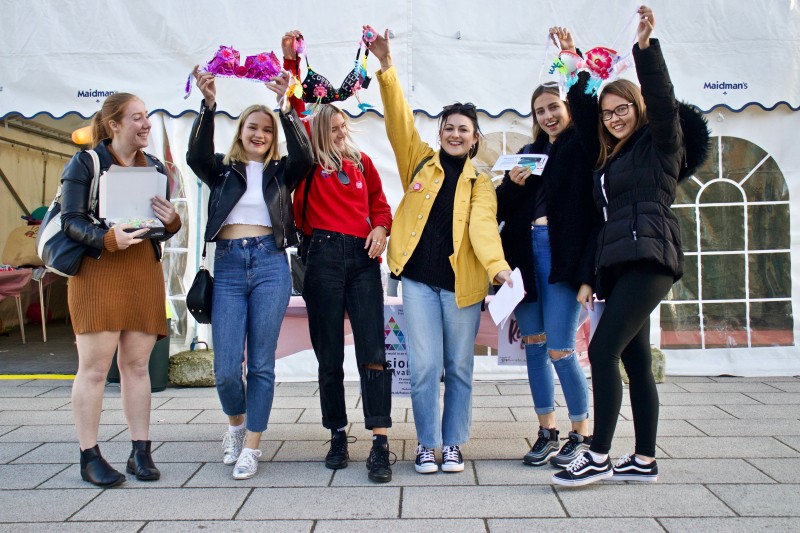 They have now been shortlisted for Student Team of the Year at the National Outdoor Events Association (NOEA) awards. 
The annual Fusion Festival consisted of 19 events, which all aimed to break down barriers and create a fruitful exchange of knowledge through creative events.   
ABra Cadabra put on a fashion show and craft competition to raise awareness for breast cancer working in tandem with charity CoppaFeel.
Attendees were asked to design a bra for the chance to win one of three prizes, including a two-week holiday. At the end of the event, the bras were modelled and judged by the event organisers with all proceeds raised at the event given to the charity.
One of the ABra Cadabra team members, Eliana Benevento, said: "There's so much that goes into the planning of even the smallest event. As the event planner, you have to anticipate everything that could happen - from how people should queue to calculating how likely it would be for a tent to fall down: and how to prevent that from happening.
"It can be incredibly stressful at times, but it is such a rewarding experience to see an event through from start to finish.
"We were shocked and excited to be shortlisted for the award! It's really neat to be recognized for something you put a lot of work into. For me personally, I am thrilled that I was able to make an impact while only living in the UK for six months."
NOEA is the UK's leading outdoor events trade association and the winners will be announced at a ceremony in November.
Senior Lecturer in Events Management, Michael O'Regan, who worked closely with the students as they planned, prepared and executed their events, was thrilled to have had one of the groups shortlisted for the award this year: "We are absolutely delighted that ABra Cadabra – Benefitting CoppaFeel! UK has been shortlisted as NOEA is the UK's leading outdoor events trade association which recognises the best events in the country.
"The students were creative but also showed great management skills in developing and executing their event.  They worked with the charity CoppaFeel! UK to organise the event and represented the charity, who had a speaker at the event, themselves and the university extremely well."
If you're interested in studying Events Management at Bournemouth University, please visit the course page for more information, student stories and how to apply.