Ten BA (Hons) Film degree students from Bournemouth University (BU) took part in this year's Shooting from the Hip Contest and swept the board, with three of the BU teams winning all four awards on the night.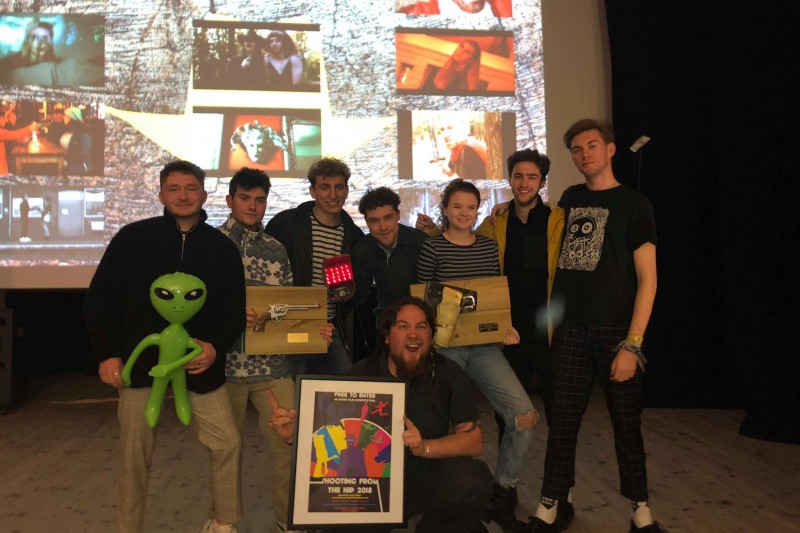 The teams were tasked with an ambitious creative challenge for the competition - to write, shoot and edit a short film in a particular genre over a period of just 48 hours. The teams were also given words at the launch event that needed to be included in the project in order to pass the challenge.
At the awards event, Maggie's Messtaurant, produced by members of BU's Improv Comedy society, won the award for Best Dialogue. Another BU team submission created in a western style, The Brazen Whisk, scooped Best Use of Genre.
A third BU team took theThe Golden Holster Best Film award from the judges for their film, I Love You Spacecakes, and were also presented with the Audience's Favourite Film prize.
James Fair, Programme Leader for BA (Hons) Film said: "I am so proud of our marvellous students who really nailed this challenge! The awards are particularly impressive considering this course is not focussed on production." 
Whereas traditional production degrees focus on how to make such films, the BA (Hons) Film degree emphasises the business of filmmaking and how to produce material to challenge and entertain audiences.
Bournemouth University also offers BA (Hons) Film Production and Cinematography delivered at our partner college, Wiltshire College and University Centre.
Find out more about studying BA (Hons) Film at Bournemouth University.