Nine final year BA (Hons) Marketing Communications students from BU, in partnership with the Chartered Institute of Marketing (CIM), will host the annual Mike Warne event on 27 February.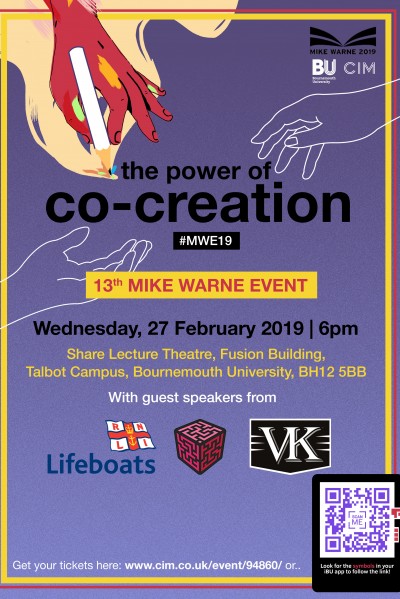 Mike Warne lecture 2019
The event will discuss how brands can leverage co-creation as an innovative method in modern marketing strategies.
Now in its 13th year, this year's Mike Warne event will see Charlie Leaver, brand manager at Global Brands Ltd; Will Roberts, innovation manager at the Royal National Lifeboat Institution (RNLI); and Mike Hawkyard, chief strategy officer of Bournemouth-based video games development studio, Amuzo, address the latest topics affecting marketers.
The three headline speakers will be discussing how partnering with co-creative consumers has empowered their organisations, and how collaborating with empowered consumers and using their feedback has helped to innovate their products and marketing communications. Inspiration of this year's event stemmed from the student's experiences of co-creation as consumers and the collaboration needed to organise the event with CIM.
Graham Goode, Senior Lecturer in Marketing Communications at BU, said: "This is the 13th Mike Warne event and our students have done a fantastic job. Co-creation is a hot topic that is really coming up in marketing, and I'm always amazed every year by the way in which students and CIM pull this event together.  It is testament to the quality of students we get on the Marketing and Communications degree, and at Bournemouth University in general.
"We ultimately want the audience of this event to go away with real value added; to feel that they've learned something about these topics and what they might mean for their businesses or studies - everyone goes away with something of value."
Speaking about the continued partnership between CIM and BU, Brian Doidge, chair of the Chartered Institute of Marketing in the South West, said: "CIM has a nested qualification within the degree programme at BU, as well as the Graduate Gateway programme. Additionally, BU students automatically become members of CIM and can advance to full membership very quickly.
"The idea of the Mike Warne event is always to create a learning experience by pulling in speakers at the top of their game. The students have learned a lot about collaboration by being at the heart of this event at the same time as studying the last semester of their full honours degrees, and all credit to them for being able to do it, with the support of CIM."
Since the event launched, the Mike Warne event has become a milestone in CIM's event calendar, honouring the memory of the late Mike Warne, a CIM regional director who was a strong advocate for building relationships between aspiring marketing students and CIM. For the last 12 years, the Mike Warne event has celebrated innovation in marketing, addressing the topical issues within the industry.
The event takes place at Bournemouth University, in the Fusion building on the BU's Talbot Campus on Wednesday 27 February from 6pm-8.30pm, with light refreshments provided.
Tickets are free for CIM studying members and students - call 01628 427 340 to book tickets. All other tickets are priced £15-£20.
Visit the CIM event page for more information and bookings.