BU's #digitechfutures campaign was launched at Blue Zoo Animation Studios in London, with a panel discussion on talent in the visual effects and animation industries.
The campaign, which seeks to highlight BU's excellence in the digital and technological sectors, looks at BU's contribution to the visual effects industry, with scores of graduates going on to work at top studios in London and around the world.
At Blue Zoo alone, over 40 graduates from a 200 strong staff graduated from Bournemouth University, making it the ideal place to launch the campaign.
Blue Zoo was co-founded by four BU graduates in their final year at university, and has grown to become one of the biggest animation studios in the UK, working on films, commercials, television series and branded content.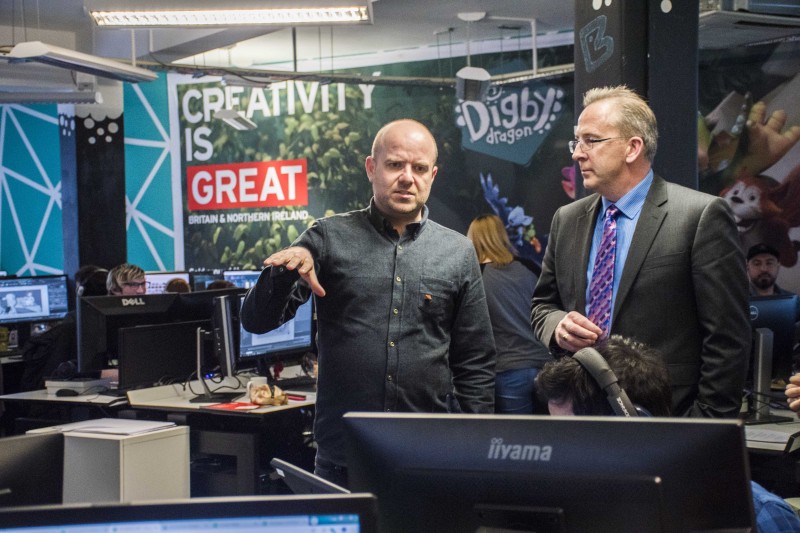 The launch was attended by Bournemouth University Vice-Chancellor John Vinney, and included a panel discussion on the future of the visual effects and animation industries, and how universities can help to underpin the industries by ensuring they are preparing work-ready graduates.
The discussion also highlighted issues at a school level, where children are often unaware of the range of jobs in creative industries such as film, television and visual effects, and how education about these key industries needed to start at an early age to create an ambition among school aged children to enter such professions.
Included in the panel discussion was Blue Zoo Co-Founder Tom Box, alongside Lean Loughran, Talent Manager at Outpost VFX a visual effects studio based in Bournemouth. Also taking part in the discussion was Peter Truckel, Director of the VFX Hub based at Bournemouth University and BU animation lecturer Susan Sloan.
Tom Box said, "My time at Bournemouth University was great for giving me the skill and drive to help start Blue Zoo and, 19 years later, I am so proud of all we have been able to achieve. We are growing all the time, employing many BU graduates as we do so, and as we continue to grow, we'll need organisations like BU to remain at the sharp end of creating talent that is much needed in this ever-growing industry in the UK."
Leanne Loughran works as Talent Manager at Outpost VFX, a Bournemouth-based studio working on television content for international clients, continued, "Bournemouth University has a storied history in animation and VFX circles. Many eminent artists, engineers and producers started their VFX lives at BU and have gone on to be multiple Oscar winners. Through giving young people access to good facilities, modern tech and expert lecturers who've worked around the world in visual effects, universities like BU are increasingly able to produce fantastic graduates. Just not enough of them!
"A crucial step is highlighting the benefits of a career in the creative sectors for young people much earlier in life. It's not the same as it used to be – parents shouldn't necessarily channel their children towards traditional jobs that are perceived as a route to success. Instead, creativity and artistry should be encouraged where present, as with the will to succeed the sky is the limit in the visual effects industry. Well-paid, exciting roles that can take you around the world are absolutely achievable if you have the drive."
Speaking at the event, Professor John Vinney, Vice-Chancellor of Bournemouth University, said, "Digital technology is right at the heart of everything we're doing at Bournemouth University so it's been brilliant to hear the discussion today and to hear about the impact our graduates are having in different industries and different companies.
"It's been great to hear today about the impact our graduates are having, the fact that they are rounded graduates with broad skillsets, the fact that they are developed in a fast-paced and changing environment and have a real impact in the companies so I think that's been fantastic."
To follow the #digitechfutures campaign, or for more information, visit: www.bournemouth.ac.uk/digitech-futures