Students from BU and across the region had the opportunity to network directly with media professionals at the annual Meet the Professionals event, hosted by Bournemouth University in partnership with the Royal Television Society (RTS).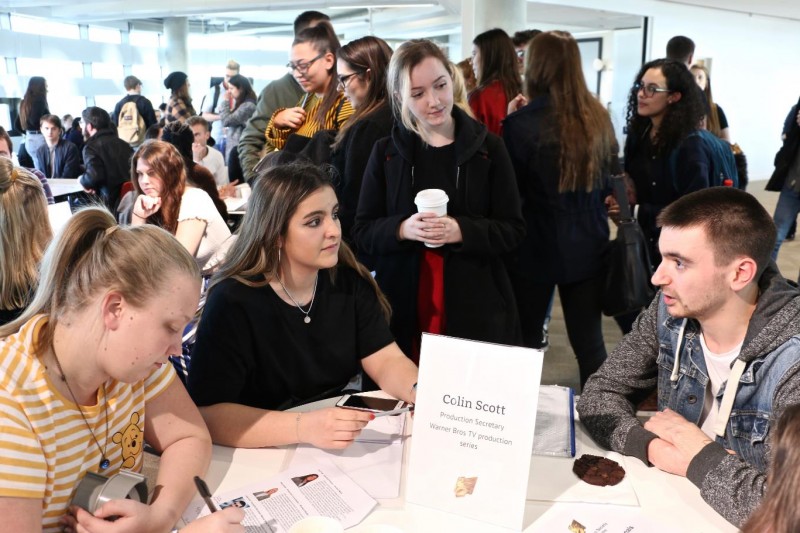 This year's event, chaired by Gordon Cooper from the RTS, included an industry panel of professionals - from new graduates with first jobs to those with ten years' experience and over. The panel included professionals in roles ranging from MDs and Executive Producers to junior animators and freelance editors. 
Students were able to listen to a Q&A about their careers and discuss what the industry is currently looking for, with the opportunity afterwards to network directly on a one-to-one basis with panel members.
Gordon said: "Meet the Professionals has become a Royal Television Society Southern Centre institution. We've been running it annually for ten years now.
"Each year up to 200 production-based students from southern universities meet at Bournemouth University to gain access to a range of media professionals to discuss moving image production, opportunities and career development. It never fails to win approval from students and professionals alike and many working contacts are made."
Stephanie Farmer - Chair of the RTS Southern Committee added: "This is a remarkable event - students will rarely get this kind of access to professionals and it has often led to work placements and sometimes job offers!
"The event is open to other universities such as Winchester and Solent and hosted by BU - it is one of our most popular events and we hope encourages students to make the most of these opportunities from the RTS and BU."
Find out more about studying Film, TV and Media Production courses at BU