Bournemouth University are the official higher education partners of Premier League football team AFC Bournemouth.
The partnership, officially in its sixth year, provides opportunities for both organisations to work closely together on community initiatives and research, and it also has opportunities and benefits for BU students.
BU's men's and women's football teams are coached by AFC Bournemouth coaches, and students also have the opportunity to purchase tickets for match days.
Club officials, and even players, such as Simon Francis and Jermain Defoe, and manager Eddie Howe, have been to the university's campuses to meet students and talk about their careers.
BU students also support the partnership by working on match days to help supporters, whether outside the ground or in the ticket office.
Todd Weedon, a final year Events Management student, has been working at the football club for four years – every season the Cherries have been in the Premier League – as a student ambassador.
This year, Todd was promoted to lead the BU student team of ambassadors, who position themselves around the stadium to help supporters, meet-and-greet, answer questions, and signpost fans to where they need to go.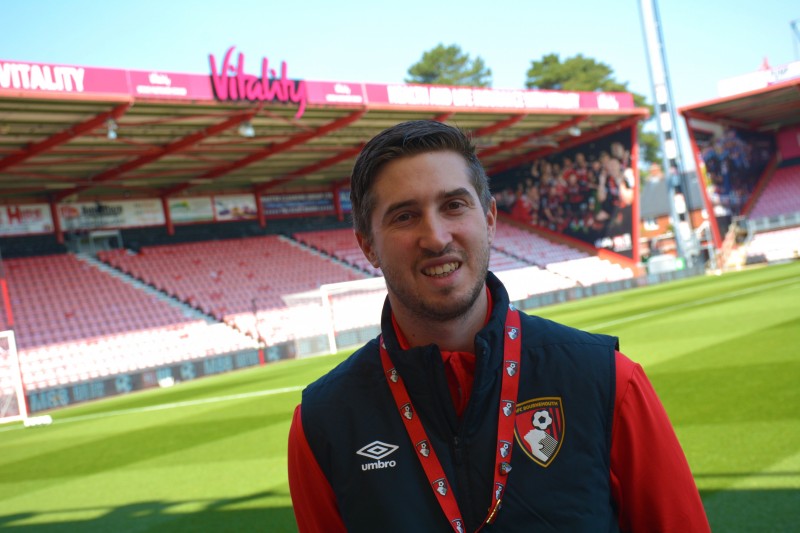 Todd said, "I found the opportunity during my first year at university. I got an email from the Vice-Chancellor John Vinney, and it said at the bottom, if you are interested in becoming an ambassador at AFC Bournemouth, promoting the link between the university and the club, please apply. So I sent in my CV, heard back, came down and had a trial day in October 2015, really enjoyed it and never left.
"It has been fantastic. I was keeping an eye on them knowing I was coming to Bournemouth University, so I wondered if it would be an opportunity to get a couple of tickets throughout the season and see a couple of games. Never did I think I'd be here watching week-in-week-out and getting paid to do so."
Henna Patterson, a Business Studies student at BU and originally from Finland, also started her affiliation with the Cherries as a student ambassador, before working in the club's ticket office on match days.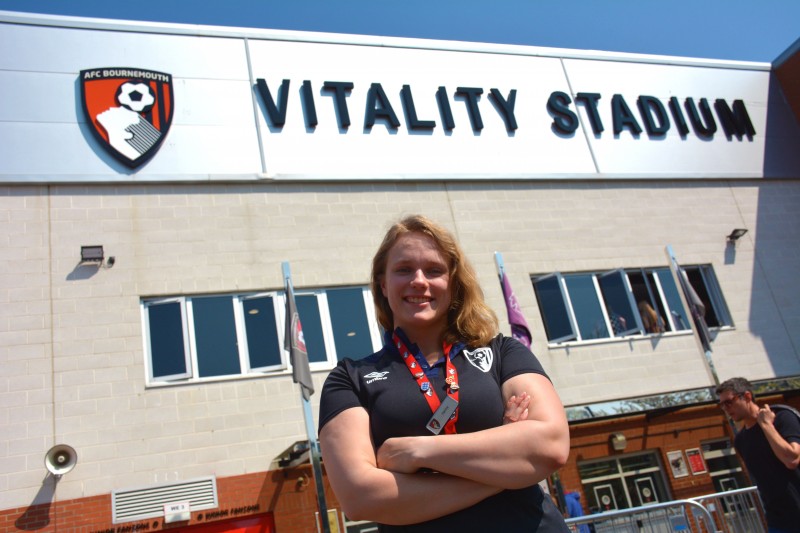 She said, "When I moved to the UK I really fancied seeing a Premier League team and I saw an advert to apply as a student ambassador on the BU website and I applied for it, by chance, because I found it interesting, and four years later here I still am!
"It is exciting, you get to see these Premier League players that you've seen on TV before, and it brings you down to earth because they aren't just TV personalities anymore. It is really exciting in that way, and you get to meet some of the Bournemouth players."
Bournemouth University journalists, attached to one of BU's student media platforms – Buzz News and Nerve – are also able to attend matches as journalists to cover the games for their outlets and gain vital work experience as they study at BU.
One such student journalist, Dan Davis, helps to manage the student journalism team who cover the games.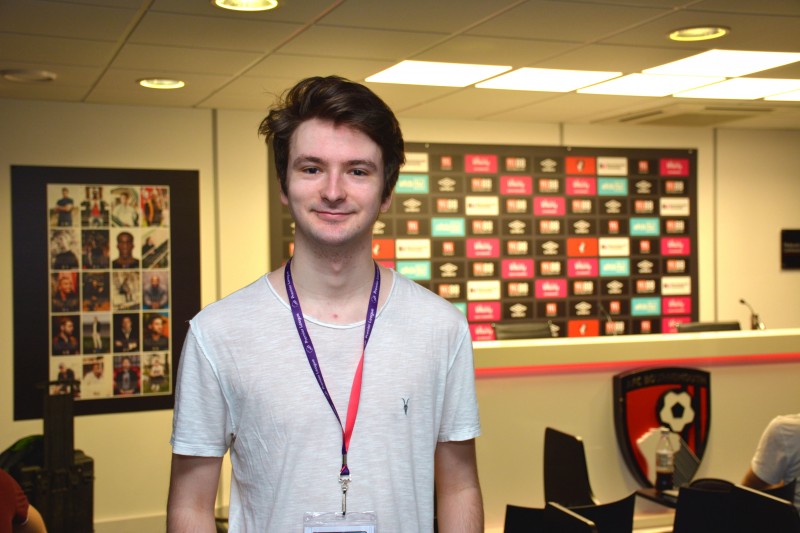 He said, "The football club is one of the reasons I came to Bournemouth [University], because of that opportunity and the connection with the local football club, but I could never really see myself getting involved until the last game two seasons ago, I was here for the last home game for Bournemouth. It only really sunk in during the summer that I'd done that and I have been doing it for the last two years as well, it has been amazing.
"I think the partnership is really crucial, I can't speak highly enough of how the club have been. Obviously we're here with loads of professional journalists and we're only university students, there is a bit of a gulf there, but we are treated exactly the same. The facilities are first class, I just can't speak highly enough of the club, and obviously the university as well for providing that opportunity for us to come down and cover the games."
As the Cherries look towards their fifth consecutive season in the Premier League, supported by Bournemouth University, students will continue to work alongside staff at the club to ensure the match day experience is as good as it can be.
For more information about BU's partnership with AFC Bournemouth, visit www.bournemouth.ac.uk/collaborate/afc-bournemouth