Bournemouth University students had the opportunity to connect with student leaders and university facilitators from around the world at an International Association of Student Affairs and Services (IASAS) event in South Africa. 
Bettina Dorffer, a BA (Hons) Politics student, and Alice Eastoe, a BA (Hons) English student had the opportunity to attend the IASAS Student Leader Global Summit, which took place at Stellenbosch University from 23 - 26 June 2019.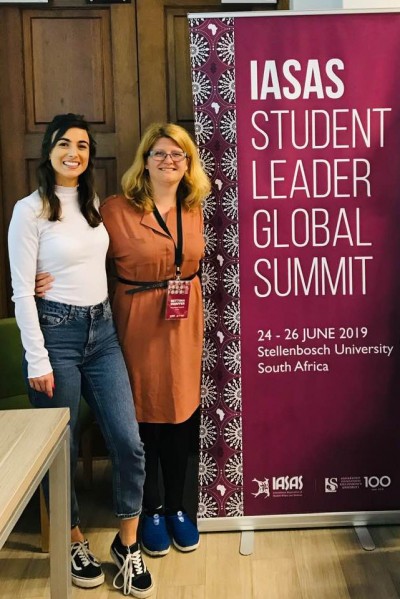 IASAS event in South Africa
IASAS acts as a global advocate for students engaged in higher education with a membership of 1,200 individual and institutional members representing 85 countries across five continents. 
This year's Student Leader Global Summit focused on leadership and mental health. It was attended by more than 50 student leaders from all over the world with a focus on encouraging an experiential experience through group discussions, exploring their own understanding of leadership, gaining insights into mental wellness, and the important role student leaders play within an ecosystem of support.
They also worked on collaborative projects and teams, identified resources and strategies that support mental wellbeing, engaged collaboratively across their differences and tried to develop a micro-campaign suited to their context.
With micro-campaigns ranging from presenting to their university senior management on how to support students with their mental health, to discussing with the university housing team the impact of 'risky behaviour' on the overall wellbeing of the students, and working with student bloggers to help promote similar messages to their Student Union, amongst many others, the aim is to have regular online catch ups to monitor the progress of the student projects around the world.
Bettina said: "Being present at the summit was quite the experience, and I spoke to people from China, Canada, Uganda, Australia and more. It was a very diverse group, and every conversation was interesting concerning both countries' past histories and politics of tomorrow. 
"For me, going to South Africa was a big thing for many reasons. I had never been to Africa before. I had never been out of Europe. I had never crossed the equator. I had never looked up into the southern hemisphere. I had never stood at the end of the world."
The opportunity was promoted on the BU placements Facebook page through Vianna Renaud, Faculty Placement Development Advisor and Summit Facilitator.
At the same time, the Faculty of Media and Communication promoted opportunities to secure funding for students to gain international experience.  Alice and Bettina applied and were selected for this, allowing them to attend the summit.
Vianna said the experience made her "incredibly BU proud" as Bournemouth University was the only UK institution to have been represented. 
She added: "The selection process was quite competitive, therefore the strength of the applications both Alice and Bettina submitted were top notch.
"It was a privilege to have worked with Alice and Bettina beforehand during their placement experience, to then see them in action at Stellenbosch; the transformation and growth was phenomenal!
"I have to thank the Faculty for their financial support as it was an essential component to our students attending the summit. Based on the impact the experience has made on both Alice and Bettina, I do hope we as a Faculty can continue to promote these kinds of activities to our students."
Find out more about studying BA (Hons) Politics and BA (Hons) English at Bournemouth University