Students from Bournemouth University have joined participants from across the world in Salzburg, Austria to find ways of combatting disbelief and erosion of trust in media.
BU students Nicole Baddeley, Martha Davis, Liza Nikolova, Thomas Stoeckle and Connor Stringer attended the 13th program of the Salzburg Academy on Media and Global Change: The Cost of Disbelief: Fracturing Societies and the Erosion of Trust.
The 17-day program took place at Schloss Leopoldskron, in Salzburg, Austria—the home of Salzburg Global Seminar.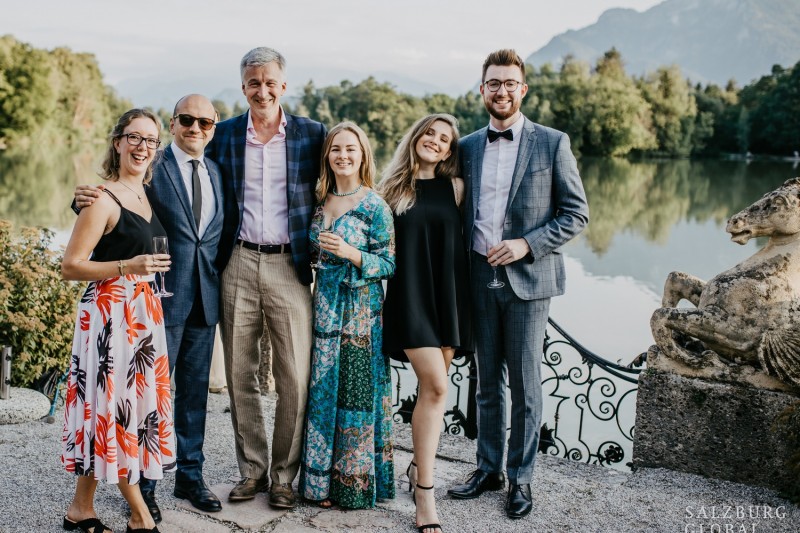 BU students in Salzburg 2019
The five students from Bournemouth University lived and worked on site, joining other students from Argentina, Austria, Canada, China, Germany, Hong Kong SAR, India, Jordan, Kenya, Lebanon, Mexico, Spain and the United States.
Participants discussed and debated crucial issues concerning fake news, the lack of trust in media, the cost of disbelief, the need for impartiality, plus other key challenges within the context of media in different countries of the world.
By the end of the Academy, participants had worked on six different projects under the umbrella name '[re]BUILD: Interactive learning experiences for media literate societies'.
[re]BUILD is a collection of interactive learning experiences and workshops designed to target issues of disbelief that ultimately fracture and divide societies.
Before these projects were presented on the final day of the program, participants took part in a range of activities. Expert-led lectures, cultural tours of Salzburg and Gosau, a visit to the Mauthausen Concentration Camp, and podcasting workshops from Public Radio Exchange (PRX)—a leading media company— were some of the highlights that were intended to give the students rich and diversified experiences and lessons around leadership, media, journalism.
The students were led by an expert faculty of both academics and practitioners including award-winning photo-journalist Shahidul Alam, digital director of the BBC News Naja Nielsen, training lead at Public Radio Exchange (PRX) Lindsay Abrams, and BU's Roman Gerodimos, associate professor of global current affairs.
Thomas Stoeckle, a postgraduate researcher in BU's Faculty of Media and Communication, said: "I would certainly recommend the Academy again not just because [of] the incredible surroundings but also because of the energy that it generates between the people that contribute and also how it's being run by everybody who is involved in making this happen. The whole staff, everybody involved, made this a very, very special experience and I hope I get a chance to come back."
The Salzburg Academy on Media and Global Change builds digital literacies and engagement around critical challenges for society. Its annual program connects young media innovators across disciplines to produce multimedia tools and reframe curricula and research. 
Find out more about studying Media and Communication degrees at BU