Dr Alice Hall has won the Innovation Award at the CIRIA BIG Biodiversity Challenge Awards for her research with Scarborough Borough Council and University of Hull.
Bournemouth University (BU) ecologist Dr Alice Hall worked with Scarborough Borough Council and University of Hull (Dr Sue Hull) on a scheme to protect houses and coastal infrastructure in Runswick Bay in North Yorkshire with the defences having innovative measures to increase marine biodiversity.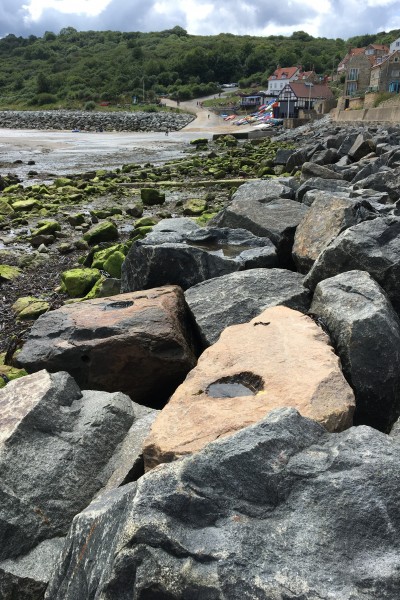 The Runswick Bay Ecological Enhancement & Coastal Defence Scheme included placing granite rock armour to protect houses and coastal infrastructure along Runswick Bay. The project also included cutting artificial rock pools into the rock armour, creating natural rock pools by strategically placing boulders and adding exisiting natural boulders from the rocky shore to the new structures to speed up colonisation by coastal species.
The rock pools increase and improve the habitat available to coastal wildlife and Dr Hall has been studying the effect of the scheme on the number of species found at the site. After just three months, there had been an increase in biodiversity and monitoring will continue for another two years to study the long term effects.
The scheme was shortlisted for two awards and was awarded the Innovation BIG Biodiversity Challenge Award in recognition of the innovative method of increasing biodiversity in the construction of the coastal defences. The project was up against stiff competition from the likes of the Environment Agency.
The BIG Biodiversity Challenge invites the construction industry to add biodiversity enhancements to construction sites, developments or existing buildings. These enhancements improve biodiversity and ecological habitat in the local environment and can be things like wildflower meadows or bat boxes. The Runswick Bay scheme was the only marine scheme to be shortlisted in this year's awards.
Dr Hall said: "This project was one of the first large-scale ecological enhancement schemes to take place within a new build scheme in the UK and the measures used went above and beyond what was legally required.
"Winning the award means a great deal to me as it is wonderful to get the recognition for all our hard work and ideas. It just goes to show that simple techniques to increase surface texture and water retention on coastal defences can make a huge difference in terms of improving biodiversity". 
Robbin Siddle, Senior Coastal Officer at Scarborough Borough Council said, "The Runswick Bay Scheme has demonstrated a great successful partnership between both engineers and ecologists to design and build a scheme that provides not just coastal defence but also innovative enhanced environmental improvements.
"Dr Alice Hall has been working with Scarborough Council on the project for a number of years and has helped develop the rock pool concept from initial trials to full scale pools, providing valuable information and advice on aspects such as shape, size, depth, location and textural finish. Dr Alice Hall has been monitoring the rock pools and the results so far are extremely positive with some rock pools far exceeding our design expectations."