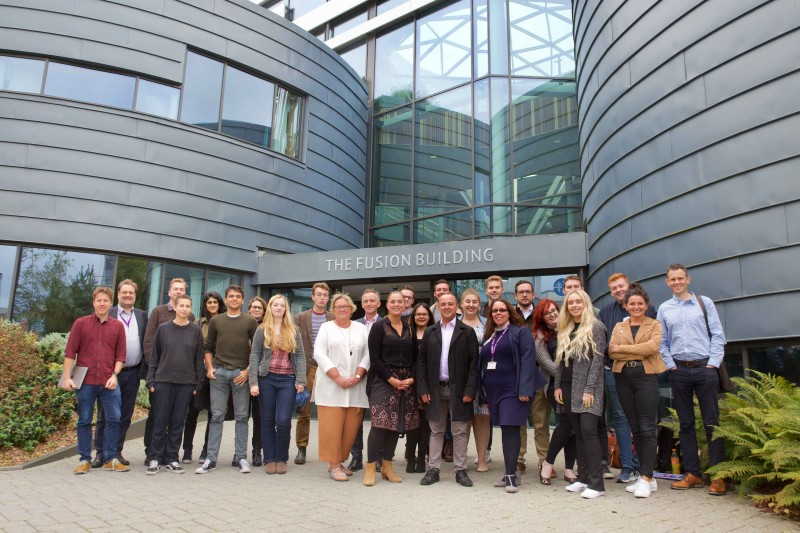 A new training scheme has been launched at Bournemouth University to help prepare the journalists of the future.
18 UK journalists are working towards their NCTJ diplomas at BU, as part of the Facebook Community Reporter Scheme. 
Last week, the students began their studies by taking part in the first of three bootcamps at BU, which will be supported by distance learning in their newsrooms.
The 18-month training scheme is part of a new partnership between Facebook, The National Council for the Training of Journalists (NCTJ) and regional publishers. The training follows the launch of the project earlier this year which enabled the hiring of 83 trainee reporters to focus on community patch coverage.
Toby Granville, Editorial Director of Newsquest and board member of the NCTJ said: "I am delighted that Bournemouth University managed to establish the diploma for our Facebook funded Community Reporters at such short notice.
"It has world class facilities and the standard of training is outstanding. I'm hoping the university becomes a centre of excellence, providing its gold standard training to many others in the industry."
Newsquest and four other media companies - JPI Media Ltd, Archant, Bayliss Media and the Newbury News – are working with BU on the project.
Really impressed by @Bournemouthuni training provision for Community News Project reporters today. Great to see @Journo_miriam and Newsquest's @samshepherd offering practical advice and tips in a really engaging way

— Will Gore (@willjgore) September 25, 2019
The NCTJ's Head of Partnerships Will Gore visited the students midweek during a digital day at BU and discussed the Community Reporter Project as well as digital trends from his recent role as Executive Editor of The Independent.
He said: "It was great to visit some of the Community News Project reporters as they began their training towards the NCTJ Diploma at Bournemouth University last week.
"Training was scoped as a core element of the project from the start, and to see reporters now working towards their Diploma in such an engaged way is fantastic.
"By studying for a formal qualification alongside their day-to-day community reporting duties, the CNP recruits are setting themselves up very well indeed for their future careers in journalism."
During the weeklong bootcamp the students were taught by a range of lecturers in Bournemouth University's journalism department. They studied essential journalism skills with a strong emphasis on engaging the community and finding under-represented voices in their chosen patch. The benefits of hyperlocal news was a key focus alongside Media Law, Video and Mobile Journalism public affairs and shorthand.
Miriam Phillips, Journalism Lecturer and NCTJ Lead at Bournemouth University, said: "We were delighted to welcome professional journalists from all over the UK to come to the initial training for their diploma.
What a day to teach @NCTJ_news Public Affairs. Students studying the constitution with David Brine whilst in the background an unprecedented ruling was breaking on live TV. Students were able to fine tune their vox pop skills and report on this important day #nctj #BU pic.twitter.com/eSeOszD9qE

— Miriam Phillips (@Journo_miriam) September 24, 2019
 "It was also timely that during a lesson for Public Affairs about the importance of the constitution, the news breaking in the background was the ground-breaking finding of the Supreme Court regarding our prime minster suspending parliament."
She added: "We are thrilled to work alongside the NCTJ to help deliver the pioneering Facebook Community News Project as community reporting is not only at the heart of good journalism, whether locally or on a national title; it is also at the heart of our democracy and has never been so vitally important."
Just got back from @bournemouthuni from studying shorthand and production as part of the @NCTJ_news. Brilliant week pic.twitter.com/EnQ4pyYNKS

— James Richings | Bucks Free Press (@James_BFP) September 27, 2019
Steven Collins, a Community reporter attending the scheme from the Worcester News said: "I found the bespoke course wonderful and it was nice to meet new people in the same role to share tales. The campus facilities were great and it left me with a spring in my step in regards to how close I am to finishing the NCTJ certificate and moving onto the NQJ."
Community Reporter Scott Clarke of the Denbighshire Free Press in Wales said: ""The course was really well organised with teaching from leading experienced NCTJ trained journalists, who were friendly and offered advice at every stage."
Stan Skarzynski, a Community Reporter from the Oxford Mail, said: "Our session at Bournemouth University was perfect, every single bit of it. From the skills-list it is shorthand that was the greatest discovery, as it turned out not to be difficult.
"It will be incredibly useful tool once mastered, so I really want to have it as soon as possible. On the knowledge side, I look forward to more law and ethics most, as the law session proved that we tend to act safely and do not utilise all the tools we have at our disposal. Put simply, there was not a single lesson that did not bring a revelation to me and I cannot wait to see my colleagues and teachers again."
Bournemouth University also offers the NCTJ Diploma to all students studying on the BA (Hons) Multimedia Journalism degree.