BU's Ageing & Dementia Research Centre (ADRC) has won the CN Award for Nutrition Resource of the Year for its Nutrition and Dementia Care toolkit for health and care staff.  The toolkit is a free resource aimed at supporting staff to deliver person-centre nutritional care in the area of dementia.  To date, it has been used all over the UK and overseas, as far afield as Australia.
Around 850,000 people in the UK have dementia. One outcome of the condition is that eating and drinking becomes increasingly difficult, which heightens the risk of severe malnutrition and weight loss. The award-winning toolkits have been developed as a result of research carried out by Professor Jane Murphy and Dr Joanne Holmes to help health and care staff support people with dementia to eat and drink according to their needs.
Both Professor Jane Murphy and Gill Hooper represented the team by attending the 2019 CN Award ceremony on 29 September in London.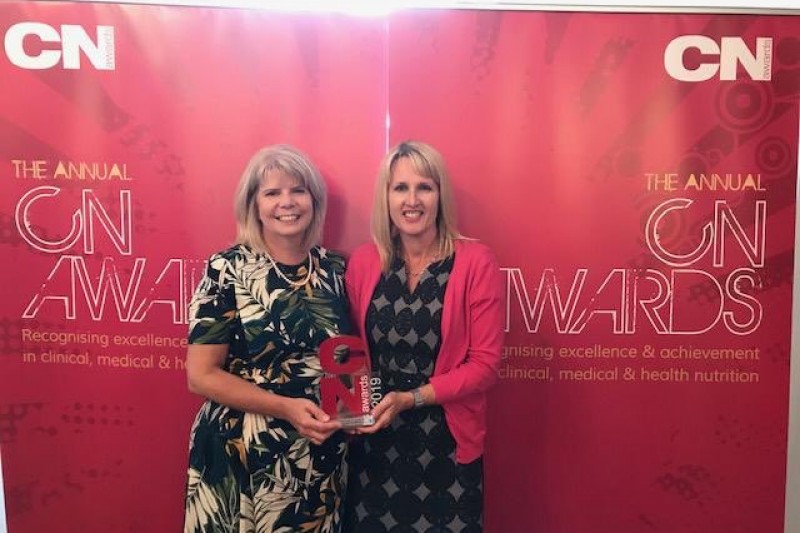 In the photo: Gill Hooper (Research Assistant) and Professor Jane Murphy (Professor of Nutrition and Co-Director of ADRC)
The team that produced the toolkit includes Professor Jane Murphy, Gill Hooper (linked with the Greater Manchester Nutrition and Hydration programme), Dr Joanne Holmes and Caroline Jones.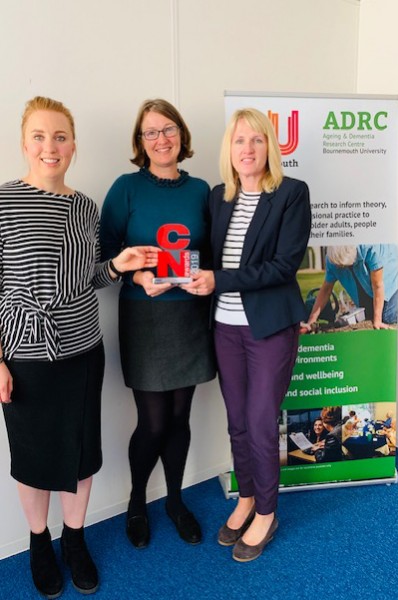 In the photo: Caroline Jones, Dr Joanne Holmes and Professor Jane Murphy
The toolkit comprises:
Eating and Drinking Well: Supporting People Living with Dementia workbook,
Eating and Drinking Well training video,
Eating and Drinking Well Nutrition leaflet,
Eating and Drinking Well with Dementia: A Guide for Care Staff.
It is available to download for free on ADRC's training and resources webpage.