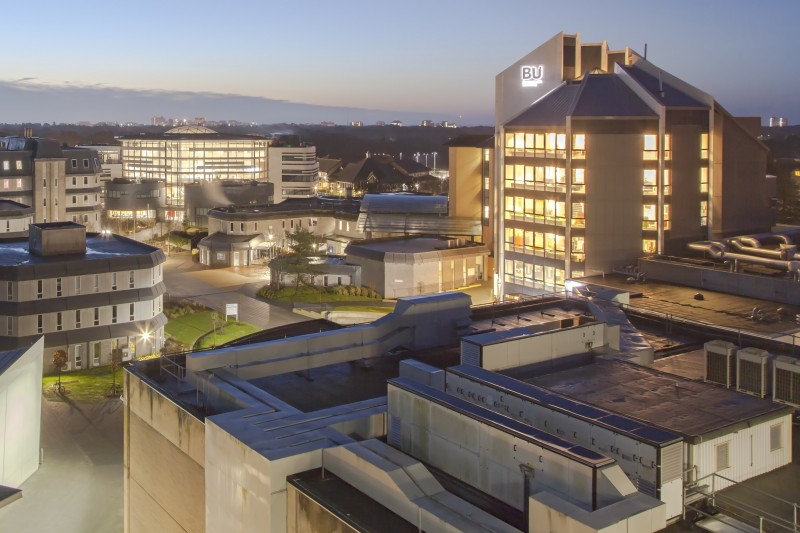 Find out what's been developed and enhanced at your campus over the summer months.
Over the summer, our Estates team have worked hard to make numerous improvements to our campuses. This is in addition to the continued development of both Gateway Buildings, which open in 2020 and will transform the landscape of both Talbot and Lansdowne Campus.
Talbot Campus
Poole Gateway Building (PGB)
We are delighted to announce that we have officially been given the keys to the Poole Gateway Building on Talbot Campus. Planned to open in early spring next year, we will spend the next few months installing all of the furniture and the specialist equipment which will enhance the teaching and learning experience.
The PGB will provide a range of high-quality technical facilities to support undergraduate and postgraduate courses as well as research. To find out more, please head to the website.
'Arne House' – new proposed building on Talbot Campus
We're excited to share the news that 'Arne House' is the name that has been chosen for the new building, previously referred to as Poole Gateway Building Phase 2.   
Arne is a village in Dorset on the Arne Peninsula that protrudes into Poole Harbour and is a nature reserve, with a strong history linked to the development of the county. The name Arne is also a name of Scandinavian, Dutch origin, meaning 'ruler; strong as an eagle'.
Arne House – which we're proposing to build next to the current Poole Gateway Building – will provide teaching and staff facilities, including computing and psychology labs, staff offices, a new lecture theatre, seminar rooms and specialist research facilities to support the BU2025 strategic investment areas. To find out more, please visit the website.  
An engagement event was held earlier this year to share our proposals for Arne House with students, staff and members of the public. Thank you to everyone that came along to talk to us; the feedback received painted a really positive picture, ahead of us submitting the planning application by the end of this year. Some of the headline results include:
86% of attendees strongly agreed/agreed with the statement that that they supported BU's plans to build Arne House. 7% either agreed or disagreed and 7% disagreed/strongly disagreed.
82% strongly agreed/agreed that the proposed Arne House will have a positive impact on the entrance to BU and the surrounding area. 7% neither agreed nor disagreed and 11% disagreed/strongly disagreed.
82% strongly agreed/agreed that the proposed Arne House will have a positive impact on the staff and student experience at BU. 14% neither agreed nor disagreed and 4% disagreed/strongly disagreed.
We will keep you updated with our plans for the new building once we have received feedback on the planning application.
Christchurch House
Over the summer, the first phase of works to build high-quality, specialist labs in Christchurch House were completed.  
The next phase of work will continue to provide new facilities and will see the re-provision of a number of facilities currently based in Bournemouth House. The proposed works include:
The replacement of specialist Faculty of Health & Social Sciences wet-lab resources from Bournemouth House
A new toxicology lab required for level 5 biomedical programmes
The reconfiguration and enhancement of existing Faculty of Science & Technology lab facilities
The conversion of PC labs to shared Postgraduate Research work and meeting spaces
The delivery of a new bio-bank facility essential for human tissue storage.
Richard Paul, Principal Academic in Biological Chemistry commented: "These new laboratories will significantly enhance our student training facilities, in particular for the new Biomedical Sciences and Medical Science degrees at BU. The laboratories will house cutting-edge equipment, enabling exciting teaching and research across many disciplines including toxicology, pharmacology, health, nutrition, microbiology and biomedical science."
"The new biobank offers an outstanding opportunity to push forward our health research at BU and is an exciting development for the university."
This second phase is due to be approved by the BU Board in November, with work due for completion during summer 2020.
These improvements – which reflect an investment of over £3million – will specifically support students within biological and biomedical sciences in the Faculty of Science & Technology and Faculty of Health & Social Sciences.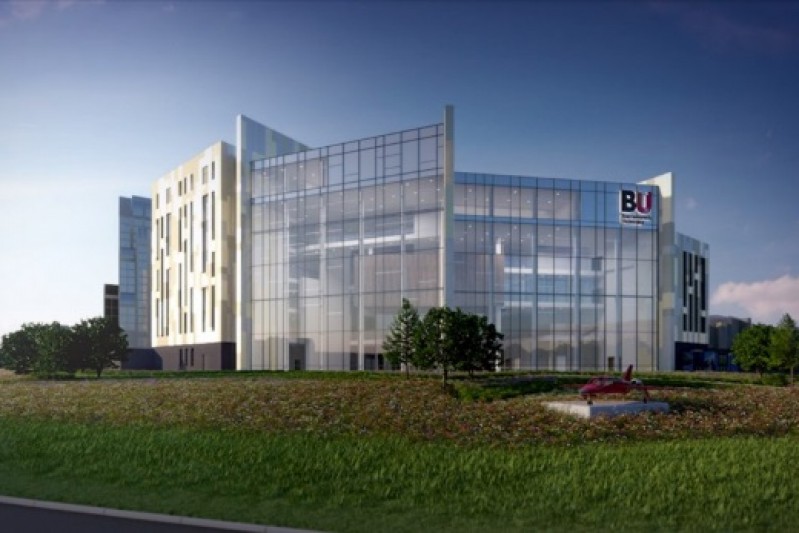 Lansdowne Campus
Bournemouth Gateway Building (BGB)
Construction to the BGB on Lansdowne Campus is progressing well and we're on track to celebrate its opening next summer. Our hope is that we can start to use some areas of the building after Easter 2020, with full timetabled teaching activity starting in September 2020.
The building will create a unified base for the Faculty of Health & Social Sciences' education, research, library, cafe and office activities, which currently take place across several buildings in the Lansdowne area. It will also be open and accessible to all BU staff and students. To find out more about what the building will offer, please head to the website.
Studland House
With the opening of the BGB, staff and students from the Faculty of Health & Social Sciences will be moving from their current locations in Bournemouth House and Royal London House. This has provided us with the opportunity to re-evaluate the buildings which we currently occupy on Lansdowne Campus.
Our plan is for staff currently based at Melbury House to move to Studland House by early 2021 and work to achieve this has been progressing well over the summer.
Across BU
In addition to all of the impressive construction work that has taken place over the last few months, other improvements have been made to various areas of our estate to enhance our working, teaching and studying environments.
In July, we purchased the Chapel Gate sports site from Bournemouth and District Recreational Charity and have started to make improvements to maintaining the 65-acre site.
Due to the significant increase in student accommodation on the Lansdowne Campus, a new bus has been added to the UNIBUS fleet. The start of this new term also sees an enhanced UNIBUS service which offers fantastic opportunities for students.
We are really excited to see the continued development to both our Lansdowne and Talbot sites, to ensure all our students and staff have access to top-quality facilities. To find out more about our plans, please visit the website.