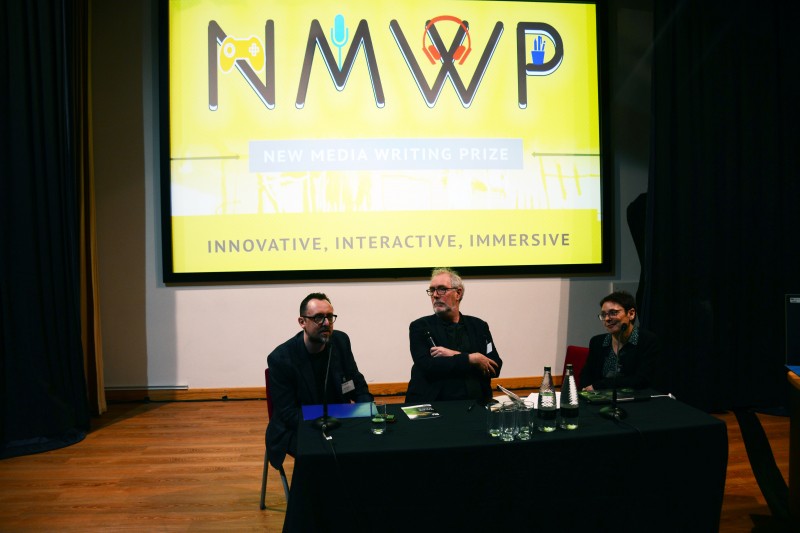 The New Media Writing Prize tenth anniversary award winners were announced in a ceremony held at Bournemouth University (BU), accompanied by a virtual reality (VR) exhibition that showcased digital writing.
The awards honoured the exciting and inventive stories and poetry that integrate a variety of formats, platforms and digital media. There were four award categories this year: The if:book UK New Media Writing Award, the Unicorn Student Award, the Dot Award, and the Future Journalism Award.
Dr Jim Pope, Principal Academic in English and Communication, said: "Our tenth anniversary event really did show how diverse and global we are: shortlisters came from every continent on the planet (except Antarctica!), and represented fiction, journalism, poetry, gaming, and historical drama."
Two BU students were shortlisted for the Unicorn Student Award, Nia Taylor Aitken, BA (Hons) Communication and Media, and Danielle Werner, BA (Hons) English. Their piece, An Untold Story, was built with Genarrator, a bespoke software supported by Fusion funding. But the award went to Kenneth Sanchez for Escaping the Chaos, an emotive portrayal of Venezuelan migrants in Peru, which was also nominated for the Future Journalism Award.
Before the ceremony students and staff had the opportunity to try digital interactive storytelling hands-on at the Fusion Building. Over 100 students and staff tried Digital Fiction Curios VR, a virtual reality curiosity shop/digital archive from One To One Development Trust's creative studio Dreaming Methods.
The ceremony began with talks from Andy Campbell of Dreaming Methods, director of if:book Chris Meade, and Lisa Gee, author of the digital biography HayleyWorld: the life and times of William Hayley.
Maria Ivanova and her team from Belarus took the if:book UK New Media Writing Award for The Life of Grand Duchess Elizabeth, described as a beautifully designed and moving account of the inspiring life a Russian Duchess. The Future Journalism Award was won by Mahmoud El Wakea for Made in Prison, an investigation of Jihadi radicalisation in Egypt. The Dot Award was awarded to Claire Pollard, the editor of Modern Poetry in Translation.
Jim added: "The VR 'hands-on' attracted well over 100 participants and we thank One To One Development Trust for that amazing show of new-media storytelling. The main prize winner, The Life of Grand Duchess Elizabeth, is a beautiful piece of interactive storytelling, using graphic, animation and historical material, and shows how engaging digital media can be. We had a great day, afternoon and evening."
You can experience all of the shortlisted entries on the New Media Writing Prize website.