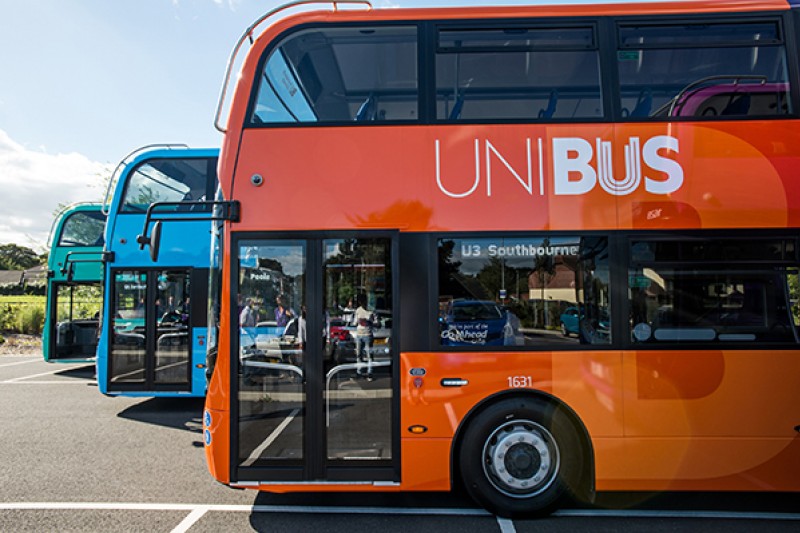 To help you travel to the Covid-19 testing facility on Talbot Campus safely and securely, we have arranged additional transport from Tuesday 1 December to Wednesday 9 December. During this testing period there will free travel on all UNIBUS services, additional buses including weekend bus routes, and free student parking in the visitor and events car parks. Find out more below.
Extended UNIBUS timetable
Monday to Friday
The UNIBUS U1 service will now operate between Lansdowne and Talbot Campus every 7.5 minutes from 8:43am to 7pm, and at its usual frequency before 8.43am. The last departure from Talbot Campus will be at 10.10pm.
The U2 and U3 will continue to operate every hour.
The U4 will not operate. If you're travelling to or from Westbourne we recommend the m1/m2 morebus services, changing with the U1 at Lansdowne if travelling to or from Talbot Campus. If you are travelling from central Bournemouth to Talbot Campus we advise that you use the morebus 17 service.
Saturday 5 and Sunday 6 December
The U1 will operate a vacation service between the Lansdowne and Talbot campuses every 7.5 mins from 9.43am until 6.13pm. The last departure from Talbot Campus back to the Lansdowne will be at 6.28pm.
The U2 will not operate over the weekend. If you are travelling from central Poole we recommend the morebus 15 or 17 services.
The U3 will run the normal Saturday service on 5 December but will not operate on Sunday 6 December. If you are traveling from Southbourne to Talbot Campus to be tested on this day, you may want to consider using the morebus m2 service and change with the U1 at Lansdowne Campus.   
Please check the online information for further details.
Free UNIBUS travel from Tuesday 1 December to Wednesday 9 December
To support the testing operations, travel will be free on all UNIBUS services during this time. Normal fares will resume on Thursday 10 December.
Early UNIBUS vacation service
An early vacation service will be introduced this year from Wednesday 9 December until the end of term on Friday 18 December. The U3 will continue a normal Saturday service from the end of term, but all other bus services will pause until the vacation service resumes on Monday 4 January until Friday 8 January 2021.
Travelling on foot or by bike
It takes approximately 40 minutes to walk from Lansdowne to Talbot Campus. The BU Active Travel Map shows the best routes to take.
You can currently receive a free 200-minute bundle of Beryl Bikes minutes. Please see here for further details.
Access to BU car parks during the Covid-19 testing period
If you need to drive to Talbot Campus to access the Covid-19 testing facility, students can park in the visitor and event car park free of charge from 8am to 8pm during the testing period. Please see the Talbot Campus map for locational details.