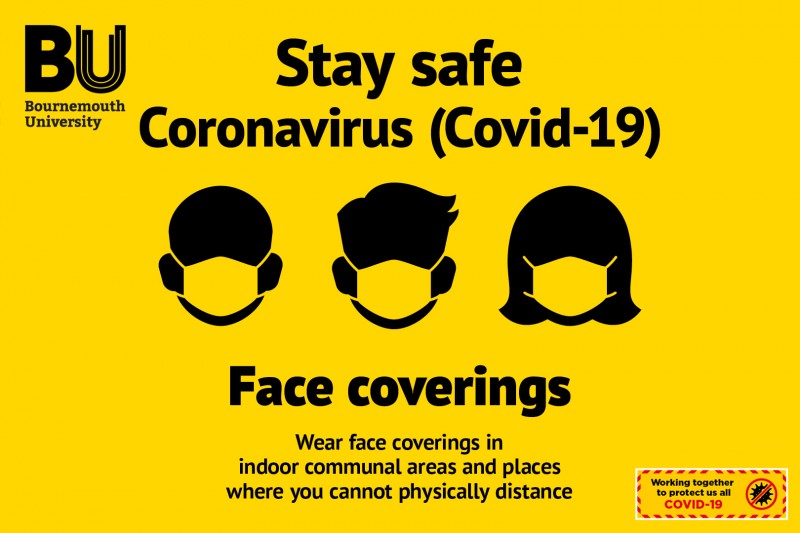 We know this has been a year like no other; most of us have faced difficulties and challenges we never would have expected. However, the BU community has done a brilliant job at coming together and following the national Government guidelines to try and help us get back to normal as quickly as possible.
It's absolutely essential that each and every one of us continues to play our part and follow the rules. One of the major ways you can help is to wear a face covering, if you're able to do so. All students, staff and visitors are expected to follow the Government guidance around face coverings.
Specifically on our campuses, we're asking everyone to wear a face covering in all indoor communal areas, such as all buildings (including corridors, stairs and lifts), libraries, BU's shops and on the buses, in order to help keep the BU community safe. Please wear a face covering in these spaces if you are able to do so. This is part of our responsibility towards ourselves and each other.
The full details around wearing masks on campus can be found under the frequently asked questions section on the Covid-19 section of the website.
We also ask that you continue to maintain physical distancing wherever possible and stay 2 metres apart from others. Where you cannot stay 2 metres apart you should stay more than 1 metre apart, and take additional steps to stay safe, such as wearing a face covering. 
Doing your bit and taking on this responsibility is vital – thank you to everyone who has played their part so far. If you have any other questions about the impact on Covid-19 in relation to BU, please visit the website.