The Department of Communication & Journalism teamed up with Christchurch-based Jimmy's Iced Coffee to offer a second year BA (Hons) Marketing Communications student the opportunity to experience a two-week internship.
The competition involved selecting the top 5 coffee brand identity ideas which had been developed by the students and submitted previously for one of their assessed pieces of work.
Those with the best grades were offered the opportunity to present their brand research, brand identity and marketing communications plans to Jimmy and his team. The 5 students presenting were Ava Mostran (Chilled Boost), Monika Pstrokonska Vel Pstrokulska (YCoffee), Georgie Leakey (Coco Brasilia), Immy Marlowe (Roots Coffee) and Issy Farthing (Freeco Coffee).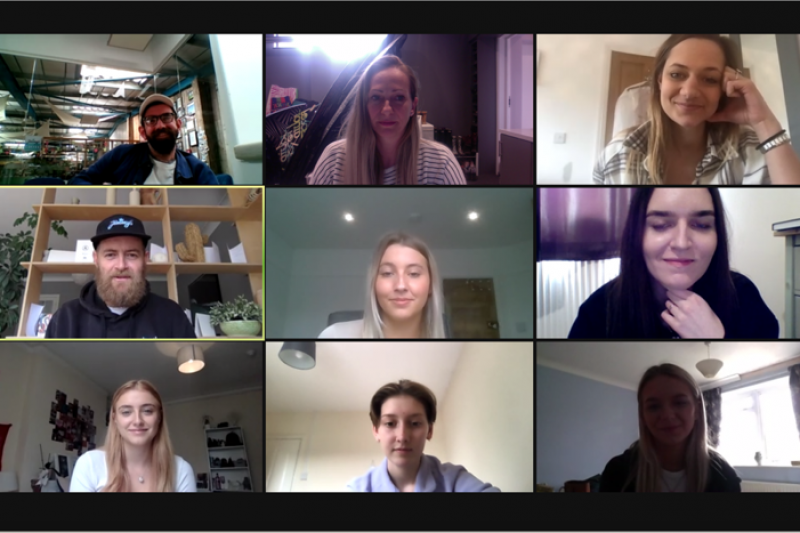 The presentations took place via Zoom and each student had 15 minutes to present their work and answer questions relating to their research, brand justification and communications tactics.
The winning student, Monika Pstrokonska Vel Pstrokulska delivered a strong presentation with the idea of a CBD oil based instant coffee brand 'YCoffee' to aid relaxation and de-stress. Her background research was tremendously detailed and she offered excellent justifications and creative ideas for both flagship and line extension strategies.
The initiative was led by unit leader, industry and employability champion Dr Jill Nash. She said: "Our department, and BU, has held a long and established partnership with local business Jimmy's Iced Coffee and this has been a really motivating opportunity for our students studying Brands & Branding to showcase their wonderful academic work to a brand.
"During such difficult times in the employment scene when second year students are finding internships much more competitive than ever before, we felt this was an excellent chance for them to gain a short business experience with an incredibly successful brand.
"The students who presented really enjoyed the learning experience and the feedback has been exceedingly positive from the team at Jimmy's Iced Coffee. I'd like to run a similar scheme across other units with more brands to enhance employability and work-based learning practises in the future."
For more information on the employability partnership please contact: [email protected]
Find out more about studying BA (Hons) Marketing Communications at BU