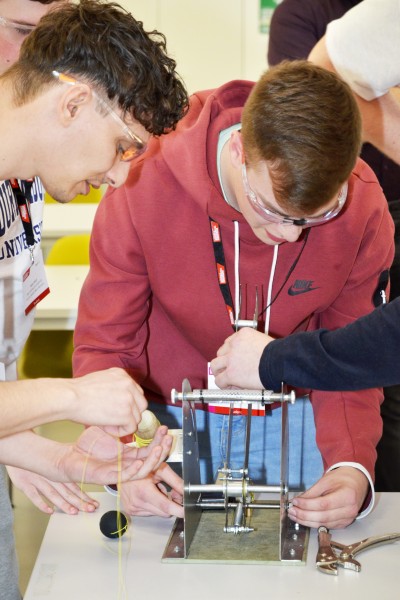 A team of Bournemouth University students have won the Wessex Region IMechE Design Challenge competition with their line launcher device. The device is inspired by real line launchers which can be used to fire a rope from one moving ship to another at sea, or for other rescue scenarios.
The team 'Future Robot Wars Winners' was the first university group to be selected for the National final which will be hosted at the Institution of Mechanical Engineers' London headquarters on 7 October 2022.
The winning team won the overall IMechE competition which tested their device, scoring 35 out of 60 points in the main challenge, as well as the design competition.
Teams were tasked to produce a small-scale indoor device, within a tight budget and a rigorous target specification to fire a squash ball attached to a line at a horizontal target from various distances.
There were many methods of firing projectiles, and the devices required a controlled and safe method of energy storage with a reliable release mechanism.
Future Robot War Winners was made up of BU first year students Alex Derham, James Hurren, Peter Laszlo, Ben Miller and Adam Nock. Alex Derham said, "We knew we had the capabilities and motivation to win, but seeing it come to fruition has been incredibly rewarding. Going to the Regional Finals and seeing the innovative, well-engineered designs that students from across the region had come up with, we knew we were going to face stiff competition. I'm really proud of the team and what we have managed to achieve in the process."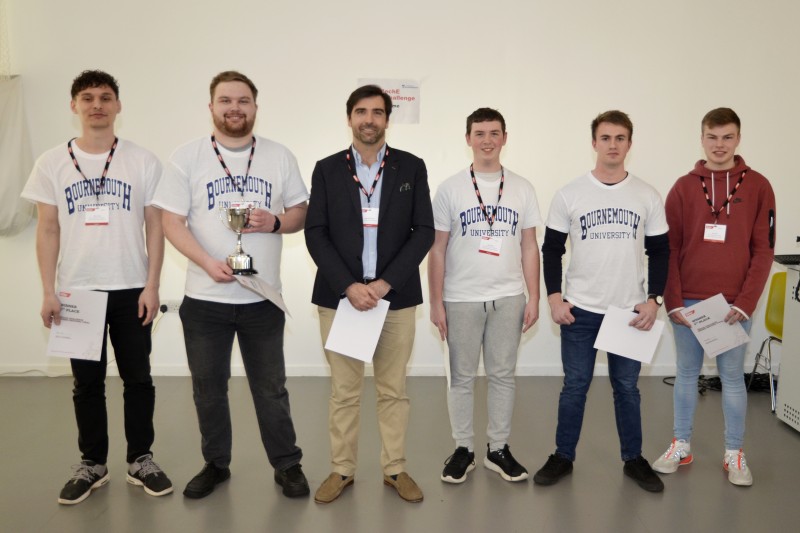 Fellow BU team, 'Big Donnies', also participated in the challenge and were one of the few successful teams who consistently shot the ball towards the target. Although they did not bring home a prize, their fair play, friendship and support to 'Future Robot War Winners' was commendable.
Anoushka Mishra, team member of Big Donnies added "The IMechE Competition gave me the opportunity to enhance my practical design manufacturing, engineering, business planning, budgeting, presentation, teamwork, time management and communication skills."
The event ran on 23 March 2022 with seven competing teams who came from University of Portsmouth, Bournemouth University, Solent University and the hosts, University of Southampton.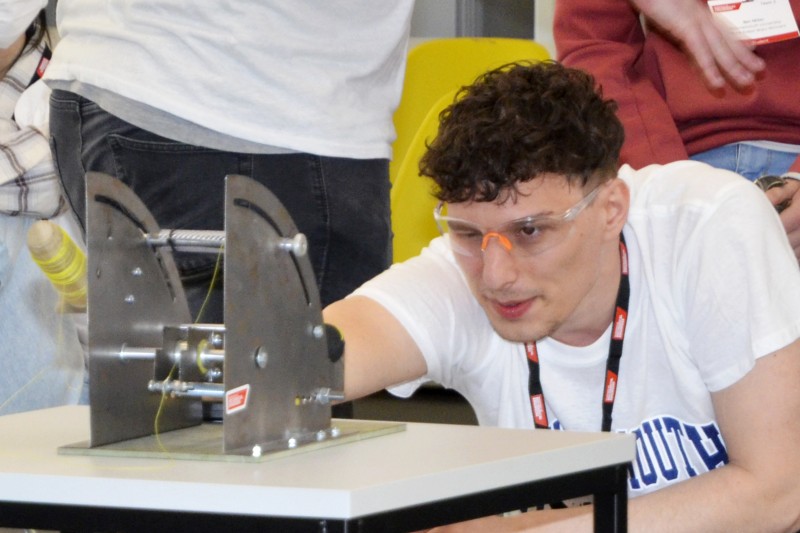 Dr Diogo Montalvão, Associate Professor in Structural Dynamics and Deputy Head of Department of Design and Engineering, said, "We are very proud of both BU teams which took part in the IMechE Design challenge. It was amazing to see their skills and knowledge put to use in a real-world engineering activity, allowing them to funnel their creativity.
"Out of six IMechE challenges over previous years, this is the 5th competition where a BU team has won in the Wessex region. We are immensely proud of the students and are very excited to take 'Future Robot Wars Winners' to the final in London."
Find out more information about Bournemouth University Design and Engineering courses.