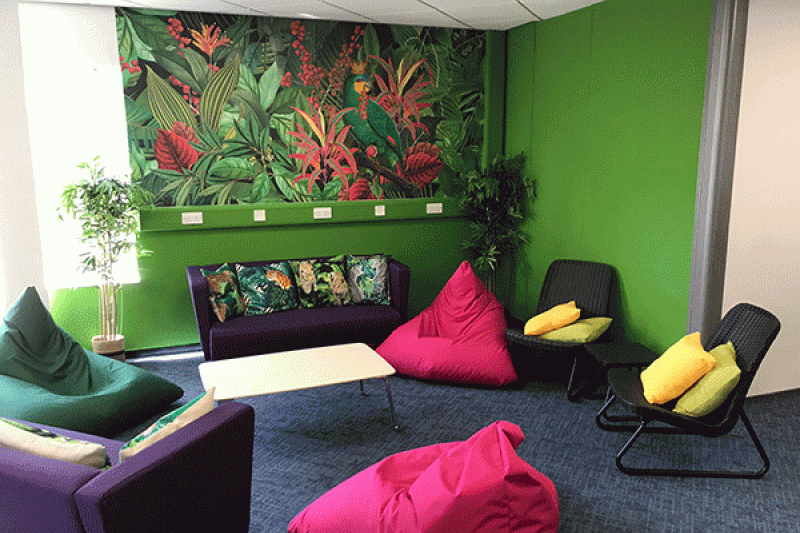 When you think of BU's library you may think of The Sir Michael Cobham Library on Talbot campus, or the new Weston Library in the Bournemouth Gateway Building. But did you know that the on-campus operations only make up a small percentage of the services the Library & Learning Support team offer to students and staff? 
Below is some information to help you make the most of the services that are available to you online. But remember, we also love to see you on campus, in fact we've designed our new comfy corner on the first floor of The Sir Michael Cobham Library as a place for you to relax, chat, get lost in a good book or meditate. Come and check it out soon.
Academic reading lists
Being able to read effectively for your degree is essential for success. To support BU's blended model of learning and to improve access to Library resources our Faculty Library Teams have worked closely with academic colleagues to create reading lists that contain resources that are fully accessible online. Reading lists can be accessed via unit areas in Brightspace or via Talis Aspire.
Peer Assisted Learning 
Peer Assisted Learning (PAL) is run by the Library & Learning Support team and promotes peer-to-peer support between students on the same programme. Students in their first year of study will usually receive regular PAL sessions with their designated PAL leader from the year above. PAL leaders facilitate discussion, generate activities and tasks to develop your learning and share their experience and knowledge. You can find out more about PAL on Brightspace. You can also contact the Central PAL team via email at [email protected]. 
Online resources 
There is a large collection of e-books and e-journals available online, which you can find out more about on the BU website, on Brightspace or by chatting to the Library & Learning Support Team. 
Study Skills workshops 
The Library & Learning Support team host many online study skills workshops to support you during your studies. These bookable workshops are designed to enrich your learning and include; Introduction to Library E-resources, Essay Planning, Literature Searching, Academic Writing, BU Harvard Referencing, Critical Thinking, EndNote Web, Organisational Skills and Reflective Writing. You can view all the upcoming workshops and book your space on Brightspace. 
Shorter versions of these workshops have been pre-recorded and are always available on the library's Study Skills area in Brightspace for you to browse. There is also a dedicated guide to support you with studying online. More information about these resources, including a full list of workshops and further links to Language Skills, IT Skills and English Language Support is available on the library's Study Skills area in Brightspace. 
Language Learning 
Library & Learning Support also provides English language support for students whose first language is not English. This includes workshops, 1-2-1 appointments with the Language Adviser and a range of online resources. 
[email protected] offers independent foreign language learning for students who would like to learn a new language or brush up their existing skills in French, German, Italian, Spanish, Arabic and Mandarin Chinese. We run Conversation Clubs facilitated by students who are native speakers of the languages on offer. 
Chat and email enquiry service 
BU's subject specialist librarians can support you with research and you can book an online appointment for 1-2-1 help with discovering library resources or enhancing your study skills. 
If you want to book a virtual 1-2-1 meeting, either online or face to face, or have a question for the library team you can contact them online via the Library chat service or email [email protected]. These services are staffed Monday to Friday, 9am to 5pm during term time. The library FAQs may also help you with any queries. 
Posted on
Monday, May 16, 2022
Category