On-campus
When on campus you don't need a username and password to access most e-resources.
Off-campus
When off campus you will need to log in to e-resources using your BU username and password. You will see a login box that looks like this: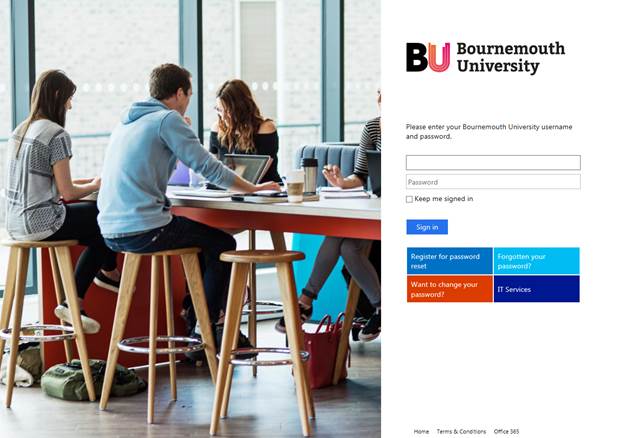 We recommend that you use the link to e-resources from the Library area in Brightspace or on the Library web pages, as they have been created to make access as straightforward as possible for you.
In some cases you may be asked to choose "Bournemouth University" as your home institution or the terms "Shibboleth" or "UK Access Management Federation" might be mentioned.
If you are not sure of how to log in to an e-resource from off-campus, take a look at our detailed guide called Logging in to e-resources from off-campus (PDF).
Tip: There are a few e-resources that use different usernames and passwords. These can be found in the Library area on Brightspace. Never choose the Athens option as you will not be able to log in this way.
Who should you contact if you've forgotten your BU IT login?
Phone the IT Service Desk. Dial 65515 if calling internally or 01202 965515 externally. Support is available 24 hours a day, seven days a week.
Who do you contact if you're having problems with an e-resource?
Contact Library and Learning Support via online Chat, available 9am - 5pm Monday to Friday. 
Or phone our Library Enquiries Line:  tel. +44 (0) 1202 965959 - this is staffed 9am - 5pm  Monday to Friday.
You can also email E-resources Help. This e-mail enquiry service is staffed 9am - 5pm Monday to Friday.
Chat and email enquiries submitted outside our staffed times will be handled on the next working day.
What should you do if you're not sure what e-resource to use?
Use mySearch. ​This i

s is an interface which allows you to search across a range of library resources simultaneously, including books, e-books, journal articles and databases.

Take a look at our Resources by Subject page
Contact Library and Learning Support via online Chat or by phone on 01202 965959 during staffed hours. You can also ask at a Library Help Zone or contact your subject team for advice.
What should you do if you don't have a BU IT login?
Contact askBU on 01202 969696 / email: [email protected] or your programme administrator.