Five Business School graduates returned to campus to share their career stories and experiences. 
Graduates from BU's Department of Accounting, Finance & Economics (AFE) spoke to students to highlight the range of career paths available to them once they graduate. 
The careers event was an opportunity for graduates to inspire students and motivate them to strive for success in their own careers. The graduates now work for financial companies, such as Nationwide Society, JP Morgan, Institute for Fiscal Studies, Canaccord Genuity Wealth Management, and Jaguar Land Rover, with one speaker now studying his PhD at BU.  
Alumni shared their experiences around applying for jobs, and the application process while also providing detailed insight into the day-to-day activities of their current roles.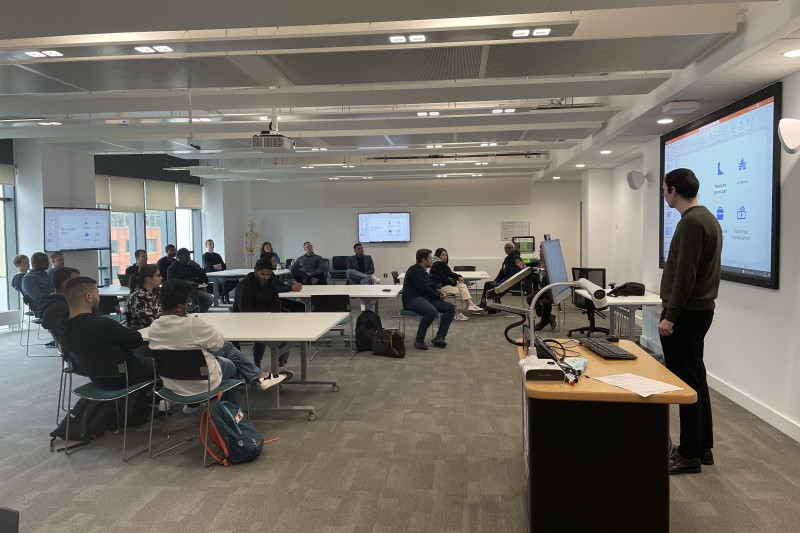 Current Finance student Modupe Ogunkunle said: "It was a fascinating event that gave me insight into what the industry expects of me as a potential candidate and how I might position myself as the preferred choice." 
Dr. Anna Hillingdon, Associate Professor within the AFE Department said: "A careers event like this highlights the success of our recent graduates in the financial sector in very prestigious companies both locally and across the UK. It encourages and inspires our current students and it helps them to see how their fellow students have secured these amazing jobs and how they can also follow this path." 
Tyrell Catumba, studied an Economics undergraduate degree at BU and carried on studying his Master's in Finance. He is now working as a Securities Lending Analyst at JP Morgan. Tyrell said: "I wanted to share my experiences because I feel my journey is one that required a lot of resilience and adapting in order to start my career. I wanted to give students who are in a similar position perspective, and that a degree holds so much value." 
Amit Sukla, BU graduate and Senior Financial Analyst at Jaguar Land Rover added: "Since I am a part of Bournemouth university, it is always nice for me to talk to current students because I was one of them not that long ago, so it motivates me that I am also following that chain of support from seniors to juniors." 
Find out more about the Department of Accounting, Finance & Economics on the BU website.