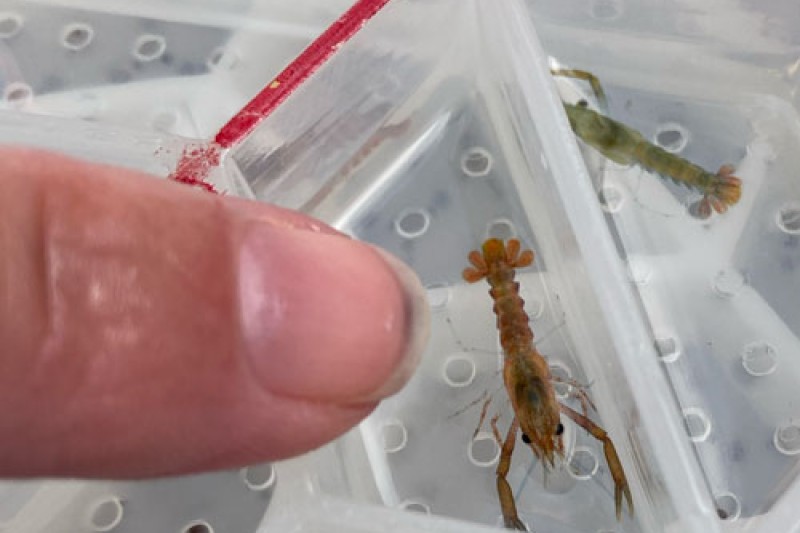 Juvenile lobsters have been released onto 3D-printed artificial reefs by BU researchers, to discover whether this type of conservation tool will support them and can be used to improve underwater ecosystems in the future.  
A team of researchers from the marine conservation department at BU, led by Professor Rick Stafford and Dr Alice Hall have returned to the artificial reef units they deployed two years ago to release juvenile lobsters in collaboration with the Holderness Fishing Industry Group (HFIG). 
Little is known about the preferred habitats of juvenile lobsters – it is hoped the research study will provide more information on juvenile lobsters to aid their conservation in future. 
The 3D printed artificial reef blocks are part of an Interreg Atlantic-funded international research project called 3DPARE (3D Printing Artificial Reefs in the Atlantic) that is testing which concrete types, reef shapes, and specific features like overhangs and holes are most attractive to marine animals. 
BU have been surveying the reef units using various techniques: SCUBA surveys, drop-down remote underwater video, and remotely operated vehicle (ROV) surveys. After only four months the team noticed that structures were starting to be colonised by marine life and, after eighteen months that had increased to 102 species.  
The team recorded seaweeds, keel worms, sea squirts, hydroids, bryozoans, barnacles and sponges and mobile fauna including edible crab, pollack, wrasse, gobies and mullet. Dr Alice Hall, visiting fellow and researcher on the project explained: "The 3DPARE reef units have been designed to provide suitable habitat for a variety of marine life. The colonisation of the reef has exceeded all our expectations - every dive I discover a new species using them." 
Professor Rick Stafford, who led the team of BU researchers with the latest lobster release project said: "Marine conservation has a huge challenge of dealing with both climate change and rapid biodiversity loss. In more temperate areas this loss is also caused by coastal developments. Our understanding of artificial reefs can help us to better design sea walls, breakwaters and harbours, which can help boost marine life and biodiversity. The lobster release project also investigates whether these structures could support high value local fisheries". 
It is hoped that the project will determine whether man-made structures, like the 3D printed reef units can attract larger, high value species of fish and crustaceans like lobsters. Dr Alice Hall said: "The release was undertaken to see how juvenile lobsters would use the reef units and to identify if they prefer a certain type of habitat, such as a small hole or a large tunnel. We look forward to monitoring the reefs over the coming months and hope that the lobsters will make the reef their home and grow into a healthy adult population."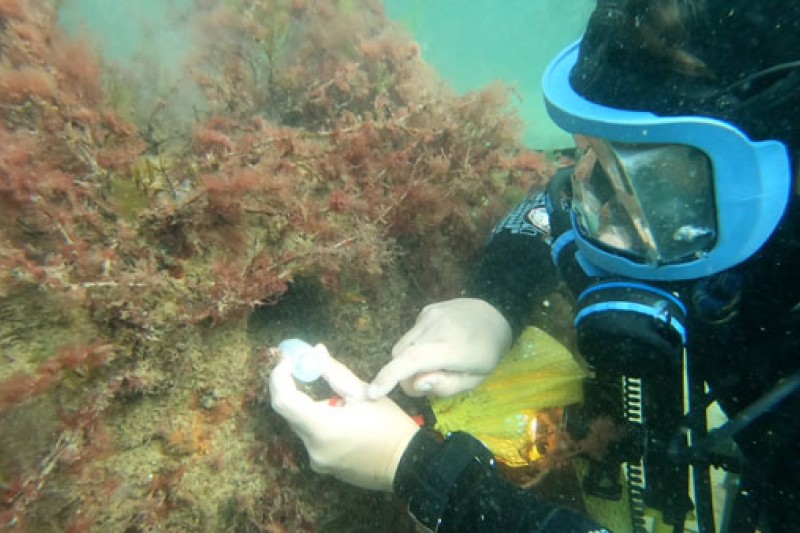 The juvenile lobsters released onto the 3D printed reefs were hatched by the Yorkshire Marine Research Centre (YMRC), part of the Holderness Fishing Industry Group (HFIG) a not-for-profit trade association, whose members include fishermen and other local companies directly involved in the shellfish business along the North Yorkshire coast.  
Dr Mike Roach, Fisheries Science Officer and Marine Biologist from HFIG said: "By collaborating with Bournemouth University and the 3DPARE team we have had the opportunity to seed the reef system with lobsters from our community laboratory at the YMRC, where the lobsters were hatched and reared, to help us to understand if lobsters will inhabit their artificial reef structures. HFIG is focused on research and ideas to support the future sustainability of UK shellfisheries, specifically lobster and edible crab. Our members support collaborations that can further this goal and aid in our understanding of the ecological and environmental pressures that can affect our stocks." 
As well as improving the general marine environment it is hoped that other man-made structures like offshore wind farms could house underwater ecosystems and help replenish some of the depleted fish stocks. Dr Mike Roach explained: "With the industrialisation of the marine space there is a concern from fishermen of habitat loss or change that can affect lobster stocks. Trialling artificial reefs can act as a pilot for other man-made structures like wind farms, and the role they can play in improving stock status and providing coastal communities with more sustainable fishing practices in the future." 
The team of researchers were supported by BU's department of Archaeology and Anthropology who provided diving support to the crew and will be offering dive training from next year. The lobster release is funded by the Interreg Atlantic Area 3DPARE  project, and the 3D printed reef blocks will remain in place over the coming years for BU researchers to continue observing the marine life. 
For more information on the undergraduate Ecology and Wildlife Conservation course, or the postgraduate Biodiversity Conservation course, please visit the BU website.