Five students from BA (Hons) Multimedia Journalism and BA (Hons) Politics with Roman Gerodimos, Professor in Global Current Affairs, attend the Salzburg Academy on Media & Global Change in July. They were joined by participants from fifteen universities across the world.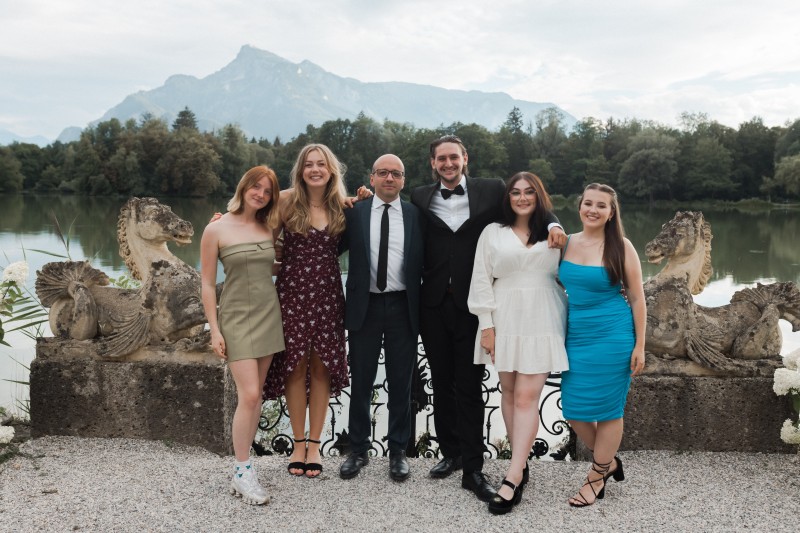 This year's theme was "After the Pandemic: How Can Media Advance Equitable and Just Civic Futures?" 
Over the course of two weeks, students experienced a packed programme of lectures and seminars, workshops, screenings, group work, and field trips. 
Highlights of the trip included a screening of the short film 'Resolution' on mass graves which was produced by BU academics, Professor Melanie Klinkner, Professor of International Law and Dr Sue Sudbury, Associate Professor in Media Practice. Roman also delivered a talk entitled "From Salzburg to the World: The Urgent Work of Global Engagement, Dialogue and Hope". There was also a lecture from Professor Susan Moeller from the University of Maryland.
The five BU students, and BA (Hons) Communication & Media student Martyne Ivanauskaite, have been contributing to a major investigative report on China. The report is part of an extra-curricular activity following on from their Global Current Affairs unit, which they study in the second year of their degree. They also all had the opportunity to take part in a workshop to build on this work during the visit.
Ollie Ferris, a BA (Hons) Multimedia Journalism student talking about the visit said, "It was hugely special as it was the returning event following Covid, so to be able to gather in such a beautiful environment with students and professors from all around the globe to discuss the current affairs of the world was both fulfilling and rewarding. I will forever be grateful for the skills the two weeks provided me. This ranges from skills in debate and discussion, teamwork skills when working on the project and skills in socialising with people from different backgrounds and cultures."
The students also took part in a Human Library evening. These were immersive workshops on encountering others and having deep, intimate conversations that cross boundaries and break stereotypes. They are hoping to bring back the learnings to start organising their own Human Library sessions so that others can benefit.
Freya, another student attending, described being a part of the Salzburg Academy as "an amazing experience" and that, "one of the highlights of my time there was the human library, hosted by Roman. This experience has helped me approach challenges with a different perspective, which I would give credit to the wonderful people I bonded with there and the things I learnt from them."
Reflecting on the trip, Roman commented, "Our students excelled as always; they engaged, participated, contributed, and connected with peers and faculty from all over the world. The impact on all of the students, but particularly those who over the past few years faced very difficult circumstances, has already been life-changing, and I believe, lasting."
You can read more about the Academy here.