Seventeen BSc (Hons) Adult Nursing students have been inducted into the Phi Mu Chapter of Sigma Theta Tau International, the Honours Nursing Society.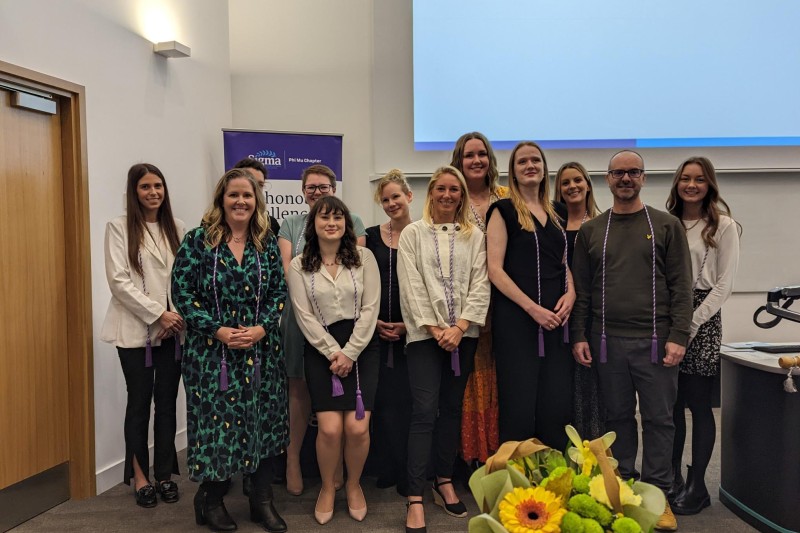 The students being inducted had been selected for their outstanding academic work and their contribution to driving change in the NHS, having written open letters to government officials, hospitals and other healthcare organisations about issues of concern within the NHS.
Three of the students had also attended the Phi Mu Chapter Annual Conference at Oxford Brookes University in July to present their open letters, impressing delegates with how they were engaging in a political way to effect change in the NHS. 
Lindsay Silsby, one of the students being inducted commented, "Sigma is a huge thing for us, a huge honour. It's about having a platform to help the industry and be a leader in the industry. I think all of us know there needs to be some change within nursing and the provision of healthcare so it's great to have an organisation that will support that."
Following the induction, President of Sigma Phi-Mu Chapter, Liz Wescott said, "the Phi Mu Chapter of Sigma Theta Tau International were delighted and honoured to induct seventeen such inspiring Bournemouth University students as members. As President, on behalf of the Chapter and the Europe Region we wish them all many congratulations and much success in their fantastic nursing careers ahead of them."
Also attending the induction on 26th October were Dr Leslie Gelling, Associate Professor in Adult Nursing at Bournemouth University and President-Elect for the Phi-Mu Chapter of Sigma; Liz Westcott, President of Sigma Phi-Chapter, Professor Anand Pandyan, Executive Dean for the Faculty of Health and Social Science and Professor Steve Ersser, Head of Department for Nursing Science at Bournemouth University.
Dr Gelling said, "Our student nurses are the future of the nursing profession and healthcare everywhere so it's great to be able to celebrate their achievements. Sigma requires that members demonstrate leadership and scholarship, so Bournemouth University and the Department of Nursing Science are delighted to see so many BU students inducted into the Sigma's Phi Mu Chapter."
This was the first Sigma induction for students at Bournemouth University, and it is hoped that more inductions will take place annually.