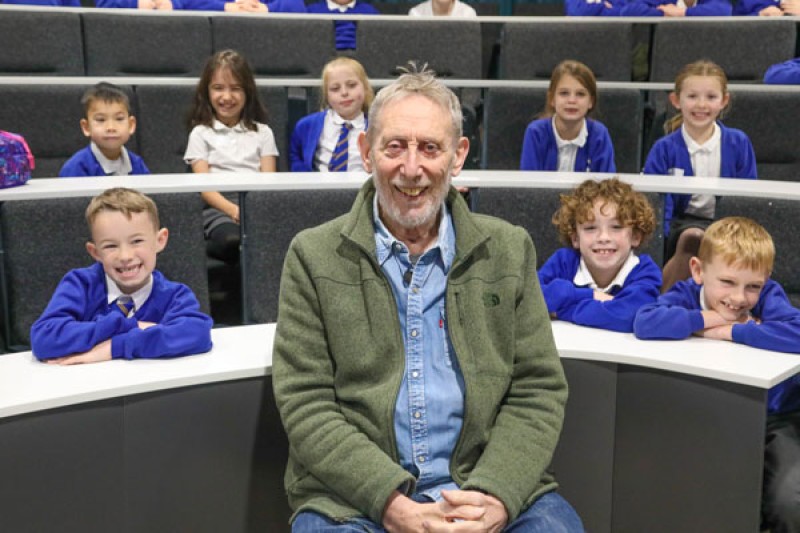 Michael Rosen with school children from Longfleet Church of England Primary School.
A new charity to promote imagination and storytelling for children was launched at Bournemouth University (BU) by well-known children's author Michael Rosen.
School children from both Longfleet Church of England Primary School and Avonbourne Academy were also invited to sit in lecture theatre seats at BU to help officially launch the new charity The Story Works at an event that took place on 7 December. 
The Story Works patron, author Michael Rosen, who is known for his series of children's illustrated books including his bestseller, 'We're All Going on a Bear Hunt,' opened the event by saying: "Stories are how we communicate our feelings, our ideas, empathy and wisdom. They are a fantastic vehicle for understanding our learning, for understanding society, but also to carry how it is we might get on with each other, which is a facility that is crucial for our future."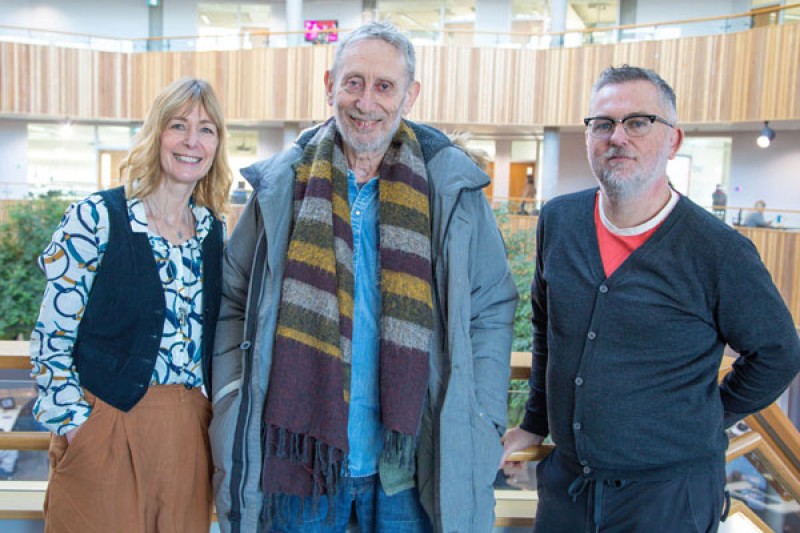 Charity founders Dee Hughes and Emma Scattergood with Michael Rosen.
The Story Works is a registered charity that delivers transformative creative writing workshops to young people across Dorset to help them build their self-confidence. The charity was established by Dee Hughes, Lecturer in Scriptwriting for Film and TV at BU who said: "As someone who loves stories and is a scriptwriter by trade, I wanted to create a space where children could come and tell stories free from some of the restrictions that are imposed on them at school." 
As an official partner of the charity, BU provides the workshop space, equipment and facilities needed to run them for free. This also allows visiting schools and community groups the chance to see and experience a university campus. The charity also benefits from a wide pool of students studying creative and communications degrees at the university, who regularly volunteer their time to guide and assist the children. 
Volunteer students from BU addressing school children from Longfleet Church of England Primary School
After the official launch, the groups of visiting school children attended a story writing workshop, all taking place within the facilities of BU's campus. In the workshops children were invited to tap into their imaginations and create their own mini masterpieces, complete with cover illustrations and author's photograph and credit on the back cover. Emma Starling, Deputy Headteacher at Longfleet Primary School said: "We teach them at Longfleet that they are writers, but for them to be invited to come to a university to work with professional illustrators and writers and see their work come to life, to be given a little booklet with their writing in it, with themselves as the author on the back is magical. Ultimately, the children can go away thinking they are a writer, and we are grateful to be able to be part of that."
Along with providing children with a sense of achievement, the charity hopes that the workshops will help those children who feel more marginalised in society to develop their imaginations and to build their self-confidence. Dee Hughes said: "As well as working with schools, we like to reach more marginalised children and have already run several successful workshops for Dorset Children's Foundation and MyTime Young Carers. The aim is that they leave the workshops feeling seen, valued and, maybe, with something they feel proud of to take home. When children have experience of their voice being heard, they develop the self-confidence to seize further opportunities and achieve their true potential."
Already schools from across the region have signed up to these free workshops, that can be delivered from the facilities at BU. The Story Works is actively looking to recruit more local charity groups for Saturday workshops. Any local charity groups interested should contact Dee through the website www.thestoryworks.org.
The future aim of the charity is to roll this model out to other universities across the country, allowing more schools to take advantage of free writing workshops organised by their own local university.
For further information about The Story Works charity and its mission, please visit the website.
For further information about the MA Scriptwriting for Film & Television course, or any of the courses available in the Department of Media Production please visit the BU website.