A new project to reduce the number of child drowning deaths in Bangladesh is being co-ordinated by Bournemouth University in collaboration with the University of the West of England, the University of Bristol, the University of Southampton and the Poole-based Royal National Lifeboat Institution (RNLI).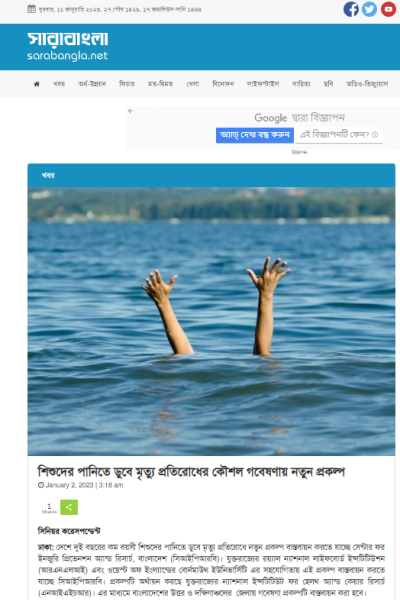 The BU team is led by CMMPH Professor Edwin van Teijlingen and comprises academics from the Department of Midwifery & Health Sciences, the Faculty of Management and the Faculty of Science and Technology.  These UK organisations will be working with the Centre for Injury Prevention and Research, Bangladesh (CIPRB) to reduce drownings among newly-mobile children, generally under two years old. The project is funded (£ 1.68 million) by the UK National Institute for Health and Care Research (NIHR) using UK aid from the UK government to support global health research. 
Edwin said "It is tragic that so many very young children drown in Bangladesh when so many of those deaths could probably be avoided. By working with communities in two distinct areas in the north and south of Bangladesh, we will better understand what might work for different circumstances and environments. We anticipate the findings from this research will allow us to test the best interventions in a future trial. If we can show they prevent drowning we can advocate for a national roll-out and policy change."