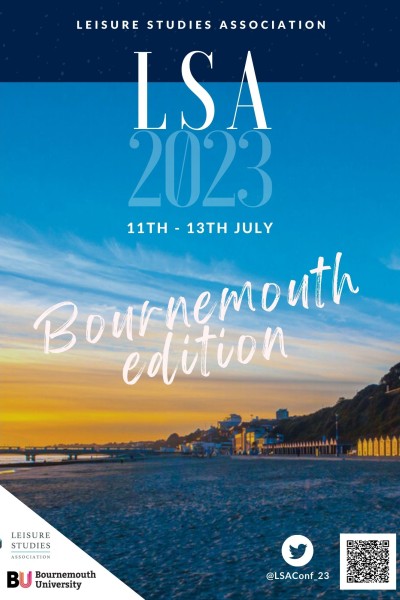 The Department of Sport & Events Management will host the Leisure Studies Association Conference (LSA), alongside the Sport and Physical Activity Research Centre at BU's Executive Business Centre from 11th to 13th July 2023.
This year's focus of 'Re-creating Leisure', aims to tackle the challenges, issues and innovations that face the leisure industry in the 21st century. Following this theme, the 2023 LSA Conference will bring together researchers, educators, students, practitioners and policymakers to share visions, expertise and experiences. The aim of the Conference will be to critically examine how leisure practices, spaces, and domains are theorised, researched, and experienced. Recent global events, such as the global climate crisis, have highlighted the significance of understanding the role leisure can play in times of planetary upheaval and how leisure can be adapted to suit shifting needs in society.
Conference Chair, Andrew Adams, says, 'We are really honoured and excited to be hosting the LSA Annual Conference here at Bournemouth University from 11th to 13th July. We are really pleased that we have been able to keep the fees for the Conference at the 2022 level. We have been mindful of the financial pressures facing us all and hope that by keeping prices the same as last year that we can offer even more value for people wishing to attend the 2023 Conference.'
The first deadline for submission of abstracts for the Conference has resulted in the collection of many interesting and thought-provoking papers that address many of the themes that will be explored during the Conference.
Andrew Adams continues, 'In response to communications from colleagues who are very busy at this time of the year, we are pleased to announce that we have extended the abstracts submission deadline to Friday 17th February 2023. The LSA annual conference will include inspirational keynotes, informative workshops, panels, and highly cited and leading scholars and a great social programme in beautiful Bournemouth.'
The event organisers welcome students to submit abstracts of no more than 300 words by Friday 17th February 2023. All abstracts should be submitted as a Microsoft Word document and submitted as an email attachment to [email protected].
We invite contributions in various topics related to:
Leisure and sustainability
Methodological innovations in leisure
Health and wellbeing
Leisure and placemaking
Leisure in times of planetary upheaval
Leisure through entrepreneurship and innovation
Open Theme
More information about the Conference can be found here. 
Keep up to date with Conference news by following the official Twitter page.