The Bishop of Salisbury Stephen Lake visited BU and the Arts University Bournemouth (AUB) at the end of February to take a tour of the sites and meet with students and staff.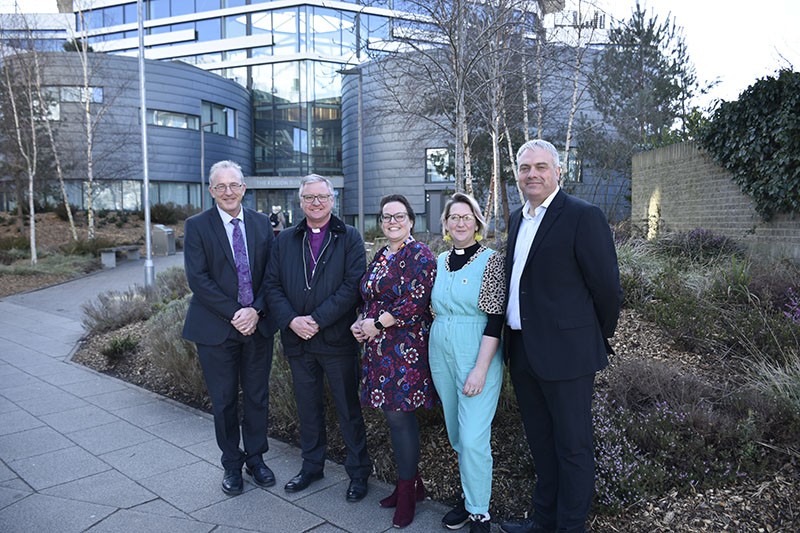 L - R: John Vinney, Vice-Chancellor ; Bishop Stephen Lake; Kerry-Anne Randle, Head of Student Support and Wellbeing; Reverend Ruth Wells, Chaplain and Jim Andrews, Chief Operating Officer.
In addition to receiving a tour of Talbot Campus to get an idea of day-to-day life here, he was also invited to an Interfaith Act of Dedication for the Faith & Reflection Centre in Talbot House.
The centre was recently renovated, and The Act of Dedication was an opportunity for those with and without faith to recognise it as a special space on campus for those who are seeking a space to pause, reflect and find connection.
The Chaplain for both BU and AUB, Ruth Wells, said of the visit; "We wanted to invite Bishop Stephen to visit the universities so he could witness first-hand some of the fantastic work that is happening.
"Having spent a lot of time refurbishing the Faith & Reflection centre, we also wanted to take a short moment during his visit, to mark the story of the centre so far."
Our Faith & Reflection Centre is located on the first floor of Talbot House on Talbot Campus and is open Monday to Friday, 8am to 8pm.
We also provide a dedicated space in our Bournemouth Gateway Building (room 401) for our community to contemplate and pray.
Depending on what you're looking for, our Faith & Reflection Centre is home to a range of spaces including:
A communal area (or, as we like to think of it, 'a pocket of peace')
A quiet room – designed to be used by our community for private meditation, prayer, or simply a quiet space to just be
A meeting room which can be booked via our chaplaincy team
An Islamic prayer room, a Kosher kitchen and an open kitchen – both with a good supply of biscuits!
Find out more about the team and what they do.