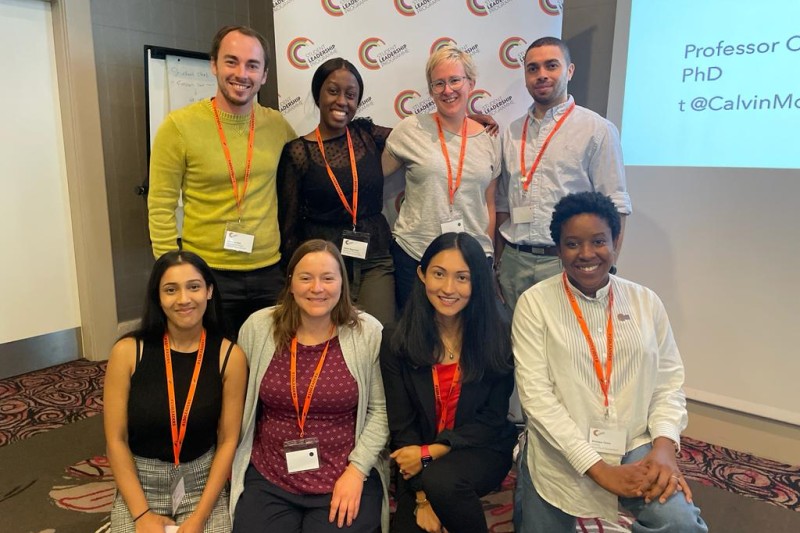 Emma Young - first row, second from left
Emma Young, studying BSc (Hons) Occupational Therapy at BU, has been selected for the Council of Deans of Health's Student Leadership Programme (150 Leaders). This programme has been designed to promote and support leadership skills for nursing and the allied health professional future workforce.
Co-funded by the Council of Deans of Health, the Burdett Trust for Nursing and Health Education England, the programme holds events throughout the year for participants, including conferences with lectures from industry leaders, online webinars and opportunities to network and be involved with local and national events. All participants are allocated a personal coach to support them during their leadership development journey and in initiating any projects.
The 150 Leaders programme offers participants a unique opportunity to explore innovation areas in healthcare professions and develop sector-leading ideas and initiatives. During the programme, Emma has joined the student lead group, SSHINE (Sharing Student Healthcare Initiative for Neurodiverse Equality) and will be presenting a talk at The Royal College of Occupational Therapists annual conference in June 2023. The title of the talk is, 'Embedding a culture of inclusion: Improving the experience of practice-based learning for neurodivergent students.'
Emma Young comments: 'SSHINE aims to improve practice-based learning for neurodivergent healthcare students and facilitate movement towards equity, whilst building better working relationships within the healthcare workforce.'
'I'm grateful for having had the chance to work on something that's making a difference! I was a bit concerned that the programme would put a strain on my academic studies. However, it's been the opposite. I've been challenged to move to the edges of my comfort zone and to make the most of the opportunities available to students. There has been so much personal learning and growth, and as a result it has supported and enhanced my academic studies.'
Applications for the 150 Leaders programme open on 3rd April 2023 with fifty places per year to fill. Students in their first or second year of pre-registration study can apply online.