A disaster management project, based at Bournemouth University Business School (BUBS), has been recognised as an Innovation that Inspires.
The Association to Advance Collegiate Schools of Business (AACSB), the world's largest association of Business Schools, has praised the project. The university's Business School is included in the AACSB's global spotlight 2023 list of 25 universities worldwide that have 'Innovations that Inspire'. It was also one of only two UK Business Schools included in the 2023 AACSB spotlight.
The AACSB specifically commended the work in 'Building African Capacity to Manage Disasters', recognising innovations that have helped national government, local authorities and local communities to better prepare and respond to disasters in Sierra Leone.
AACSB is a global organisation that, among other things, accredits Business Schools – BU has received official accreditation from AACSB and is one of a select group of less than 6% of Business Schools accredited worldwide.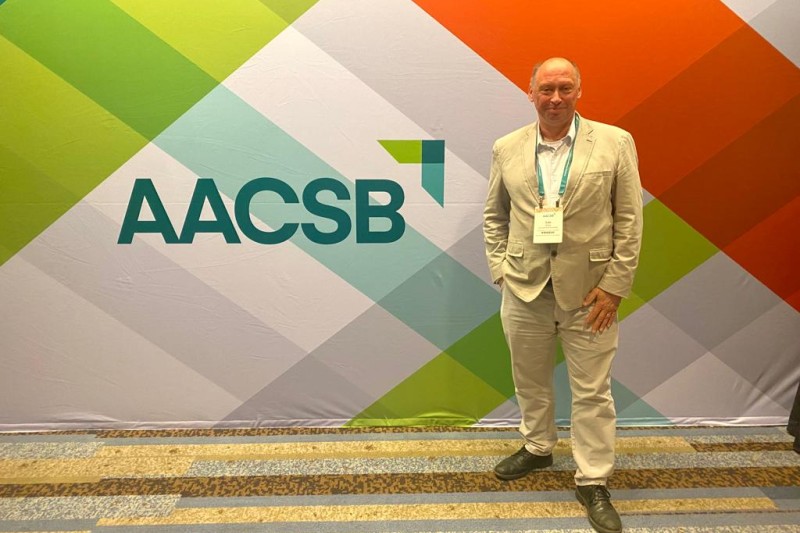 The 'Innovations that Inspire' recognised initiatives conducted by Business Schools that have an impact across the globe. Every year a list of 25 universities across the globe are spotlighted for delivering impactful innovations that inspire and demonstrate their credentials as 'impactful and visionary business schools for tomorrow'.
BU's project, delivered by the Bournemouth University Disaster Management Centre (BUDMC), created a Facilitators Guide to Disaster Management and single-points-of-failure (SPOF) diagnostics, which have been implemented and are being used across Sierra Leone to prevent and manage disasters.
Professor Lee Miles, Deputy Dean of the Business School, and Professor of Crisis and Disaster Management explains, "The main motivator for this innovation was to meet the urgent need for African disaster managers and stakeholders to be able to detect and understand deficiencies that could potentially lead to partial or full breakdowns in disaster management in Sierra Leone. These innovations were delivered as part of the Driving African Capacity Building in Disaster Management (AFRICAB) project, partnering with Sierra Leone's National Disaster Management Agency (NDMA) and Freetown City Council, and working especially closely with local communities and stakeholders to help build their resilience to disasters."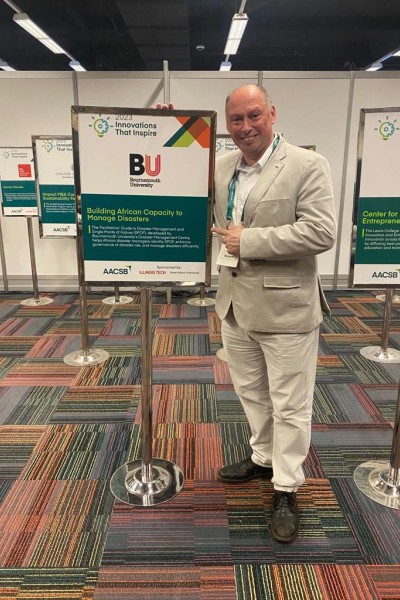 Sierra Leone has handled multiple disasters, ranging from Ebola and Covid-19 to regular weather and climate events and fires. The SPOF work has been endorsed by the Sierra Leonean government, as well as external organisations such as the World Bank, to provide solutions relevant to the country and the issues they face. The Facilitators Guide also had notable societal impact, forming the basis of a new Training Competence Requirement for disaster managers and volunteers across Freetown, covering a population of over 1.2 million people.
The 'Innovations that Inspire' recognition was officially received at the AACSB 2023 Annual Conference in Chicago USA, with Professor Miles in attendance.
Professor Miles concluded, "We are always delighted to see our work being recognised, and our thanks go to the AACSB for their continued work with us, which we are incredibly proud of. Importantly, we are pleased that our work alongside our partners, stakeholders and friends in Sierra Leone is helping in the prevention and management of disasters, protecting vulnerable local communities and reducing loss of life."
More information about the Innovations that Inspire recognition can be found on the AACSB website: https://www.aacsb.edu/about-us/advocacy/member-spotlight/innovations-that-inspire/2023/bournemouth-university
Further details on the AFRICAB project are available at: Driving African Capacity Building in Disaster Management (AFRICAB) | Bournemouth University