Driving African Capacity Building in Disaster Management (AFRICAB) is a research project led by Bournemouth University's Disaster Management Centre (BUDMC) on Single Points of Failure in African Disaster Management.
The project is based in West Africa, with a primary focus on Sierra Leone, and is supported by the UK's Global Challenges Research Fund (GCRF).
The main aim is to meet the urgent needs of African disaster managers and stakeholders; to be able to detect and understand deficiencies in their disaster management systems that have the potential to lead to partial or full breakdowns in disaster management prior to and during disasters.
The project was recognised by the Association to Advance Collegiate Schools of Business (AACSB), the world's largest association of Business Schools, as an Innovation That Inspires for 2023. The scheme recognises initiatives conducted by Business Schools that have an impact across the globe. 
Tackling Single Points of Failure
The project applies innovative research techniques and Single Points of Failure (SPOF) diagnostics and methodologies honed by BUDMC in recent years to identify potential and real SPOF that are 'resolvable' by African disaster managers and where workable solutions and control measures are likely to already lie in the hands of national and local policymakers.
AFRICAB seeks to assimilate, accommodate, reduce and overcome resistance factors in order to enhance the governance of disaster risk and enable disaster management frameworks to function more efficiently.
Working in partnership
A notable feature of AFRICAB is that the project has been based on constructive cooperation with disaster management partners in Sierra Leone, including the newly created National Disaster Management Agency (NDMA) and Freetown City Council (FCC).
The three-year project involved extensive field research and practitioner engagement, including semi-structured interviews with national policymakers and stakeholders, dedicated focus groups, and ongoing practitioner observations.
Eleven practitioner feedback and benchmarking sessions and workshops were held, involving representatives from the highest tier of national policy-making down to community leaders working in disaster management at the ward and district levels.
The research evidencing and analysis incorporated a total of 559 individual inputs from participants and covered the Covid-19 pandemic and the Susan's Bay fire disaster which affected over 7000 people in a district of Freetown in March 2021.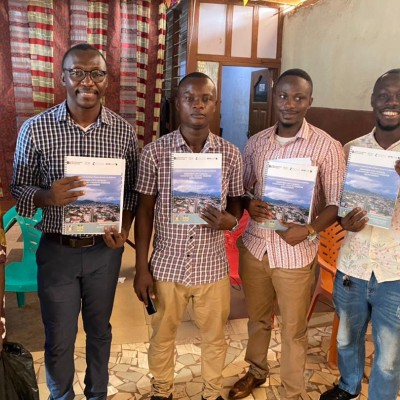 Lyndon Baines Johnson
Environmental/Disaster Risk Analyst and a member of the Mayor's Delivery Unit of Freetown City Council, Sierra Leone
The contribution and work of Professor Miles and the AFRICAB project continues to be of great importance to enhancing disaster management in Freetown and Sierra Leone more generally.
The impact
The project, led by Professor Lee Miles, has produced numerous impacts that have and are likely to continue to enhance disaster management in Sierra Leone. 
At the national level, the AFRICAB Final Report included eight thematic areas and 27 key recommendations for national policymakers and stakeholders. The report was launched on 30 September 2021 and was endorsed by Chief Minister Jacob Jusu Saffa and Director General of NDMA, Lt Gen (Rtd) Brima Sesay.
The impact of the AFRICAB Final Report has been considerable. All 27 recommendations were considered for implementation by and across the Government of Sierra Leone in November 2021. This led to highly impactful outcomes including:
The development by the NDMA of a new Standard Operating Procedure for Relief and Response, based on AFRICAB evidencing, in 2022.
The launch of a new NDMA Service Charter, incorporating AFRICAB recommendations, in 2023. 
Strategic governmental policy papers, developed by the NDMA, submitted and discussed at COP-27 in Egypt, in 2022.
The AFRICAB Report has also been highly valuable and utilised by wide stakeholders, like Freetown City Council (FCC). AFRICAB findings were incorporated into:
Download the AFRICAB Final Report (pdf 8.8mb)
---
At the local level, AFRICAB researchers have worked extensively with Freetown City Council (FCC) since 2020 to meet the urgent need to develop SPOF-based local risk matrices and registers and emergency action plans.
AFRICAB researchers co-authored a Freetown City Council (FCC) Facilitators' Guide to Disaster Management and led training workshops to provide accessible guidance to District Disaster Management Committee(s), Community Disaster Management Committee (CDMCs), local councillors, community leaders, tribal chiefs and volunteers in the 360 districts and 48 wards of Freetown that cover disaster response for over 1.2 million people in Freetown.
The Facilitators' Guide was authored by Professor Lee Miles with support from Dr Henry Bang, Jamie Martin, and postdoctoral researcher Dr Meera Patel as well as BUDMC researchers Yue Zhang and John Miles, with significant contributions from officials of the NDMA and from FCC.
The guide has been distributed across Sierra Leone and has been utilised for both seasonal flooding and during the response to over 16 fire incidents during spring 2021, including the Susan's Bay Fire in March 2021.
In addition, SPOF diagnostics and the FCC Facilitators' Guide have supported the adoption of a Minimum Training Competence Requirement in Disaster Management by the FCC in September 2020 – the first of its kind in Sierra Leone that provides direct guidance on key competencies expected of all disaster managers working in Freetown.
Most significantly, SPOF diagnostics and the FCC Facilitators' Guide underpin and were incorporated into FCC's new Disaster Preparedness Plan which was introduced in 2021, enhancing disaster management planning in the city for the coming decade.
Looking to the future
AFRICAB represents just one step in a continuing path of constructive cooperation.
The BUDMC has a long history of working with Sierra Leone, starting with work in 2016 with the Office for National Security (ONS) as the country grappled with and emerged from the 2014-16 Ebola outbreak. A team led by Centre Director Richard Gordon spent over six weeks in the country, working with the ONS as they scaled up to be able to manage both the post-Ebola environment and annual flooding.
Professor Lee Miles is now also engaged in a follow-on project to AFRICAB that focuses on understanding the impact of Covid-19 on crisis communicators and journalists in Sierra Leone. He recently co-authored one of the first national surveys of the impact of Covid-19 on journalism in Sierra Leone, published in 2021.
He also led and completed the Evaluating Local Disaster Management in Sierra Leone (EVALDIS) research project, funded by Research England's Participatory Research Programme. The Final Report of EVALDIS was endorsed by the Government of Sierra Leone in March 2023.
Latest news from the Disaster Management Centre