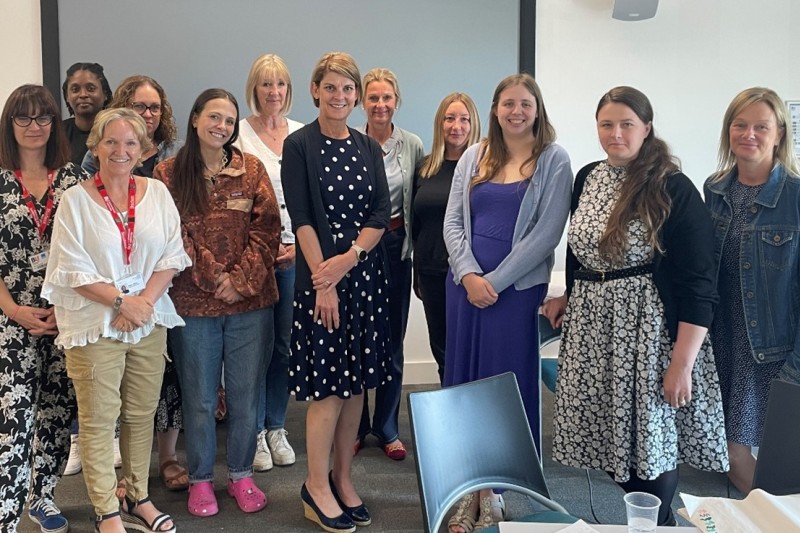 11 students from our October2022 cohort of the Return to Nursing Practice Programme recently attended a catch-up day with the programme team. The day was a new addition to the BU programme, having secured additional funding from NHS England for extra pastoral support.
The content of the day was informed by student's evaluation at the end of programme which had identified further content and an opportunity for further contact beyond the end of the taught programme.
The students, who have all successfully passed the programme and regained their PIN's for re-entry to the Nursing register, spent the day with peers, continuing to refresh their nursing knowledge and skills. The day started with an action Learning Set facilitated by Lecturers Emma Böckle and Helen Aldridge where the students were able to share their experiences of starting new roles. Common themes, of nervousness, questioning had they done the right thing, with lots to learn were shared and reassurance was given to one another they were feeling very similar.
The Clinical skills team introduced the students to "BOB", a clinical scenario using medication prescriptions for the students to critique. This enabled the students to apply their refreshed knowledge and skills to common medication administration scenarios.
After lunch, the students met Paula Shobbrook, who is Chief Nurse Officer and Deputy Chief Executive of UHD and a Visiting Professor at BU, to share how nursing is changing both nationally and at a local level. Paula reminded us whilst nursing is advancing constantly, that Florence Nightingale made some very valid quotes which are still current today, "Rather, ten times, die in the surf heralding the way to a new world, than stand idly on the shore."
Finally, the day ended with Associate Professor Michele Board, discussing with the students' future plans for study. This was very well received as students return into the nursing profession and look to further their careers.
The day was very well evaluated, with all students stating they had found the day useful in terms of content and time. This was despite some initial uncertainties as to the value of an additional day from both staff and students. The opportunity to celebrate with students after their successful programme completion enabled a completion to the programme. In addition to being able to come together and discuss their experiences of starting new roles was paramount.
This positive feedback will now inform this as a development for future programme provision including embedding some of the sessions in the programme timetable and additional  topics including job interview preparation and revalidation were suggested for future content. 
This article was written by Programme Lead, Emma Böckle