In September, one month before her 52nd birthday, Bournemouth boxer, Denise Castle will fight Japan's world-rated Sana Hazuki for the World Boxing Council (WBC) Silver atomweight title in Bangkok. Winning the title would make her the oldest boxer to win a major sanctioned body belt, a highly regarded boxing title. 
Denise is a BU Academy of Performance Coaching (APC) Coordinator, supporting the delivery of training courses. She is also a Performance Sports Scholar, studying for an MSC in Sports Management.
We interviewed Denise to find out more about her boxing career in the lead-up to her upcoming match in Bangkok.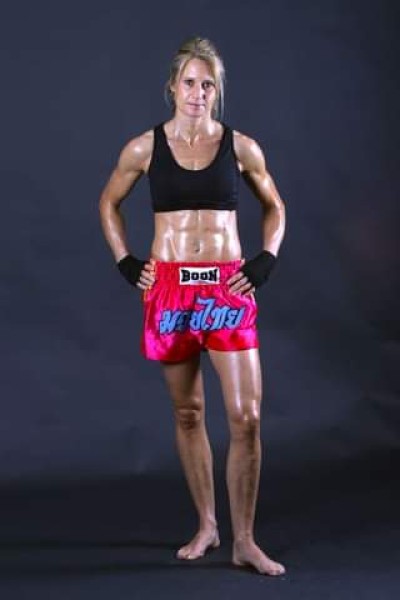 What is your sports background?
I used to run competitively when I worked at Chase Manhattan, running as part of their corporate running team. I have run the London and New York Marathons where I finished in three hours and twenty minutes.
Currently, I hold the female 10k best run time at our local Bournemouth Bay Run, which takes place along the south coast beach each year. In the early 2000s, I was awarded the Dorset Amateur Athlete of the Year and Heart Dorset & New Forest radio's Local Amateur Sportsperson of the Year.
After discovering Muaythai (Thai boxing) in 2001, I found great enjoyment in the sport, it gave me a new challenge. I trained consistently and became a strong competitor, going on to compete abroad.
I've competed in Muaythai in Japan, the USA and Europe and represented the UK at the Bangkok Palace in Thailand for the King's Cup. In Muaythai, I held the WBC and S1 World Titles along with the World title in the Federation of Arabian Boxing under kickboxing rules.
I noticed I was very speedy with my hands, very strong, very powerful for my weight, I always punched hard, strong, and powerfully. It just felt very natural to switch to boxing, but I still train in both disciplines.
What has been your proudest sporting achievement?
I won the Inspirational Female of the Year World Boxing Council (WBC) award in 2012, after winning the WBC World Muaythai Title. I was made the mandatory challenger for the WBC World Professional Boxing Title before I had even boxed!
What inspired/motivated you to enter the world of boxing?
I like to challenge myself and put myself out there. I wanted to see where my fitness level would fit into boxing.
I'm very disciplined and I will always strive to be the best I can be. I put myself out of my comfort zone. If there's something I feel well, I don't know if I could do that, then I'll make myself try it.
What challenges have you faced in your boxing career?
Being unable to compete in my home country, is the biggest challenge I have faced. I haven't been able to compete in the UK, because I haven't been able to get a licence through the British Boxing Board of Control (BBBofC) – we don't know why, as I've passed all my medicals and I am still world ranked and competing at world level.
This also impacts the support I receive as an athlete, including available sponsorship opportunities. It would support me financially and emotionally, knowing I have support from my home country.
Another challenge I face in the UK is finding opponents who match my weight. I am in the weight class division, atomweight (weighing under 102lbs), which is the lightest weight category. Champions in this weight category are often from Japan, Mexico, and Thailand. There are no other fighters of any level in the UK at this weight.
You must adapt your boxing style to the height and weight of the opponents, so this has been a challenge when training.
Have you ever faced a 'brick wall' (obstacle) when training?
It's easy to over-train and hit a brick wall where you don't feel like you're getting any better. These days I'm a lot smarter with my training.
I ask myself, what do I want to gain from this session? And I try not to overthink it if it's not a good session.
My advice is to always try and come out thinking something positive. Don't overtrain. Listen to your body.
If you've hit a brick wall at a certain level, instead of just running at that wall, you can find an alternative challenge to build up good strength. e.g., hit harder, but make fewer hits. Think strategically about your shots.
Can you tell us a bit more about your next upcoming boxing match?
I will be fighting for the World Boxing Council (WBC) silver belt in Thailand in September.
This is a ten-round fight, in which I'll need to prove to the judges that I can command the space in the boxing ring and that I am strategic and effective in my shots – these are two of the factors we must consider in our strategy. Now it's just about building self-belief.
I want to win this, and I'll be putting in 100%.
"All of us here at SportBU know she'll put on another amazing show of grit and athleticism. We all are behind her and wish her the best of luck."
Stephen Dewdney, SportBU Duty Manager
Support Denise
Help Denise get the recognition she deserves in the UK. Follow Denise Castle on social media. Share her story with others. Every bit of encouragement makes a difference:
Find out more about the Academy of Performance Coaching at Bournemouth University.
Find out more about SportBU training facilities.