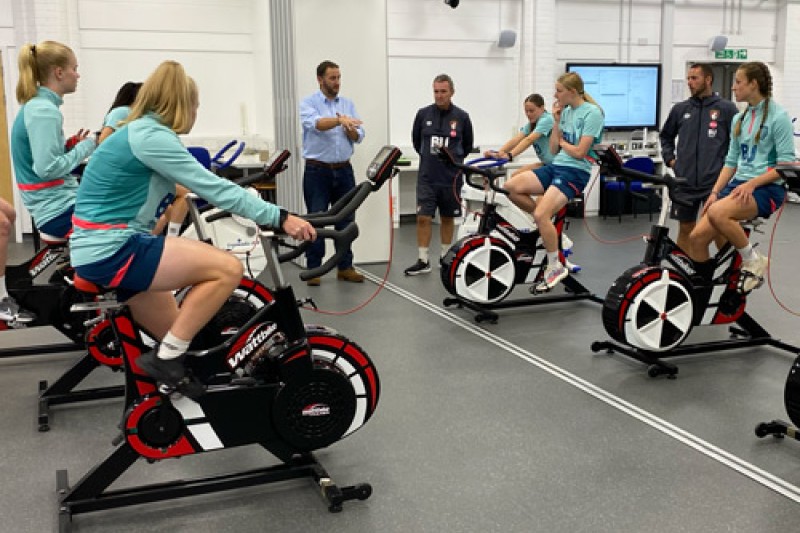 AFC Bournemouth Women's first team have been preparing for the start of their new season by undertaking a series of fitness tests using BU's Human Performance Laboratory on Talbot Campus. 
The fitness tests are part of an assessment program that has been developed by AFC Bournemouth staff along with a multidisciplinary team of staff and students at BU. Head of Community and AFCB Women's First-Team Manager, Steve Cuss who accompanied the players during the sessions said: "Our fitness work that we do with the Women's team pre-season is really important, it gives us a good benchmark of the players' capabilities and helps us to maintain their fitness levels and avoid the potential risk of injury throughout the season as well."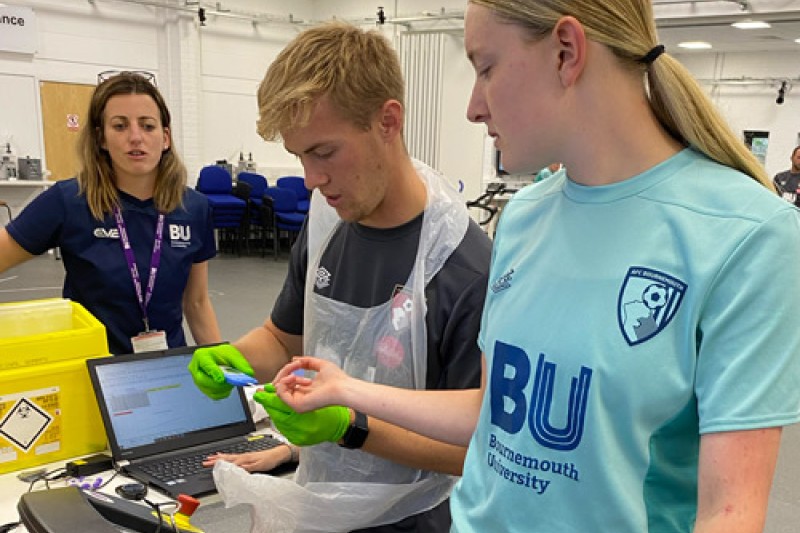 The laboratory facilities on Talbot Campus are equipped with specialist sports science equipment to assess and analyse specific elite sports performance. The performance analysis and biomechanics equipment can assess technique, muscle strength and power, and physiology equipment analyses blood and heart rate. 
BU sports science students were on hand to test the players lactate thresholds while running. Using treadmills, the players' exercise intensity was increased in periods of about three minutes and blood samples were taken at the end of each period to discover thresholds that can inform training.  
BU student Kieran Keleher, who spent a year on placement with the AFCB Women's team, as part of his BSc Sport & Exercise Science course said: "The fitness lab sessions we conduct at the university are a great opportunity for the team, giving them access to high quality and advanced equipment so that we can assess weaknesses and find potential injury problems. Each round of testing we do we improve on the quality, decision and reasoning of the tests so that we can give the best possible outcomes and feedback to the team".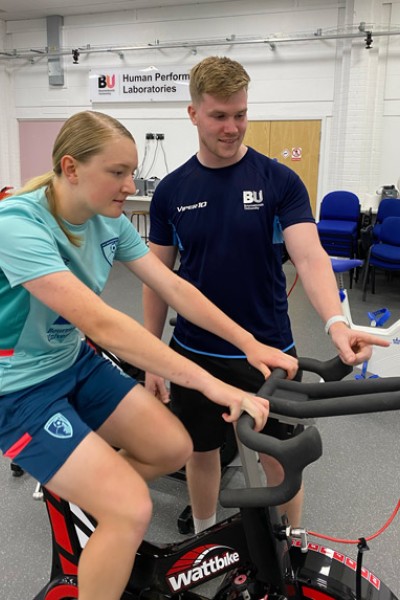 Along with the laboratory tests, players were put through their paces on BU's sports fields on campus. In the field-based tests the sports scientists used light-gates to monitor the players' speed and test their endurance and agility. 
AFCB Defender and Women's Captain, Maisy Smith who took part in the sessions said: "We're in pre-season training now and with the Women's World Cup taking place the team are very excited. The equipment that we have access to here today will really help us to prepare for the season ahead and to help maintain our fitness levels." 
In addition to these training sessions, AFCB have recruited two Sport and Exercise students for the year who will help run weekly training sessions with the Women's team. Dr Rebecca Neal, Programme Leader for BSc Sport and Exercise Science at Bournemouth University said: "At BU we are proud that our Sport and Exercise Science students have the opportunity to provide bespoke support to female athletes. The physiology and biomechanics testing for AFCB Women's team gives our students a chance to apply the technical and communication skills that they have been practicing in our Human Performance Laboratories but in a real-world setting, which supports the growth of the women's game and helps our students prepare for their careers." 
Dr Andrew Callaway, Director of Human Performance Laboratories at Bournemouth University said, "Being able to offer AFCB Women's team access to our facilities in our Human Performance Laboratory, allows our students to benefit from professional practice, working with the club on placement to gain valuable industry experience. Our partnership with AFCB and the Women's team has successfully developed over many years, allowing research opportunities and collaboration for our students as well as helping to support women's game."