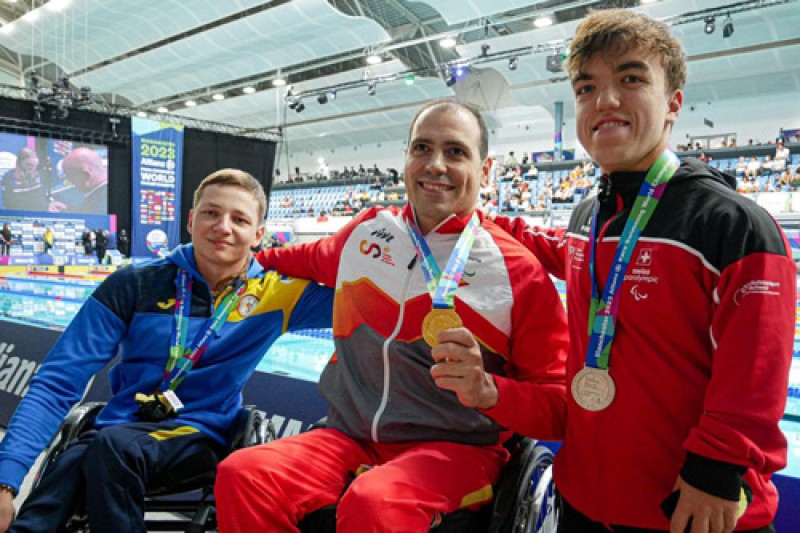 Leo McCrea (right) with fellow medal winners Antoni Ponce Bertran (Centre) and Danylo Semenykhin (Image: Jasmin Honold / Swiss Paralympic)
BU sports scholar Leo McCrea had a double cause for celebration after competing in the World Para Swimming championship in Manchester on 5 August.
The Sports Management student picked up a silver medal in the 100-metre SB5 breaststroke final, finishing in a time of 1 minute 30.76 seconds – knocking two seconds off his personal best time in the process.
The result means Leo has also secured qualification for the 2024 Paralympic Games in Paris where he will compete for Switzerland.
Leo trains at Bournemouth Collegiate Academy's pool where he manages to fit in seven or eight pool sessions a week either side of his lectures, as well as having gym training sessions with Dan Boer at SportBU.
Explaining how his sports scholarship has helped him get this far, Leo said "It has significantly contributed to my success as an elite athlete by assisting with travel, training and medical costs, and providing access to the top-notch coaching and gym facilities at SportsBU.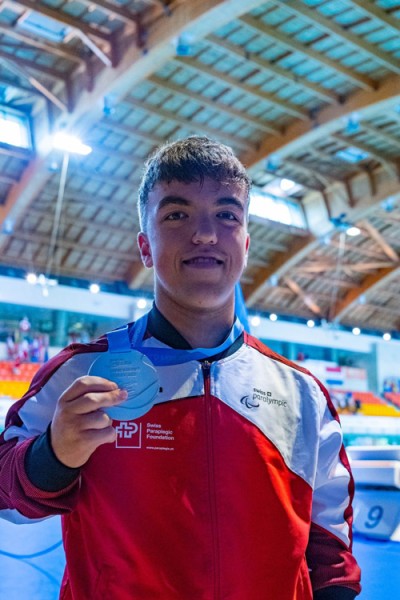 "This support enables me as an athlete to dedicate more time to my sport while pursuing my education, ultimately contributing to my success both in competitions and academically."
Leo was born with Achondroplasia, a form of restricted growth caused by shorter arms and legs. He began competitive swimming at the age of eight and was spotted by Val Simmonds, mother of multiple gold medal winning swimming Ellie Simmonds, who encouraged him to join a swimming club.
"This was a huge motivation for me. I was always inspired by Ellie Simmonds who has the same disability as me," Leo explained.
Success followed quickly and In December 2018, he was awarded Swim England's "Talent Athlete of the Year for 2018" after winning seven gold medals at the British Para Swimming Championship for the second year running. In 2019 he accepted an offer to join the Swiss Paralympic National Team, due his mother's dual nationality.
His success at the weekend was the second World Para Swimming Championship silver medal for Leo, adding to the one he picked up last year in Madeira, Portugal.
Martin Wells, High Performance Sport Manager at Sport BU said, "The team at SportBU are so proud and excited for Leo in winning his silver medal and securing his place for Paris. It makes me so happy knowing how much he loves to compete and strives to make gains every week in his training.
"He has an amazing support network behind him from his parents, coaches, academics and the whole team at SportBU. We look forward to supporting his development throughout his student athlete journey and beyond."
Paris 2024 will be Leo's second Paralympics after his appearance at the Tokyo games two years ago. It that event, he a won a "Paralympic Diploma" after his fifth-place finish and his is looking to go further than that next year.
"I was the youngest male swimmer in Tokyo where I made my debut. My next goal, having now qualified for my second games is to win a Paralympic medal!" he said.