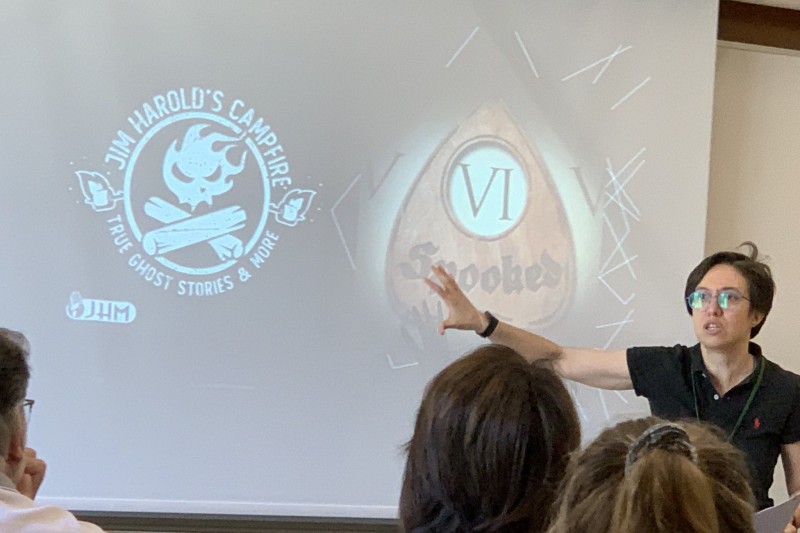 Dr Evi Karathanasopoulou presents on intimacy of audio production
Four academics from the Faculty of Media and Communication (FMC) represented BU at this year's Radio and Sound Conference, hosted by the European Communication and Research Association in Barcelona.
Dr Evi Karathanasopoulou, Dr Kathryn McDonald, Dr Gloria Khamkar and Dr Salvatore Scifo presented findings from their recent research and teachings in radio and podcasting to an audience of industry experts and fellow academics.
Dr Karathanasopoulou discussed her research into intimacy in radio and podcasting and how the audience and presenters connect with each other.
"Radio and podcasting are intimate technologies in their own right. One of the reasons is because very often we listen by ourselves," Dr Karathanasopoulou said. "This level of intimacy can then be enhanced in a number of ways - presenters use their voice in certain ways to resonate with their listeners and producers of audio dramas or documentaries can edit things in a way that creates emotions," she added.
The FMC has a successful record in teaching audio production and sound to its Media Production students, using its studios and production facilities to prepare them for an industry that requires them to have skills in many different areas. Many students and graduates have received nominations for national and international awards for their projects.
Students have undertaken projects to produce sound for installations at museums – including at our local Russell Cotes Museum, and the huge rise in popularity of podcasts in recent years means it is also an essential part of teaching.   
"Podcasting has gained new audiences because it retains the intimacy between the listener and the presenter, with the additional advantage that we can listen to them whenever we want. It is also much more democratised – anyone can make them, there are more chances for people to create work which wasn't the case before and there are some amazing things being produced," Dr Karathanasopoulou explained.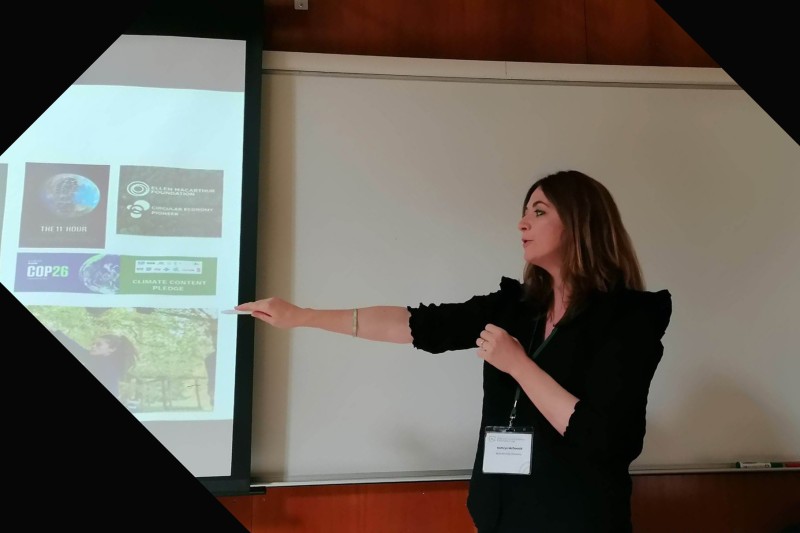 Dr Kathryn McDonald
In the other BU sessions at the conference, Dr McDonald discussed the role of prison radio and then presented a paper on environmental sustainability in audio production. Dr Khamkar talked about the representation of Asian communities in radio and Dr Scifo presented his work looking into community radio during the COVID-19 pandemic.
"When it comes to climate storytelling, there's never been a more important time to consider how our media can promote awareness or inspire change. Radio and podcasts have the power to emotionally engage and connect with their listeners in compelling ways across a variety of genres – including soundscapes, drama and comedy," said Dr McDonald.
Earlier this year, Dr McDonald co-edited The Bloomsbury Handbook of Radio which included contributions from Dr Karathanasopoulou and Dr Khamkar. Many of their co-authors were also present at the ECREA conference.