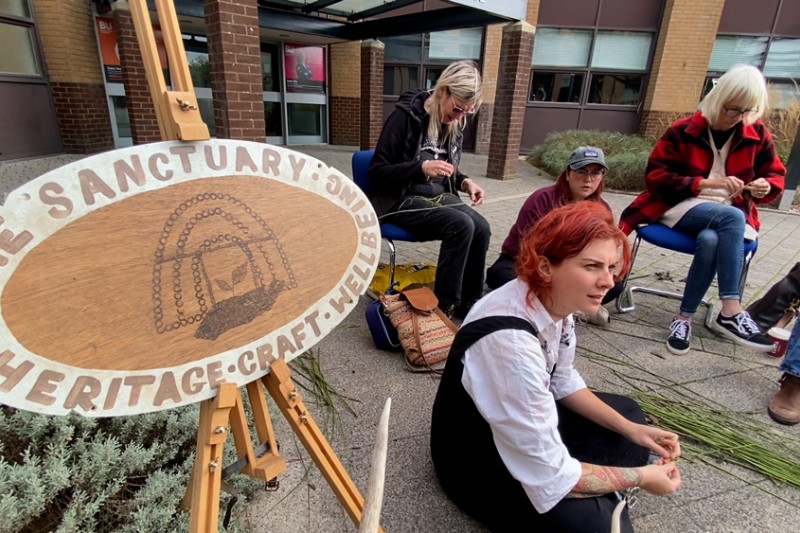 'The Sanctuary – Heritage, Craft and Wellbeing Hub' at Bournemouth University (BU) offers people the chance to reconnect with the crafting skills our ancestors used, whilst gaining from the stress-relieving benefits they offer. 
Developed by PhD student, Megan Russell, as part of a wider study into the benefits of outdoor craft activities on general wellbeing, the sessions run each week throughout the year and are open to staff, students and members of the local community. 
The sessions take place in the outside courtyard of Christchurch House on Talbot campus where the Department of Archaeology and Anthropology is based. The sessions include a wide range of traditional skills and crafts including flint knapping, evidence of which dates to humans who were fashioning tools over 2 million years ago.  
BU Alumni, Dr Hayden Scott-Pratt who works as a Curator at Hengistbury Head Visitor Centre and helps to run the flint knapping and stone carving sessions at The Sanctuary said: "Today we've been showing members how to flint knap, which is a process of rendering down big pieces of flint into sharp bladed tools that our ancestors many thousands of years ago would do to form items such as arrow heads, spear points, knives, daggers and scrapers for processing animal hide. These are the tools that people used to survive in the environment around them." 
Other sessions include: 
Flax Harvesting – this plant produces flax seed (also known as linseed) and can be used for food, linseed oil, and the production of linen cloth, used for the manufacturing of clothes and bedding. In Britain, the domestication of the plant and seeds have been dated to 4000BC 
Ancient Dyeing – growing and dyeing plants such as onions, beetroot, woad, madder, rosemary, lavender and marigolds is also an ancient method used to dye wool and other materials. 
Stone Carving – this marks The Stone Age, which dates in Britain from around 8-10,000BC when humans were making primitive tools and were using these to make stone carvings with. 
The Sanctuary makes use of a polytunnel situated at the back of Weymouth House on campus where craft items such as fleece spinning, cultivated herbs and materials that have been dyed can be hung to dry. The outside courtyard has also been designed into a garden to support the ancient cooking sessions that allow members to grow vegetables and herbs.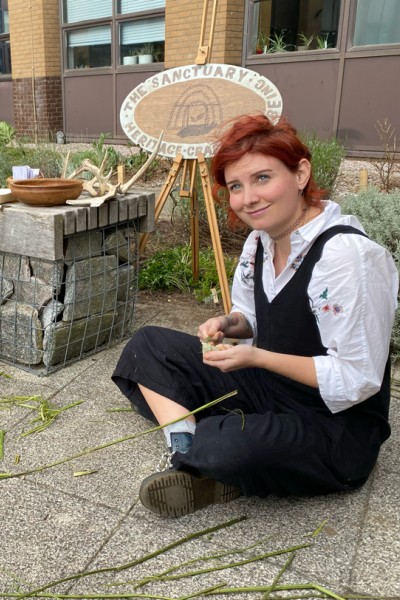 The Sanctuary aims to connect people to the skills that our early ancestors used as a way of alleviating the feelings of isolation and stress in today's modern world, according to Megan Russell, Project Director, who said: "Ancient crafting goes back thousands and, in some cases, millions of years, and I believe it's still inherent in all of us. Returning to the natural environment and getting outside and using the ability to 'craft', an Anglo-Saxon name for making something of meaning, gives us a sense of wellbeing." 
Megan continued: "In modern-day life we're always busy and there are many pressures from external sources. Our crafting sessions provide people with the opportunity to slow down and focus on making something in a safe, supported space. It also allows people the opportunity to talk to others in the group about their own struggles in life such as grief or trauma in a non-forced environment, and I think that's the biggest benefit of crafting." 
The benefits of the sessions also extend to learning about and appreciating the history and heritage of our environment as Hayden explained: "Archaeological projects like this allows people to step into the shoes of their ancestors and directly experience the crafts and practices that our human past has experienced. That can be someone with an interest in archaeology or someone with no interest at all. Heritage belongs to everyone and if we can make it accessible then we can attract more people to be interested in the historical world around them and this in turn can help to preserve our heritage for future generations." 
As well as offering people the chance to take part in the crafting sessions, Megan has been using the sessions to collect data from members. As part of a wider study members mental health has been assessed over the course of several months as Megan explained: "The formation of the Sanctuary has been a perfect opportunity to monitor the effects of experimental archaeology and the benefits to mental health for the people attending. At the end of the study we hope to find out if these sessions have had a positive effect on peoples' mental health."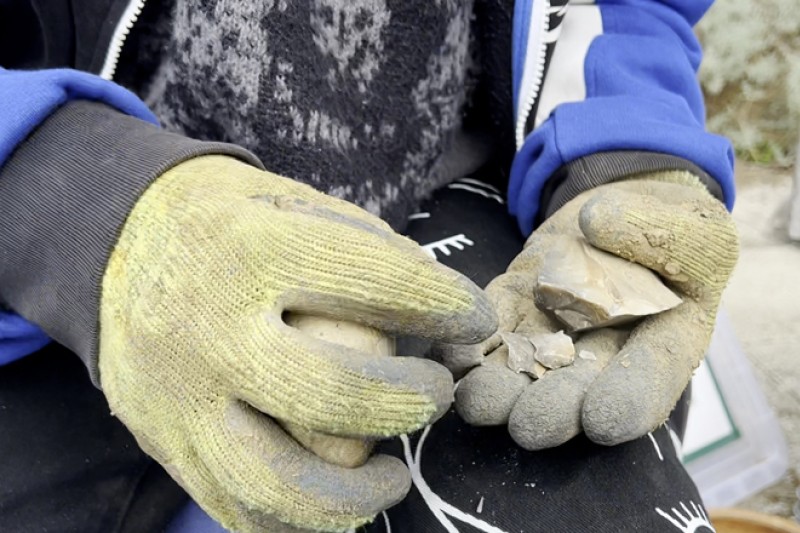 The Sanctuary member and BU student Shelly Sell is currently studying for a BSc (Hons) in Archaeology, Anthropology and Forensic Science has been enjoying the 'hands on' experience of the workshops saying: "I've learnt how important it is to be in touch with nature and our environment and doing pottery and tactile activities can distract your mind from the everyday situations in life." 
Another member of the group Barnaby Longland who is also studying for a BSc (Hons) in Archaeology, Anthropology and Forensic Science at BU attended the flint knapping session and has a particular interest in experimental archaeology. He said: "The sessions have made me feel like I'm part of a really welcoming community, and it's definitely widened my circle of friends." 
Sarah Sherwood, another Sanctuary member who is currently studying for a Masters in Bioarchaeology at BU said: "I've learnt through the sessions to be far more social and accepting of trying out new things than I thought I was. Being able to do the sessions regularly and in a social atmosphere is really useful, and it has made me get out of the house." 
Plans to extend the sessions and form a permanent fixture at the university are in the pipeline as Megan explained: "Even though my research will eventually come to an end, I hope that The Sanctuary will continue to carry on here at the university. We are already discussing ways in which we can permanently fund this space so that members of the community can benefit from it in the future." 
The sessions will continue to run throughout the Autumn 2023 and a full programme of workshops for the 2024 semesters are being planned. Suggested sessions to be considered next year include salt making, a ceramic workshop, designing and minting coins, cordage weaving and willow weaving. 
For further information about the Archaeology and Anthropology courses please visit the BU website.