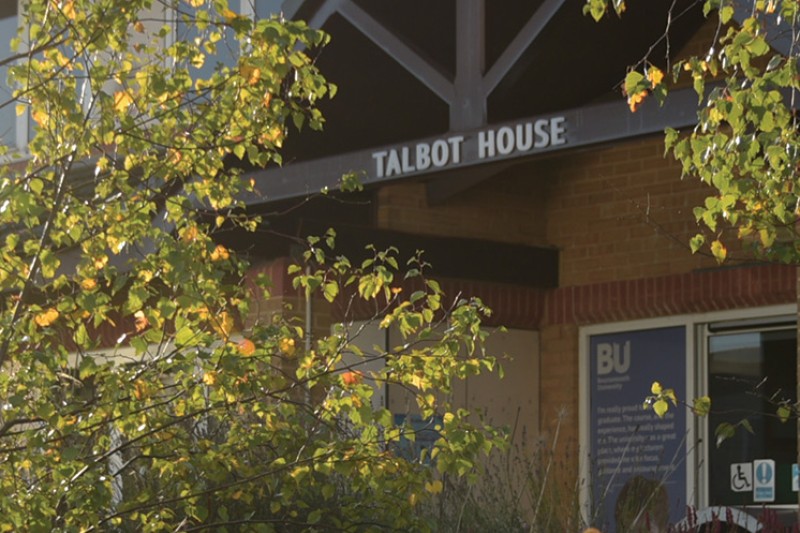 You may not be aware, but here at BU we have a team of chaplains and faith advisers who offer confidential and non-judgemental support, guidance, prayer and a listening ear, regardless of whether you have faith or not. We also run weekly events which are open to all students and staff.
Spaces for everyone
Our Faith & Reflection Centre is located on the first floor of Talbot House on Talbot Campus. It's open Monday-Friday, 8am-8pm. We also provide a dedicated space in our Bournemouth Gateway Building (room 401) for our community to contemplate and pray.
Depending on what you're looking for, our Faith & Reflection Centre is home to a range of spaces including:
A communal area open to all 
A quiet room – designed to be used by our community for private meditation, prayer, or simply a quiet space to just be
A meeting room which can be booked via our chaplaincy team
An Islamic prayer room, a Kosher kitchen and an open kitchen – both with a good supply of biscuits!
Events
In addition to various events that we hold throughout the year, we also host the following regular activities and all students and staff are invited:
Wednesday 15 November,
12pm - 1:30pm & 3:30pm - 5pm
Human Library (jpg - 400kb)
Part of Inter Faith Week - join our first-ever 'human library', which celebrates the diversity of our community and helps to increase the understanding between people of religious and non-religious beliefs. Drop-in to "borrow" people from different faith and belief backgrounds, enabling you to hear their story and allow you the chance to ask question you don't usually get to ask.

Every Monday, 12pm - 2pm

Soup-er Mondays
Offering free soup and soul care

Every Wednesday, 5pm - 6:30pm

International Student Global Café (png - 227kb)
A space for international students to meet others and enjoy games and quizzes

Last Wednesday of the month, 7:30pm - 9pm

Buddhist chant & chat

Every Friday, 12:30pm - 1:30pm

Cake & chat with Sister Tama
Jummah prayers happen every Friday during term time in the Islamic prayer room
Meet the team
We have a fantastic Faith & Reflection Team in addition to several local faith advisers and community contacts.
Anglican Chaplain – Ruth Wells
Ruth is the senior chaplain for BU/AUB. She is an ordained priest in the Church of England but is around to support students and staff of all faiths and none. She enjoys hearing people's stories - especially over a cup of coffee! She'd love to chat to you and hear your story too - you can contact her via email at [email protected]. 
International Chaplain – Sue Burt
Sue is particularly responsible for welcoming and providing support to international students. She works for the Christian organisation Friends International which seeks to provide hospitality and activities for international students of all faiths and of none. Sue is at BU on Wednesdays and runs our Global Café - you can contact her at [email protected]. 
Islamic Faith Adviser – Sister Tama
Sister Tama is amazingly active in the Bournemouth area, supporting those in need. She helps at our weekly Global Café event and is in our Faith & Reflection centre every Friday. You can contact Tama via email at [email protected].
Buddhist Faith Adviser – Gary Davidson
Gary is a member of the Soka Gakkai International (SGI) - UK lay Buddhist organisation and also the SGI-UK LGBTQIA+ UK Buddhist Chairperson supporting all LGBTQIA+ Nichiren Buddhists within the UK and the wider LGBTQIA+ European Buddhist networks. All are welcome to join Gary in discussions on Buddhism, Buddhist philosophy and chanting from 7.30pm to 9pm on the last Wednesday evening of the month in the Faith & Reflection centre - please email for further updates.
Humanist Adviser and community contact – David Warden
David is Chairman of Dorset Humanists, an Honorary Member of Humanists UK. Humanism is a non-religious ethical philosophy which provides the space for people without a religious faith, or who may have left their religion, to think through the big questions of life from a non-faith perspective. David can be contacted for information, advice, and a listening ear on [email protected].
Jewish Faith Adviser and community contact – Rabbi Bentzion Alperowitz
Rabbi Bentzion serves as assistant Rabbi and lecturer of the adult education programme within the Bournemouth Chabad Community and also runs events and classes for the Jewish students at the Bournemouth universities. Rabbi Bentzion helps to support the student led Jewish Society (JSoc) and can be contacted via email or through the Faith & Reflection team.
If you're looking for a calming place on campus to just sit and have a cup of tea, or you're looking for a bit of headspace, our Faith & Reflection area is open to all, regardless of whether you have faith or not. And if you happen to see any of the team whilst you're there, stop and say hello!